The iconic Forth Bridge, Scotland's sixth World Heritage Site, beautifully spans the River Forth estuary. The structure is one of the nation's most well-known engineering wonders. It gained notoriety as the eighth wonder of the world after its formal official opening in 1890. Many books and postcards about Scotland include images of this notable landmark.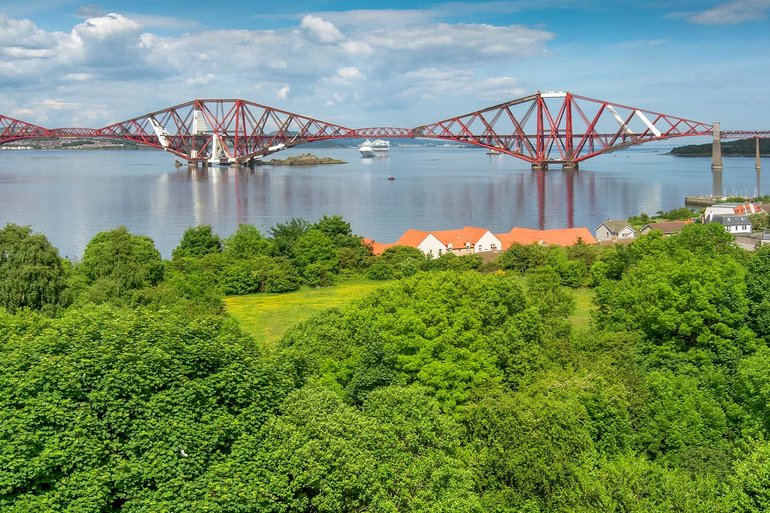 View of the Forth Bridge
Sir John Fowler and Sir Benjamin Baker served as the Forth Bridge's chief engineers. It was the first steel-framed structure in the United Kingdom. For the bridge's construction, approximately 53000 tonnes (58422 US tons) of steel were required. The Forth Bridge's engineers only added red paint to it because they wanted to focus on the steel skeleton rather than any decorative elements.
More than 200 trains cross the bridge each day. The Forth Road Bridge, built in 1964, and the Queensferry Crossing, built in 2017, are the other two bridges that cross the Firth of Forth in South Queensferry.
Getting There
The Forth Bridge is about 13 kilometers (8 miles) west of Edinburgh. It connects South Queensferry and North Queensferry and is on the Edinburgh-Aberdeen line. Take bus routes X55, X58, X59, X60, and X61 from Princes Street in Edinburgh (Stop PD) to Slip Road in South Queensferry.
Have you seen the Forth Bridge before? If so, did you find the structure to be impressive?