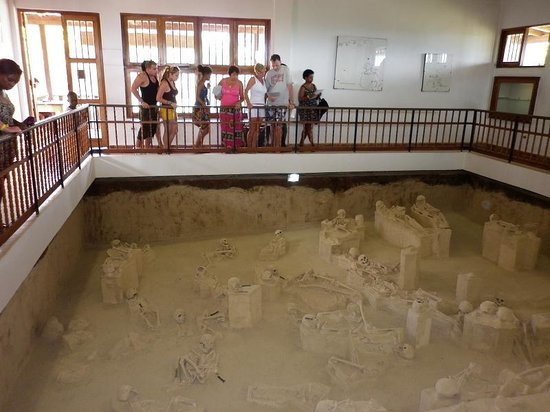 If you are on your way from Holguín via Guardalavaca to Banes. Or even further via Mayari to Baracoa you will find the oldest archaeological site in Cuba between Guardalavaca and Banes. Called Chorro de Maíta.
An Old Cemetery
---
This site has been open to the public since 1990. And shows a cemetery of the original people of Cuba. From far before the arrival of Christopher Columbus. This is the oldest cemetery in Cuba but also in the entire Caribbean.
In addition, 38 human sculptures provide a picture of the daily life of the original inhabitants of this archipelago. This gives you a good idea of Cuban history.
Discovery
---
During the discovery of this site, pots and ornaments were also found. As well as remains of homes. And things that indicate religious ceremonies, healing rituals and activities such as sowing crops and hunting.
This location dates from between the years 1440 and 1540.
The original population of the area was one of the last to disappear. Perhaps because it was not strongly colonized; although Diego Velázquez made a stopover in these countries during his conquest and colonization of the island. The archaeologists found fragments of brass bells and Christian cemeteries of Spaniard.