From bustling old markets, magical palaces and the lavender peaks of the Aravalli Hills to crooked streets, beautiful art scene and joyful people, Udaipur is a traveller's dream. One thing that completely steals the show and gives Udaipur its personality is the ancient art of Jal Sanjhi – A unique and almost vanishing practice.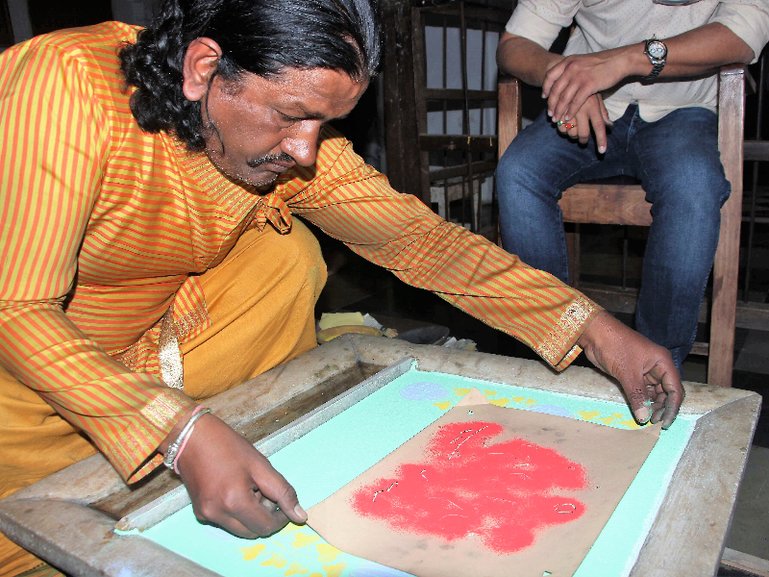 PC- Indian Excursions Co
Jal Sanjhi art is believed to have originated from hundreds of years ago. The paintings have quite a mythological history – Jal Sanjhi was first seen in Mathura, which is the birthplace of Lord Krishna, and is often used as decoration in the temples of Mathura and Vrindavan. Today, the art of Jal Sanjhi is kept alive by just one family in Udaipur. This magical little art form does not require a paper or cloth canvas; all that a Jal Sanjhi painting needs are fresh water. Fascinated? These paintings are made with organic powered colours, sprinkled over settled water in a flat-based vessel with the help of paper stencils that are eventually lifted off to have an intricate design or mythological depiction swaying atop the sheer water. The poetic beauty of these painting is that they only last for about 24 hours and then slowly start to sink into the water and lose form completely. Because of its short lifespan, this form of art is not lucrative enough. However, there is nothing like a Jal Sanjhi painting in the world; it is truly one of its kind.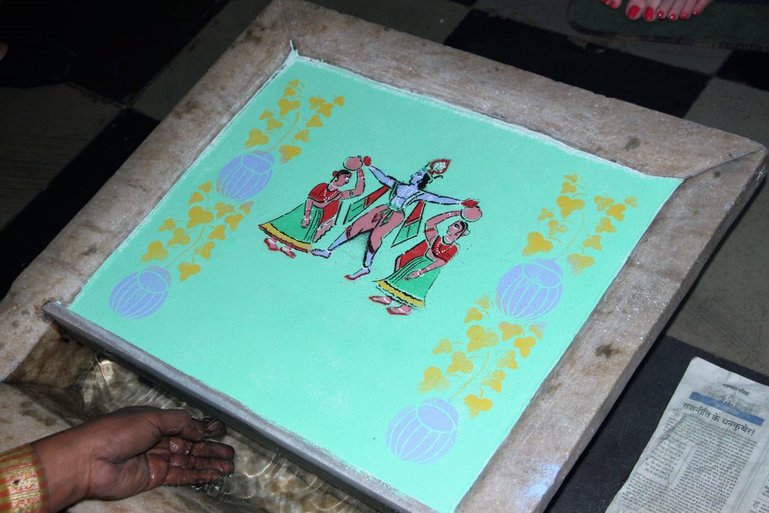 PC- Indian Excursions Co
You can spend a day at the temple watching a painting being made by priest and artist Rajesh Pancholi in the Shradh month of the Hindu calendar during auspicious festivities. The process takes about four to five hours and is a very sought-after experience. There are quite a few temple workshops in Udaipur that give you the opportunity to try your hand at this interesting style of painting.
The art of Jal Sanjhi is one of those memorable experiences that remind you of why we travel in the first place – The feeling of diving into a new culture, finding something unique and unfamiliar and gaining a whole new perspective towards world art and living is truly exceptional.