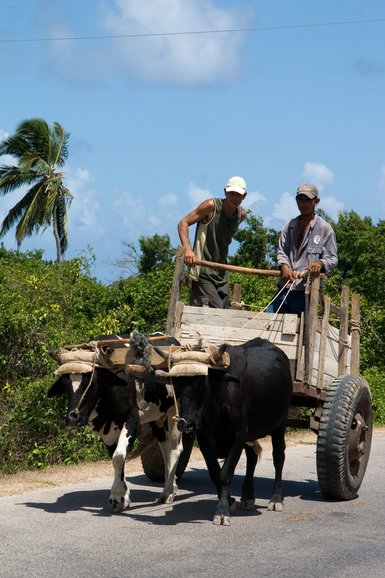 Cuba
There are many ways to make a trip to Cuba. The island with the most flavor of the Caribbean offers art in all its corners, colors that never go out of style, romantic scenes and exuberant nature. Cuba overflows personality and attitude throughout its cities. Discover its history and culture to the rhythm of music and notes of passion, and wild paradisiacal beaches where you can relax after all the adventures. Throw yourself to live it!
What to see and what to do in Cuba?
---
Interesting places
This charming island is ideal to let you go and simply discover it based on coincidences. You have to enjoy its people, whose smiles have made it one of the most charismatic islands on the globe. They can tell you what to do in Cuba so that you can live a unique trip in the most authentic way. Do you want inspiration? Imagine walking around the colorful walls of Havana, with its Bodeguita del Medio, to the beaches of Varadero passing through a salsa danced near the Malecón, or a walk in Cienfuegos ... Your trip to Cuba will be unique. We recommend some of the most important things to see in Cuba.
Havana
If you want to discover Cuban life and its colonial past, Havana is a fundamental stop on your trip. This mythical city and probably one of the most beautiful on the continent will transport you 50 years ago with its architecture, its cars and its people. In Old Havana you can enjoy beautiful monuments such as the Plaza de Armas and the Cathedral of San Cristóbal; The National Capitol and the Plaza de la Revolución are a fundamental stop. Take a walk through the legendary Malecon of Havana that connects Old Havana with the El Vedado neighborhood. This promenade has been a source of inspiration for musicians, poets, philosophers and lovers. People are what brings magic to this place.
Santiago de Cuba
one of the largest cities in Cuba, full of color and sympathy. It is full of history and culture, which you will soon be able to walk through Plaza Céspedes and Plaza Dolores, through the monuments and museums that make them up. If you stop for a while to enjoy the Cuban atmosphere in Plaza Dolores, you will probably end up talking or dancing with some of the Cubans who frequent the squares to make music. If you want something more cultural, you can visit the Clandestine Struggle Museum, the Carnival Museum or the Morro Castle, built in the 17th century and declared a World Heritage Site.
Cayo Santa María
the simple fact of walking through its paradisiacal beaches and being able to immerse yourself in its submarine bottoms is a luxury. You can also see the biodiversity that this area contains, in only 13 square kilometers. From here you can visit other nearby keys such as the French, Cobos or Spanish Adentro. You can also make some excursions to towns in the interior of the island or small or colonial cities such as Trinidad and Remedios or Santa Clara where the remains of Ché are deposited.
Varadero: the classic destination of relaxation in Cuba. Before or after your adventures through the cities you will end up lying on what is the longest beach in the world. In addition to the intense sun and turquoise waters you can enjoy a splendid nature in the Natural Reserve of Varahicacos. If you can, you have to visit Cayo Largo and its unspoilt natural spaces, and Cayo Coco and its paradisiacal beach of fine sand.
What to do?
Visit the main colonial cities: it is the best way to integrate into Cuban culture, to see how history and the past dress all cities but that life and environment are given by its inhabitants, with their long conversations, curiosity and sympathy abroad, and its thousands of improvised music performances that will always catch you by surprise but will make you dance. You can not miss Trinidad, the colonial jewel of Cuba; Cienfuegos, known as 'La Perla del Sur'; nor Camagüey.
Go back to the past at the Casa de Diego de Velázquez, the oldest colonial house in America. It was commissioned to build in 1516 by Hernán Cortés and was as its name indicates it was the residence of Diego de Velázquez.
Take a mojito in the Bodeguita del Medio, famous for its cocktails that even Hemingway dedicated a few words.
Relax and practice sports on the beaches: If on your trips to Cuba you want to discover the magnificent beaches of the Caribbean you can not forget about Varadero and all the keys that the country has. It is an essential plan if you travel to Cuba with children.
Nature and adventure: Travel to Cuba does not have to be focused on visiting its beaches. It also presents natural spaces in which to enjoy the landscape and adventure. Among them, Las Salinas, a nature reserve on the south coast; El Cubano Park, protected by UNESCO; the Valley of Viñales located in the city of Viñales, where you will discover the authentic population and local life; or the Ciénaga de Zapata, one of the most important forest areas of Cuba that has many species of reptiles.
Travel through Cuba by car rental and discover all the landscapes that the island offers, from plantations and local farms, to the most unexpected secret beaches.
Best time to travel to Cuba?
---
Any time is good to travel to Cuba. It is true that the best time to travel is from November to April to avoid the rainy season although from May to October the sun continues to appear and is not as crowded. You just have to be aware of the weather forecast and in that aspect our local agents can help you perfectly.
Useful information for traveling to Cuba
How to organize your trip to Cuba?
---
Even if it is a small country, you will want to see all its corners. Whatever type of trip you want to make, and if you have any doubts about ideas or itineraries, it is best to contact one of our local agents who live in Cuba and have extensive knowledge of the country. They will advise and recommend the best itineraries tailored to your interests, with total comfort and safety. Check our page for more practical information before traveling to Cuba.
Required documentations
---
It is necessary both the valid passport valid for 6 months, as well as a "tourist visa" to enter the country.
Security in Cuba
---
Cuba is a fairly safe country and you will not find any problems if you want to travel on your own. You just have to take the basic precautions to avoid theft or loss of personal items, especially in tourist areas, bars or restaurants.