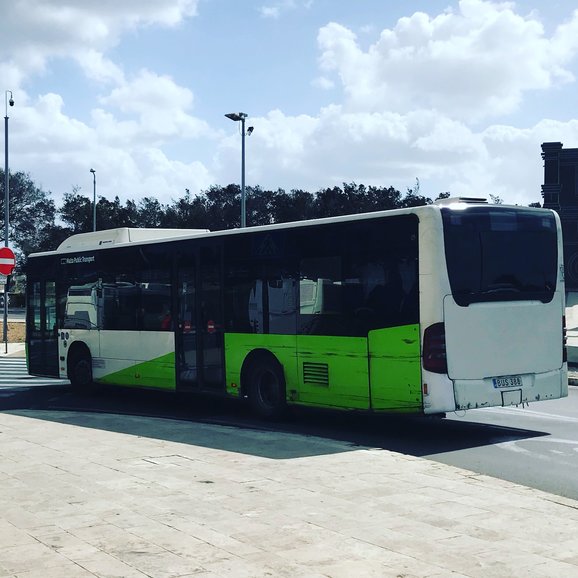 Malta Bus
So during our early travels when we booked a package trip we never requested for airport transfers, going for the option of finding our own way from the airport to the hotel, this has always worked well especially if we only have carry on bags, don't get me wrong there has been times when we have used airport transfers such as in Iceland, America and Morocco. The advantage of not using airport transfers is that it has helped us discover the local transport links. Here is my round up of public transport of some of the countries we have visited.
Germany
---
The Germans seem to have well integrated public transport systems especially in major cities, in Berlin and Munich they have Buses, Trams, Underground and Suburban Trains. All of which are run on a trust system so there are no barriers, that isn't to say there are no ticket inspectors who make checks to ensure travellers hold a valid ticket and if not they will hand out a fine. You can either buy day tickets which allow unlimited travel across all types of transport these tickets come pre validated at the time of issue, other ticket types are available but you may need to validate these at one of the many machines placed around stations and on buses and trams. Most day tickets are sold covering zones, so you can purchase ones from and to the airports. Alternatively as we did in Berlin you can purchase a city card which gives you unlimited travel on public transport as well as discounts in museums and restaurants. These can be purchased for 24, 48 and 72 hours normally and they run from when you first validated your ticket, so if you purchased a 24 hour pass and first used it at 11:30AM on a Monday it will expire at 11:30AM on the following Tuesday.
Italy
---
At the time of writing we have only visited Venice in Italy, but you will need to know about the vapporetti these are the water buses which run 24 hours a day and are one of the cheapest ways to get around Venice and its islands. Like in Germany you can pay for 24, 48 or 72 hours which are valid from first use. You can even purchase one which allows you to use the bus from the airport to the terminal in Venice which is included in the price, but it is worth noting that your return trip to the airport must be made before the ticket expires. Also make sure you buy the ACTV tickets if you want to use the Vapporetti.
Malta
---
Malta is not very big so only has bus services, but don't let this discourage you, the services are frequent. You can pre-purchase travel cards which are preloaded with 10 journeys, which can be used by more than one person. The other benefit is that if you get off one bus and onto another within a hour there is no additional cost all you have to do is scan your card. The cards a valid for 12 months from first use which is great if you don't have the opportunity to use all the prepaid journeys and you plan to go back. If you plan to purchase them before your visit make sure you allow plenty of time before you go, so that they reach you in the post.
Austria
---
So far we have only visited Vienna, but their public transport system is the same as Munich or Berlin with Buses, Trams and Underground trains. We went for the option of buying the Vienna Card which gave us unlimited travel in Vienna for the 48 hours we were there. This card works exactly the same as the other major European cities. Again the system is based on trust with ticket inspectors checking to make sure you have a valid ticket.
Hungary
---
In Hungary we purchased a travel ticket from one of the many ticket machines, this gave us unlimited travel on their Bus, Tram and Underground network and also included the bus to the airport. The Hungarian system is also based on trust but there are ticket inspectors at most of the underground stations.
Public Transport Tips
---
1. Don't be afraid to use the local public transport, it will be safe, secure and reliable, obviously you need to use your common sense especially late at night and if something doesn't feel right then don't use it. By using public transport we have seen and found things we might not have necessarily have found.
2. Check in advance the types of tickets that are available and what they cover. Most sites are translated into other languages especially English. That way you know what to ask for or what to choose when you get there. Most cities will have automated machines that you can also change the language on.
3. Make sure you have a public transport map on you, this is good for checking which train, tram or bus you need, as you will be able to check which direction they are going in as well as the terminus points.
4. If your ticket is not pre validated make sure you validate it the first time you use it to avoid a costly fine.
5. Don't panic, sometime it can be a little confusing, if you are not sure most staff will be happy to help and if there isn't one nearby use your trusty map.
6. Be aware of your surroundings and make sure your valuables are safe, I always make sure anything I don't want to lose is zipped in a pocket or my bum bag, which I can also lock if I want to, but by being vigilant you make yourself less likely to be targeted. Saying that of all the travel on public transport we have have done not once have we had an issue.
7. Enjoy the journey and what you might find along the way there are normally a lot of small outlets around main hubs, where you can grab a local tasty snack.