The Metropol Parasol, designed by Jürgen Mayer, a German architect from Berlin, Germany, is the world's largest wooden structure. Also known as "Incarnation's mushrooms," it stands in the center of Seville, the capital of the autonomous community of Andalusia in Spain. In 2011, when the impressive building opened, it drew a million visitors, making it one of the city's most popular attractions.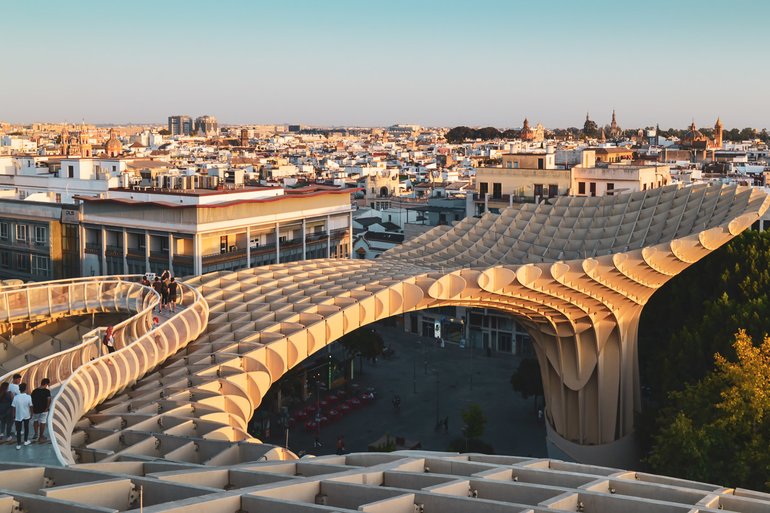 The top of the Metropol Parasol offers a spectacular 360-degree view of Seville's skyline
The structure consists of six mushroom-shaped parasols inspired by Seville Cathedral's vaults and the nearby Plaza de Cristo de Burgos' ficus trees. On the underground level of Metropol Parasol, the Antiquarium exhibits Roman and Moorish ruins discovered in the area. A walkway and a panoramic terrace occupy most of the upper level of this distinctive and unusual building; from there, the city of Seville is visible in all its glory. There are numerous bars and restaurants in the surrounding area.
Getting There
The Metropol Parasol is in the Plaza de la Encarnación square, about a 10-minute walk from the city's main tourist attractions and UNESCO World Heritage Sites such as the Cathedral, the Archivo General de Indias, and the Alcázar of Seville.
Have you ever visited the Metropol Parasol in Seville? If so, did you find the structure impressive?