Kebabs are various cooked meat dishes, with their origins in Middle Eastern cuisine. Many variants are known around the world. Although kebabs are often cooked on a skewer, many types of kebab are cooked as burgers on a grill or in the oven . Kebab dishes mainly consist of cut up or ground meat or sometimes seafood and served with various accompaniments according to each recipe. The traditional meat for kebabs is most often mutton or lamb, but regional recipes may include beef, goat, chicken, fish, or more rarely due to religious prohibitions, pork.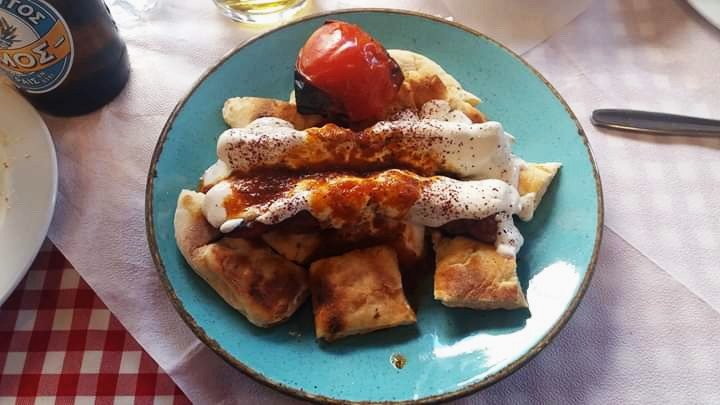 Kebab at Barbadimos
In the city of Athens along with the famous gyros and souvlaki, you could taste some excellent kebabs due to the strong influence on the Athenian city life of the Greek refugees from Konstantinopolis (Instabul), who came to Greece during the 1960s decade and continue to cook in their own genuine way, known as Politiki Kousina (cuisine from Konstantinopolis aka Polis).
Here are four of my favourite places to taste a real delicious kebab in Athens:
1. Barbadimos
---
There are several spots around town to taste this juicy kebab in many variations (lamb, doner, chicken, kaserli and more) along with a big variety of other dishes from Konstantinolis. My personal favourite is the kebab with yogurt sauce (as in the picture above). The interior of the restaurants resembles the one of an old Athenian grocery store.
Mitropoleos 12-14, Syntagma Square - Theotoki 2, Piraeus & two more places
2. Kir Aristos
---
Another excellent place to taste kebab. The kebabs are cooked on skewers and come in many variations. Along with kebab you can taste here perfect shish beef, pork and chicken and other genuine delicacies. My favourite is kaselri kebab, which is kebab stuffed with kaseri cheese. The place during the weekend is always full and does not accept reservations, so arrive here early.
Zisimopoulou 96, Palaio Faliro
3. Tomas Kebab
---
This small restaurant – delivery was for many years a common secret among the inhabitants of Neos Kosmos area but now people from every corner of Athens come here to taste this authentic Armenian kebab, which is prepared by Tomas and his sons. The delicious lamb kebab wrapped in pita bread with onions and tomato is unique but also the chicken kebab (new entry to the menu) with yogurt sauce is a good reason to visit this place.
Mitrou Sarkoudinou 49, Neos Kosmos
4. Thanasis
---
Last but not least, this is the restaurant that learnt the citizens of this city to eat kebab. From the day it opened in 1964, the quality has been the same. One of my childhood memories is the times when I came here with my grandmother and waited in the usually long queue to taste this "exotic" treat. You can either have a take away wrapped in pita kebab or you can sit and enjoy a whole plate of kebabs (you cannot order a wrapped one at the table). Don' t be put off by today touristy look of the place, sit at one of the hundreds of tables and just enjoy.
Mitropoleos 69, Monastiraki Square