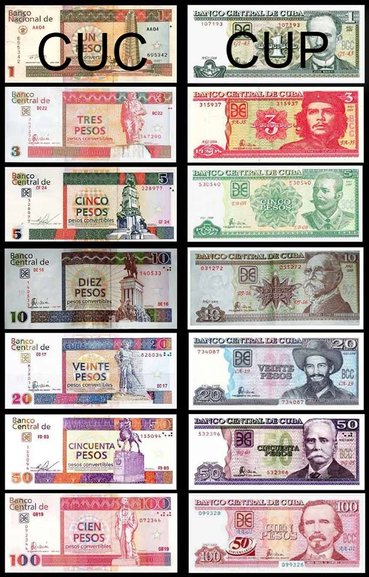 Cuba - CUC
If you decide to go on holiday to Cuba and you have a limited budget or just want to spend a little, here are some tips to enjoy one of the largest islands in the Caribbean with little money:
1. Search for the best flight deals
---
Take into account the season in which you want to travel to Cuba. Since the prices vary from the time of year. If you are looking for a flight a few months in advance, you can find good offers to buy your ticket. There are also flight search engines with which you can compare the different options. Including those with different stops. Although these make the trip longer, usually reduce the cost of the ticket.
2. Make a travel plan and prepare to walk a lot
---
On foot you can enjoy most cities very well. And so you can save a lot of money on transportation. The areas near the city center are always a good choice. But above all you have to be prepared to walk, walk a lot!
3. A casa particular is a good option
---
An ideal way to save money. Get away from the classic hotels and look for a casa particular that fits your needs and budget. You will not only feel at home quickly. But also enjoy the experience and be cared for by the Cubans themselves. And nowadays it is already possible to book from your own country.
4. Cook at home
---
If your casa particular has a kitchen or at least a suitable room to prepare your own delicacies. Then this is a good option to spend less. You can go to the shops or to the Cuban markets to do your shopping. A good meal with family or friends at home will be much cheaper than always eating at a restaurant.
5. Do you want to eat out?
---
And you want to eat a good plate of rice with beans and fried yucca. Then look for a paladar. A home restaurant at the Cubans home. Where you can taste the delicious Cuban food. Go to the lesser known paladares and you will be amazed by the quality but certainly also by the price.
6. Drive "almendrones" like a Cuban
---
If you want to travel through the city with a car, it is better to abandon the typical taxis. Where you can travel alone or expensive rental cars. In such a case, sharing a taxi an "almendrón" or an old taxi is a good idea to save money on transportation. At first it seems uncomfortable or strange to pay for traveling with other passengers, but you will certainly get used to it.
7. Stay hydrated with your own water
---
A good way to save money is to always bring your own water. Buy a large amount of bottles in a supermarket. Costs little and you save the money that you would otherwise have spent on a terrace. Moreover, drinking water is very important for a climate like Cuba.
8. Only change what is needed
---
The change of money is a very sensitive subject in Cuba because of the existence of two currencies. It is best to find the nearest exchange office (CADECA) and not to exchange on the street.
9. Forget the internet
---
Do not be tempted to come to WIFI cards at 1 CUC per hour. We know it's hard, but a little bit of technological detoxification is good for you. Take the time to walk and discover all the beauty of Cuba. Upon your return you have enough time to post the photos on social media and to share your experiences about this beautiful island.
10. Search for the cheapest activities
---
Enjoying nature is a very good option to really get to know Cuba and is free. The beaches and fields that the island has are real gems that you can enjoy without having to spend a lot of money. Forget the expensive night clubs and excursions offered by agencies and immerse yourself in rural Cuba.
Extra tip: carry everything you need in your suitcase, from medicines, plasters, sunscreen, deodorant, perfume, toothpaste, toothbrush, repellant, cream, beach towel, compresses, comfortable clothing suitable for any occasion, shampoo, conditioner, soap, food … everything you can imagine! Remember that Cuba is a paradise, but unfortunately, a lot is missing.