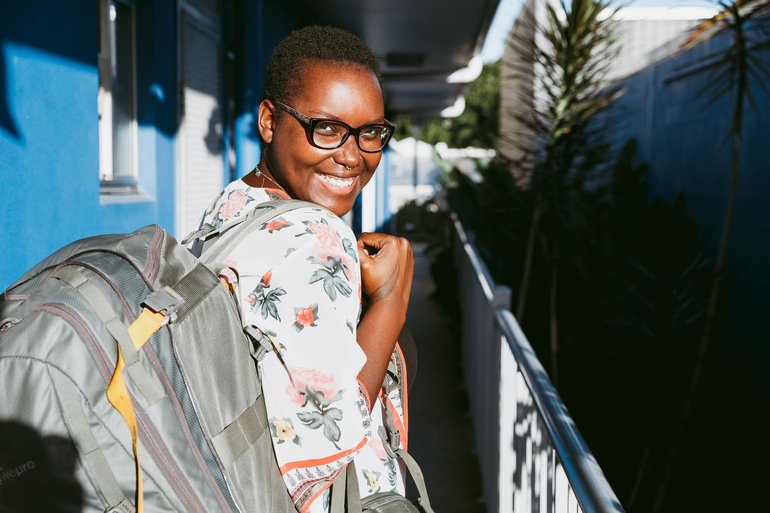 I have been working in hostels for the past two years in Australia. So here are the things that you have to take into account if you want to work in a hostel (in Australia).
Saving some bucks honey!
So the first thing about working in a hostel here in Australia is that you will save some dollaaaaaa. Who while traveling doesn't want to save some money? The minimum commitment time required to work and stay in hostels can vary from two weeks up to two months. You will be sharing a dorm with other staff members, from twin rooms to ten-bed dorms depending on the hostels.
You will require to work a few hours a day. In exchange for a bed and some times free food and activities. The hours can go from eight to eighteen hours per week depending on the location. Big cities like Melbourne or Sydney are more expensive. So you might be required to work more hours than a town like Cairns for example.
I met a lot of backpackers that were doing volunteer work and in addition to that working one or two different jobs. When you don't have to pay rent, electricity, water, and sometimes Netflix. You're looking at saving between $200 and $400 a week. So if on top of that you're earning money and you are being careful, you can easily save about 2k a month. Some people have been able to save 10k in only four or five months!
Privacy in a hostel
By working or even just staying in hostels the term privacy or intimacy doesn't really exist anymore… You will be able to enjoy life as a community to the fullest! Shared bathroom, restrooms, kitchen, common areas. You are not alone anymore, it's like having a big family with sometimes hundreds of other housemates!
If you are a light sleeper like myself (that, I actually didn't even realised before I started traveling). You will have to learn how to sleep in any circumstances or buy yourself some earplugs. Because between the snoring, sleep talking, people coming in and out of your room drunk (or sober). People having sex, even if they're silent the bunk bed will not. There's no such thing as shame anymore you guys.
Free stuff
You know what they say; sharing is caring. In hostels, you are most likely to find a free section with clothes, accessories, bags, electronics, camping, and scuba diving gear. You name it we got it! I have found so many things in the free section, things that I didn't even know I needed them! Some people will even leave expensive things behind.
There's also a free section in the kitchen for people who are unable to travel with their food. When they're flying out or for people who simply want to donate to others. During my first month working in a hostel, I was really short with money. So I was getting most of my essentials from the free food section! And if you're lucky your hostel might also be offering free breakfast, free barbecue, pizza night, etc.
But I would say the best part is when you get to do free activities! Depending on how long you stay in a hostel and the connections you make. You might end up going on tours for free or at a discounted rate. When I was in Sydney a guest left tickets to visit the harbor bridge pillar, it was an amazing experience! We also had an event company giving us around 50 tickets for a concert in the Opera House. And that my friends were absolutely incredible. I could tell you for hours what I got for free but we're not here for that. Just note that it can be very challenging to work in hostels but there are some perks.
Glamorous reality TV show
You will quickly realize that living and working in a hostel isn't as glamorous as it seems… You might be dreaming of working at reception or because you have an amazing personality, be the events person of the hostel. LISTEN, you got to start from the bottom sis, which means you will clean toilets at some point. We've all been there, there's no shame. I started by housekeeping and I've honestly never changed that many beds in my entire life. People are nasty, I thought everyone knew the basics of hygiene but that was all a lie. You might come across, people urinating in their beds, on the floor, in someone else's bed. Sh*t (literally) on the floor, on the walls, in the bins, on the bed, or all of the above. If you're a sensitive person it might not be the right place for you to work in. BUT it's a lot of fun I promise.
And the best part here is that you will feel like living in a reality TV show. There are so much gossip and drama going on GIRL. From cheating, love stories, betrayals, Jeanine hurt my feelings by kissing the guy I had a crush on and I haven't told anyone about it but she should've known. To everyone making out with everyone, having sex with your friends sometimes a few at the same time (wait, what?). There's a lot of Eskimo brotherhood and sisterhood going on. And as much as you'll want to stay out of the drama, the drama will come at you so you just need to embrace it. After two years I could definitely right down a saga out of it, with three books being my own drama. We will talk about this one day, stay tuned.
The opportunities
So, I have witnessed a lot of times because it isn't actual paid work, people tend to be taking the piss. For them, it's not "real work", it's just for fun. Or they sometimes feel exploited. In my perspective, I was raised to work hard in anything I do, push myself to the limit, and sometimes go extra miles. And that gave me great opportunities and experience that I would have never had if I didn't take my work as a cleaner seriously.
We offered me multiple positions in the hostels I was working for. I went from cleaning to events, reception, assistant manager, hostel manager, head cleaner, events manager, bartender, food and beverage attendant and assistant. In the past 2 years, which is HUGE. Some of them worked out well others not so good but I've learned so much and I will forever be grateful for that. But I haven't gotten these opportunities out of luck, I've worked and sweat my ass off for it.
So you have to bear in mind that it is a business, they are there to make money and you are there to save money so help each other out. That can lead you to a paid position in the hostel or with a partner company. In tourism, everyone knows each other and you never know what can happen. Most of the time, when you work hard you get rewarded for it through incentives and recognition.
If you're in Australia, a lot of companies ask for references, if you are doing a good job even if it's scrubbing toilets, that's an easy one there. And most importantly, you will always have a place to stay if anything happens! I have left the company I was working for twice and twice they have offered me work when I was running out of money! This would've not happened if I was being d*ck, so never burn the bridges.
Making connections
I think the best part of working in hostels is the connections you make. I have met a lot of people and I don't always remember them sadly. But a lot of them have changed my perspective about life in a way I could have never imagined. You can truly find friends for life and even your significant other! I know a few people that got engage, married, and even build a family with someone they have met in a hostel.
Like I said it is challenging, the work itself but also the fact that we are all hundreds and thousands of miles away from our family and friends. So emotionally it can be very hard and stressful. But there will always be someone here for you. Someone you will be able to relate to when things get hard. Someone from your home country that understands what you mean by "I want to eat raclette and drink Peket!!!". Who will be there to make you laugh, someone to hold your hand. Someone who'll give you their shoulder to cry on, someone who will listen.
And lastly, you now have a place to stay in France, Germany, Canada, New Zealand, Chile, etc. I have met so many people from all around the world that would genuinely offer me shelter if needed when visiting their country. That's the beauty behind traveling in hostels, there's no other place that can give you that experience.
But I would say the downside of it is when you have been living will the same people for months, in my case years and you eventually go separate ways, it's heartbreaking. And no one is ever prepared for the pain it implies to work and live in hostels.
My advice
Okay so let's wrap it up and conclude this by giving you guys some advice. Yes, you need to take the job seriously because you never know what it could lead to. But have fun with it! It's an incredible experience that you might be doing just once in your life. If you are really interested in volunteering in a hostel, the best way to apply is face to face. Give all the energy that you have!
Some hostels have forms you have to fill in and they call you back if needed. Others ask for a resume, so make sure to always have a resume on you when you apply. Don't apply in just one hostel, waiting for an answer. Go around town and do all the hostels you can in the area you want to live in. It also gives you a chance to see the hostel, some hostels look nice online but are absolute terrible once you get in.
And my last advice would be that yes you will meet amazing people. But also keep in mind that not everyone is your friend, not everyone has good intentions. If there's anything that makes you uncomfortable. Please speak up and try to get away from the negative people around you. This can be truly amazing but it's not worth putting yourself at risk or in toxic relationships.
I hope this post was helpful
Love, Grace.