Did you ever go on a trip and have a long-term stopover? When do you get it, what do you generally do? Are you feel positive, ready to explore the city that will host you for the next few hours, or you are irritated by the fact that you will have to waste too much time at the airport? On our trip to India last February, we decided to stop 12 hours by night in Kuala Lumpur on the outward journey, and 12 hours by day on the return journey, and we must tell you that we could not have made a better choice. When and if, something like that should happen to you, our advice is to take advantage of it, so that you can explore a place that you would not have thought to visit before. Obviously you should first inform yourself about any "visa" speech; if you need to apply for a "Tourist Visa" for only a few hours, it is not convenient, but in some countries, like Malaysia and Singapore, for us, Italians, it does not need any kind of visa, so come on, let's have a look!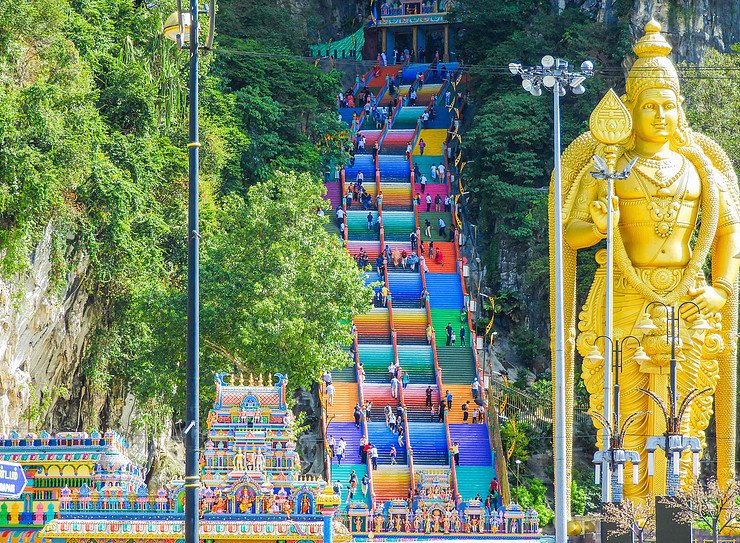 Entrance of the Batu Caves with its bright colors
A NIGHT IN KUALA-LUMPUR
We arrived in Kuala Lumpur on January 30th at 10.15pm, and after passing the immigration checks, we were finally ready to begin our "short" journey. After having oriented ourselves in the airport, trying to figure out if we had to take a taxi or train, we also had to withdraw some cash for the evening and after that we were finally ready for the adventure. After a few minutes of reflection, we opted for the train (with 55 RM will take you to Sentral), definitely cheaper than the taxi, and we found ourselves in the main station of the city, which we thought was right in the center, instead we found ourselves about 5 km from the Twins Towers, the symbol of Kuala-Lumpur. Without having data or a map, we relied on instinct and a sense of orientation. Imagine seeing the two towers in the distance and you trying to reach it like mice in a labyrinth of streets, which, at that late time of the evening, there were no people to ask for information. During the walk, surrounded by a humidity that was completely new to us, here comes hunger, followed immediately by the discomfort, because it was getting so late and every hope of finding an open restaurant, even the dirtiest ones, was slowly fading. But here, as a sign of destiny, our road intersects with John's road, a Malaysian gentleman of fifty years old, who shows us the street in which we would find restaurants. Once we set off on the way to the restaurants, we note with surprise that John was following us. At that point, even though the anxiety hovered in the air, we took courage, and asked him to join us. It could only be the best choice to make. We met a great person! Solar, kind, with whom we shared many of our thoughts and adventures; he decided to take us to this "restaurant", he ordered the typical food for us, and we found ourselves chatting, in front of a plate of noodles, about his trip to Italy in the 90s, of how Malaysia has changed over the last 20 years, costumes and customs, religion and politics. In short, he delighted us with so much culture, that we felt to become richer and more educated about this culture. In all this, however, we were not at the restaurant all the time, in fact, he offered to take us to the Petronas Towers (also known as Twins Towers), and taking us for a quick panoramic tour of the city center as our personal guide. What to say, it will have been destiny, it will have been luck, we can define it in many ways, the fact remains that this gentleman made our "short trip" in a fantastic experience, which left us with so much gratitude in our hearts.
Obviously, at that time of the night in Kuala Lumpur, the city's attractions were all closed, but we decided to catch the opportunity to take a tour of the city, taste the typical cuisine and take some pictures. Having met John, however, gave us the opportunity to learn much more about this city, not only historically, but also from the citizen's point of view. He spoke of the difficulties of the last few years concerning the different religions that are present in this country; in fact the main religions are 3, Islam, which has become the most common religion with 53%, followed by Buddhism with 17% and by Hinduism with 7%. The problem is that, even though Malaysia guarantees freedom of worship, in recent years Islam has increasingly established itself as an absolute religion, gradually crushing other beliefs, creating more frequent conflicts. He also explained to us that he did not believe it possible that such an imposing and expensive structure as the Petronas Towers, which take their name from the national oil company, was going to be built in Kuala-Lumpur. But after just 2 years of work, from 1994 to 1996, here they are, popping up in the center of the CBD, giving the city a new face, a face that points to an economic and a cultural development.
KUALA-LUMPUR WITH THE SUN
On our return trip from India to Perth we still had 12 hours to go and visit Kuala Lumpur, this time though, during the day. After an accurate research on the main attractions of the city, we decided to dedicate our "short trip" to the discovery of the Batu Caves, although many advised against it, especially due to the distance from the airport. But we, undeterred, did not let ourselves be conditioned. After discovering GRAB, an alternative method of traveling economically, that works like Uber, we ordered our cheap taxi, and off to the Batu Caves, a limestone caves that are house of several Hindu temples. If you are an Instagrammers or you are passionate about traveling, you could not have seen at least one picture of this beautiful place. We were so excited. Arrived at destination, we found ourselves in front of this stairway of 272 steps in rainbow colors, and we were amazed by the majesty of the statue of the God Karttikeya, protector of the spiritual growth of the aspiring devotees. An imposing and amazing 43-meter gold-colored statue. The entry to the site is free, but remember that being a place of worship, if you wear short shorts, they will ask you to rent a pareo for the cost of 5.00 Malaysian Ringitt, which would be 1.10€.
Once the ascent to the steps begins, you will begin to see the first monkeys running left and right between the curious and amused people. At first glance these monkeys seem really nice, but there is not too much to trust, because they are not only mischievous and irascible, but they are also attracted to everything in is your possession, from food, to sun glasses, from bottles of water to hats, and if you are not careful they will take them and goodbye, you will never see your things again! Our advice is therefore to hide in a backpack everything that could attract their attention, and to keep the camera and the phone tight! We also advise to do not going too close to them, or even trying to touch them, because they could irritate and start screaming, run towards you showing their teeth, or worse, slap you, like "One night at the museum" style. Certainly it must be said that one of the attractions of these caves are precisely these monkeys, which climb everywhere, giving to this place a truly exotic and magical air, accompanied by the smell of incense and the bright colors of Hindu temples.
Once the stairway is finished, with the pant and the drops of sweat that begin to fall along the forehead, we were finally entering the mountain, ready to discover these very high caves, which left us breathless for their beauty. The place is divided into 2 large caves, with several Hindu temples, souvenir stalls, many tourists and many macaques inside. The particularity of the temples of this religion are the colors, bright like nothing else in the world, which capture your eyes and even your heart. This mystical-looking place will leave a mark on your soul.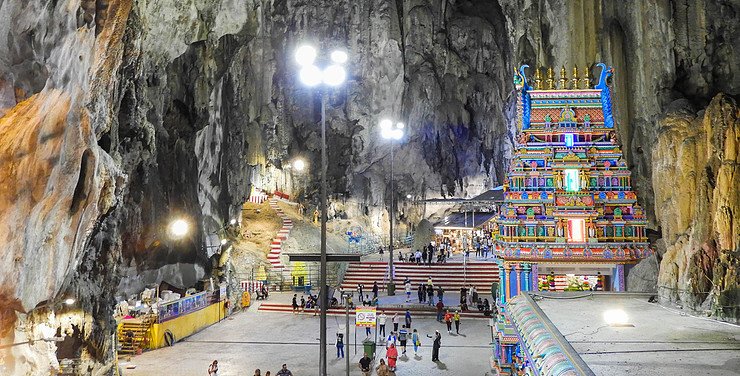 Interior of the Batu Caves
Another not very known, but equally beautiful attraction, are the other caves at the base of this hill. A labyrinth of alleys in which you will find statues of bright colors representing the Hindu gods, from Ganesha to Shiva, from Kali to Parvati, with their relative stories and representations in order to give the tourist a clearer view at the end of the tour. In addition, these caves are house of an underground reptile house where you will find among the most particular species of snakes, turtles, spiders and much more, and at every hour, in the main atrium of the garden, which is at the entrance of the caves, is going on scene a show of typical dances, with music and traditional costumes and while you will watch the show you will be surrounded by peacocks that have made this garden their home. However, unlike the main caves, these are not free, in fact they cost 30 RM per person, which is equivalent to 6.40€; a price not too high therefore for what these caves have to offer.