Tsz Wan Shan (Temple Hill) is a district in Hong Kong located at the foothill of a mountain called Tsz Wan Shan (Temple Hill). There are two spots that may interest you.
The first spot is Fat Jong Temple which is one of the starting points of a nature trail leading up to Lion's Pavilion, Tsz Chuk Pavillion, Tsz Wan Shan Kwun Yam Buddhist Temple, Lion Rock and Amah Rock. "Fat Jong" is just a convenience way to translate the Chinese name to English name by the local government in pronunciation. In fact, it does not actually mean "Jong is fat". The name of the monastery in English should be "Treasure of Dharma Monastery". "Fat" means "Dharma" and "Jong" means "Treasuring something". Tsz Chuk Pavillion can be interpreted as "Purple Bamboo Pavilion". which is a gateway to Tsz Wan Shan Kwun Yam Buddhist Temple. "Kwun Yam" is the name of a deity in Buddhism. The name of the deity should be "Goddess of Mercy". This temple was built at the edge of Tsz Wan Shan (Temple Hill). The old one collapsed a long time ago when I was young. As recalled, the abandoned temple structure was full of rubbish and windows are broken. Nothing worthy to see at the temple as it is just a place for locals to worship their deities. Even though they convert the place mainly as Columbarium, few shrines still exist at the location. Lion Rock Hill still the focus around that area. Prior to your next uphill battle, they provide a pavilion for your break or a checkpoint for your conquer. Before your conquer continue, you will see a stone plaque erected on the side of the footpath. It is a relic left by British soldier for military use.
Let's fall back to the foothill of Tsz Wan Shan (Temple Hill). The living condition and crime rate was bad. The situation no better than the situation in the movie "Slumdog Millionaire". Gangs and triads notoriously prosper in the district. A gang earned its name in the district. In recent decades, the crime rate had fallen down because new apartments had been built and the district was cleaned up in the colonial era.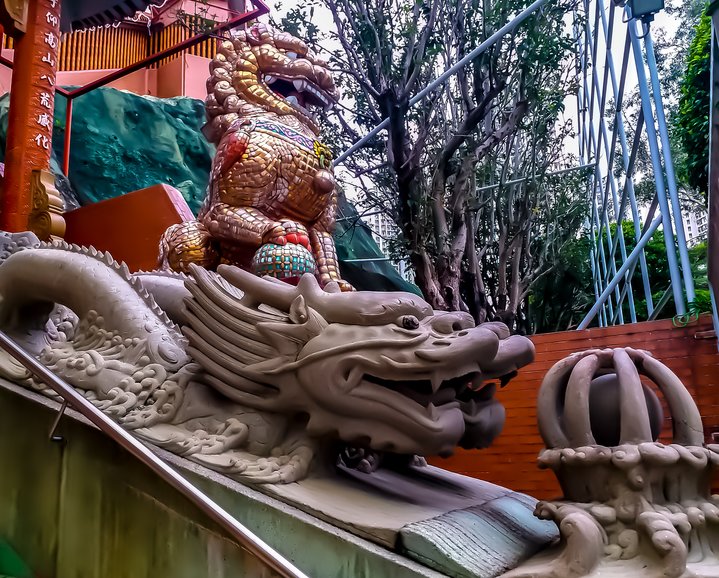 Tsz Wan Shan (Temple Hill in Kowloon