Due to COVID-19, I could not travel outside Germany for a very long time. Finally, when I got vaccinated, I could not wait any longer. And here comes my summer vacation to Malta.
Located between the south of Sicily and the North African coast, Malta is a little archipelago in the Mediterranean Sea. It consists of three main small islands: Malta, Comino, and Gozo.
I have spent one week in Malta and explored few places. So here are the five must-visit places as per my experience:
1. The "Silent City" Mdina:
---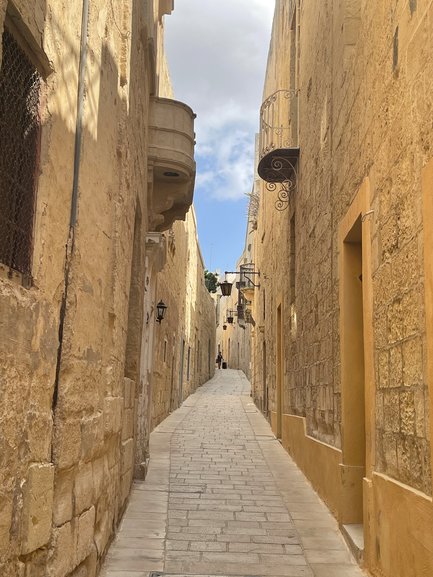 Mdina
An ancient, fortified city and former capital of Malta. It is almost 13.2 km from Valletta and stands on the hilltop. Since Valletta was our base for Malta, we took a bus from the Valletta bus terminus and spent half a day in Mdina.
You will fall in love with the quaint narrow alleys of this beautiful city at once. The city has mixed influences of baroque and medieval architecture. You can find many Instagrammable spots while exploring the alleys. Do check out the traditional colorful Maltese door and unique door knockers. And if you are a Game of Thrones fan you surely will enjoy Mdina because some scenes of Season 1 were shot here.
I highly recommend including Mdina in the itinerary.
2. Blue Grotto:
---
Sea caverns situated on the southeast coast of Malta. You can reach there by taking the bus from the Valletta bus terminus. Once you reach there, you need to take a ticket for a short boat ride. The boat will take you to the cave.
Blue Grotto and surrounding are very scenic. Enjoy the view of Filfla island from here with a nice lunch.
Little tip: To get the best view from Top, get down at the bus stop named Panorama and walk downhill.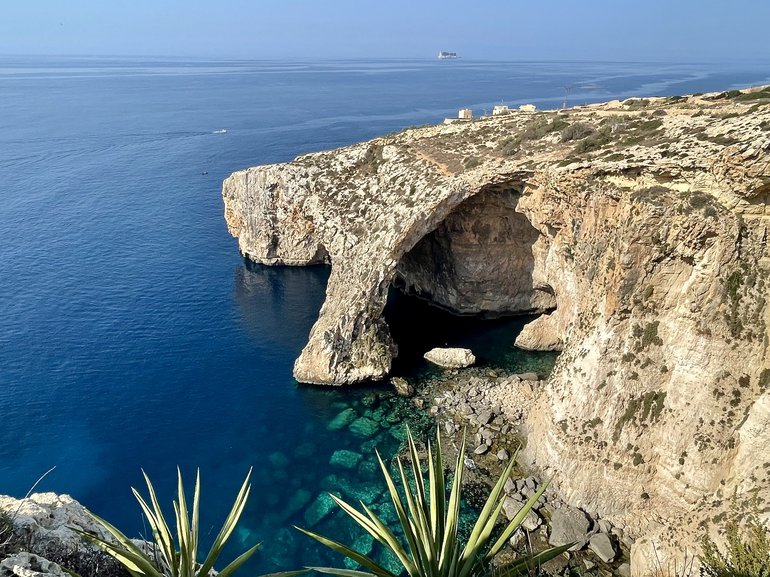 Blue Grotto
3. Blue Lagoon and Crystal Lagoon in Comino Island:
---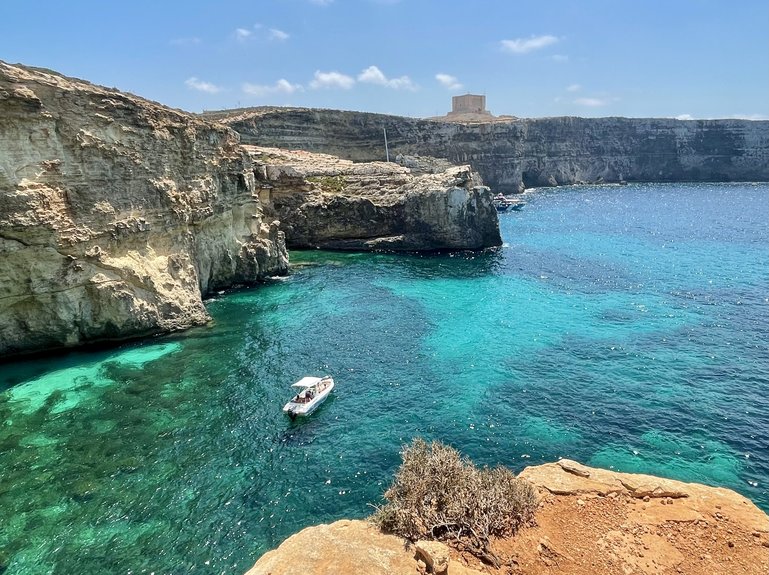 Comino Island
If you want to be mesmerized by the amazing blue shades of water, Comino Island is your place. A quick 20-minute (approx) ferry from Cirkewwa ferry terminal will take you to Comino island. Crystal Lagoon and Blue Lagoon both are situated in Comino and tourist hotspots. While in Comino, you can explore sea caves, do water sports, swimming, cliff diving, and scenic hike.
Most of the boats will anyway take you to the caves before reaching Comino. Since I visited Comino from Mellieha, the Cirkewwa ferry was easier for me. But there are tour operators such as Captain Morgan, Catamaran through which you can book an organized tour. You can also visit Comino if you are staying at Gozo.
In short, depending on where are you staying you can find plenty of options to visit Comino.
There is not much shade on the entire island. It is mostly filled with wildflowers, rocks, rugged cliffs, and caves. So if you are planning to visit in the summer months, be prepared to experience the heat and a lot of people :).
4. Ta' Ċenċ Cliffs and Dwejra Bay in Gozo:
---
If I have to name two special places to enjoy the sunset, it will be undoubtedly Ta' Ċenċ Cliffs and Dwejra Bay.
Ta' Ċenċ is a beautiful cliff with a breathtaking view, situated in the south of Gozo. Once you reach there by bus or car you have to walk to the cliff. During the cliff walk, you will experience a stunning view of the Mediterranean Sea. Especially at sunset, it is amazing to experience the view.
Also in general, I feel, this place is great for walking or easy hiking.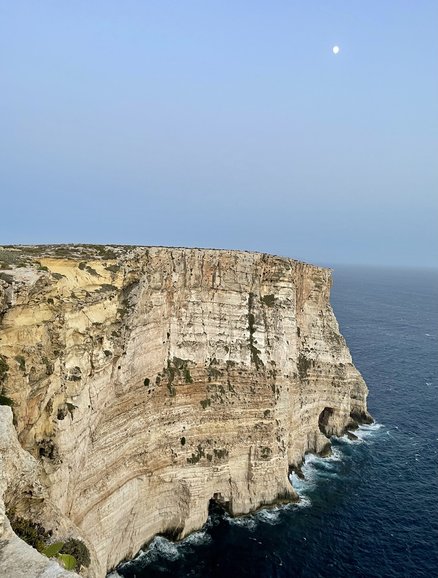 Ta' Ċenċ Cliffs
Most people know Dwejra bay by the Azure Window. Although the Azure window is not there anymore Dwejra Bay is surreal on its own. There are other places apart from the Azure window, such as a blue hole, inland sea dive site, fungus rock, etc which you can explore. I would recommend a nice hike followed by the beautiful sunset at Dwejra Bay.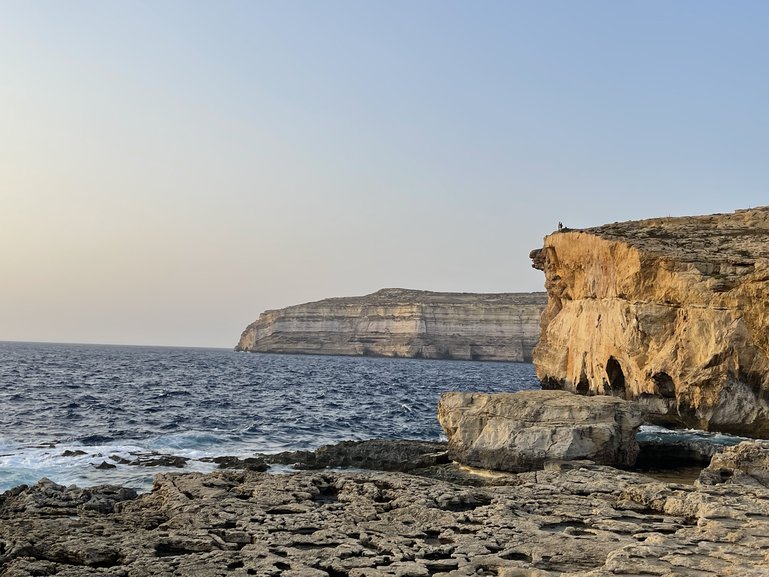 Dwejra Bay
5. Upper Barrakka Garden in Valletta:
---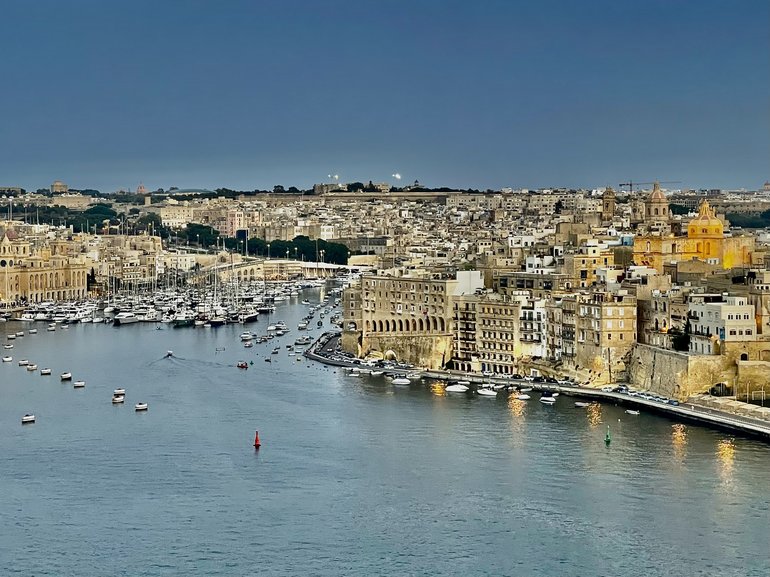 View From Upper Barrakka
Upper Barrakka is one of the most attractive landmarks in Valletta. It gives you a stunning panoramic view overlooking the Grand Harbour and three sister cities in the background. It is situated close to the Castile palace and a must-visit place while in Valletta.
For the best experience, I recommend visiting lower Barrakka along with Upper Barrakka. Both places are truly beautiful and decorated with a little garden full of flowering plants and cute benches where you can sit, relax and enjoy the view.
* Side note: While in Malta, I explored all the places by public transport. If you drive, your traveling time will differ from mine.