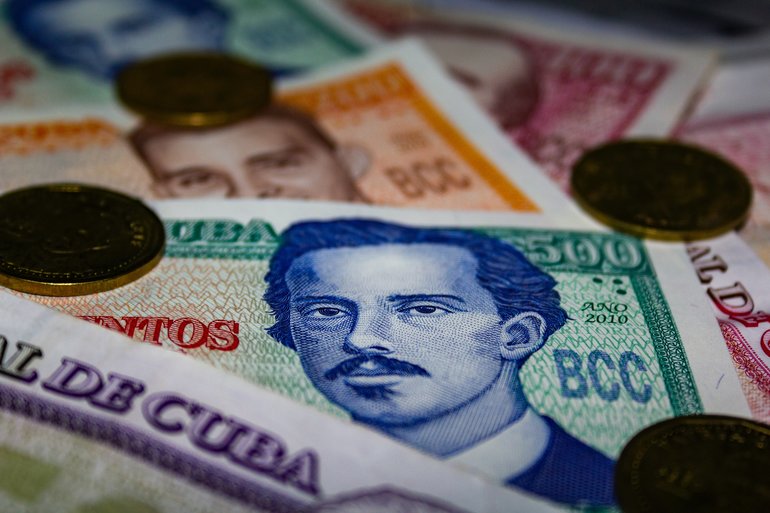 Lately, there have been more and more reports from travelers complaining about the high price level in Cuba. The cause lies in the two exchange rates that arose with the currency reform in Cuba. As a result, the information from many travel guides about money in Cuba became obsolete.
Currency and exchange rate in Cuba
---
With the abolition of the convertible peso (CUC), the Cuban peso (CUP) has been the sole national currency since January 1, 2021. The official exchange rate is set at 24 CUP per US dollar. The exchange rate against the euro is 30 CUP per EURO. This rate is applied at state bureaux de change (CADECA) and when using ATMs.
However, many everyday goods are now only sold in currency stores. Of which there are about 100 on the island. Only card payments are accepted there and prices are indicated in US dollars (in Cuba called MLC, "moneda libremente convertible", i.e. freely convertible currency). The resale of products from these stores has become a popular 'revenue model' for those with access to foreign exchange on the island. Something the state can do little about. People who go to these stores especially for this purpose even have their own name: "Revendedores", so-called resellers.
Constant excess demand in the peso trade (which worsened during last year's economic crisis) put pressure on the Cuban peso, creating an informal foreign exchange market. It initially started at a rate of around 50 perso per EUR and continued to rise through 2021. The informal exchange rate is currently between 83 and 90 pesos per EUR. All foreign currencies, including Swiss Francs and British Pounds, are purchased at informal bureaux de change and exchanged for Pesos. Virtually every Cuban with access to foreign exchange uses this route along the CADECA. Although street barter is officially prohibited, it is tolerated in practice. Nevertheless, as a visitor to Cuba you have to deal with the subject with some discretion.
So what does this mean for travelers?
---
As a tourist you pay in Cuba (except hotels and exchange offices where card payment is allowed) with Cuban pesos. If you exchange it at the bank or get it from an ATM, you will get the official exchange rate of 30 CUP per EUR. However, many prices (especially for restaurants, taxis, services and in markets) are based on the informal course of the market. Example: a pizza that cost maybe 140 pesos in 2019 (about $5 at the time) is now priced at 400 pesos. With the official exchange rate this is €15, but exchanged on the informal market it is only €4.
It is therefore advisable to bring enough cash for the entire trip. It is also possible to exchange money on the street, but it is best to contact people you know and, for example, inquire at the accommodation before going to the nearest street vendor. The risk of receiving counterfeit money is in principle present, but is currently relatively low. Many taxis and casa's want to be paid directly in euros or US dollars. You then get pesos as change, but at a worse rate. Officially, transactions can only be processed in pesos anyway. It is therefore advisable to exchange the foreign currency you brought with you once or in several stages as cheaply as possible and then pay with pesos everywhere.
Dollars or Euros, which is better? The question always arises whether it is not better to take dollars to Cuba instead of euros. It's not. While both currencies can be easily exchanged, the euro has become even more popular as a foreign exchange reserve. This is because, as of June 2021, US dollars can no longer be deposited into Cuban MLC accounts and thus can no longer be used for purchases in foreign exchange transactions. Anyone who has access to Euros, Swiss Francs or British Pounds should use this currency and not have to worry about dollars in Cuba.
What to do if you run out of money?
---
Of course you can always go to the ATM or to the bank branch, where you can withdraw money at the official rate with an international credit card (both Visa and Mastercard). However, it is better to plan your travel budget so that you do not need to use this option.
The whole thing can't be permanent, right?
---
No, nobody can and will not. All economists agree on that. However, the current shortage of foreign exchange limits the government's ability to control the currency. The situation is reminiscent of the early 1990s, when the peso also plummeted as a result of the economic crisis at the time. It took several years before a uniform exchange rate could be restored, which was achieved at the time with the introduction of the double coin system. Now the path will be different. The proposal to abolish the rigid rate of 30 CUP per EUR is on the table. But when exactly the first steps in this direction will be taken is still in the stars.