Located in Campania, southern Italy, Mount Vesuvius is the only active volcano on Europe's mainland and one of the most dangerous in the world. The volcano's noteworthy aspects include its proximity to Naples, Italy's third-largest metropolitan city, and adjacent communities near the slopes, as well as the thousands of tourists who visit its peak each year.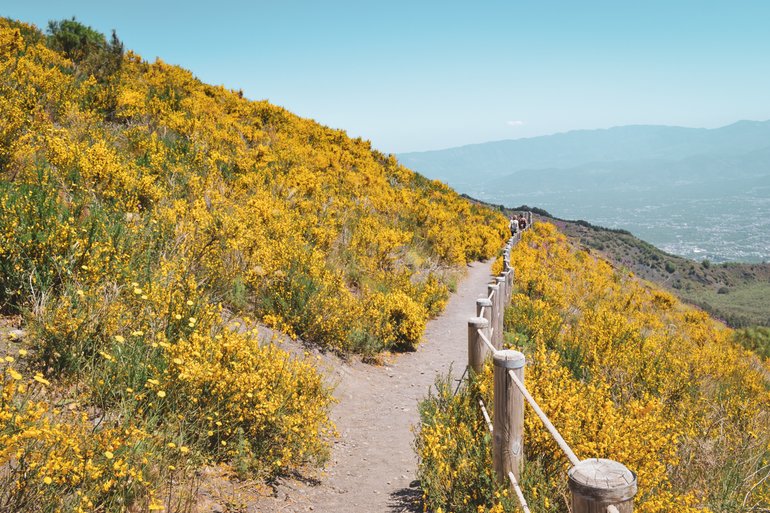 On the hiking trail down
In 79 AD, it spewed a cloud of stones, ash, and gases into the atmosphere 33 kilometers (20.5 miles) away; the two Roman cities of Pompeii and Herculaneum vanished from history in nineteen hours. Almost thirty people died in Vesuvius' last eruption in 1944.
The height of Mont Vesuvius is approximately 1,280 meters (4,200 feet). On the hike to the top and around its crater, you can discover breathtaking landscapes and enjoy spectacular views of the Gulf of Naples. Nearby Mount Somma is also intriguing because it is the remnant of an older volcano.
Getting There
Take the blue 'Sorrento' train line from Naples Central Station to the Ercolano Scavi stop. The trip takes about 15 minutes. Vesuvio Express shuttles run from there to the Vesuvius National Park ticket office, which is 1 kilometer (0.6 miles) above sea level. That is where the hiking trail begins.
Have you ever been to Mount Vesuvius? If so, how did you find the experience?