If you have followed my blog on Italy, you'll get to know that I flew from Venice to Paris to take the last leap of my Trip to Europe before returning to India.
It was a night flight and I landed post 12AM. I had not booked any tours beforehand as I decided to book while I'm there itself. I think that was not a good idea. I would suggest you to pre-book your tours because sometimes it's difficult to get it available at the last moment.
Mode of Transport
---
If you're coming from another European country, you can travel by train or by flight. Train will take longer time and flight will be a short trip so if you have time constraint, do take flight. Also, while taking flight make sure to book baggage as most of the flights are hand baggage only.
Places To Visit
---
Louvre Museum
It was quite intriguing to visit the world's largest art museum!! I must say it is a pretty challenging task. In fact, it is impossible for you to cover every part of it in a single day. Most famous painting that people from all over the world travel to see "Mona Lisa" lies here. You might have to struggle to make your way till the front to view the painting as it's very crowded and the painting is guarded. So, yeah if you want to see Mona Lisa's smile please go ahead. I had headed directly towards her painting when I reached Louvre. However, that doesn't mean that other paintings are not worth seeing. I was amazed to see some really fine piece of art. You can spend the whole day inside and be sure to get dog tired. Make sure you wear comfortable shoes. There are restaurants inside which you'll need for refreshment. Louvre is definitely a must visit while in Paris.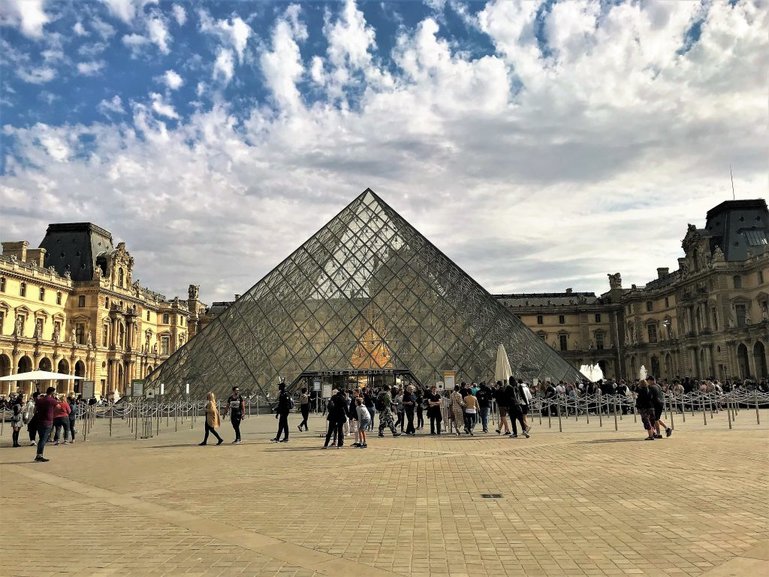 Louvre Museum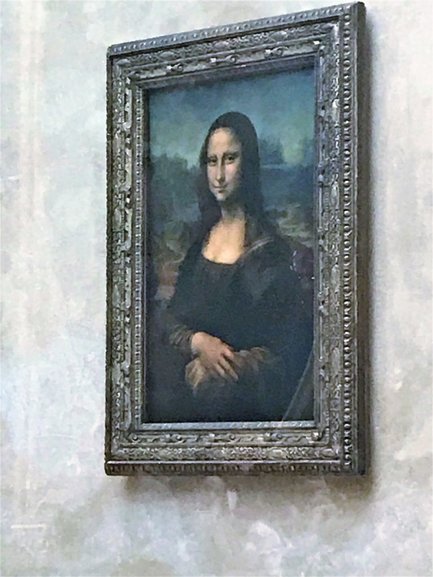 Leonardo da Vinci's - The famous Mona Lisa
Notre Dame Cathedral
This stunning architecture is another must visit. The queue was really long to get inside the cathedral so sadly I had to skip it as I was really very tired after walking in Louvre the whole day 🙁 Nevertheless the nearby streets and the surrounding area was really refreshing. You can sit around the place and watch the life pass by.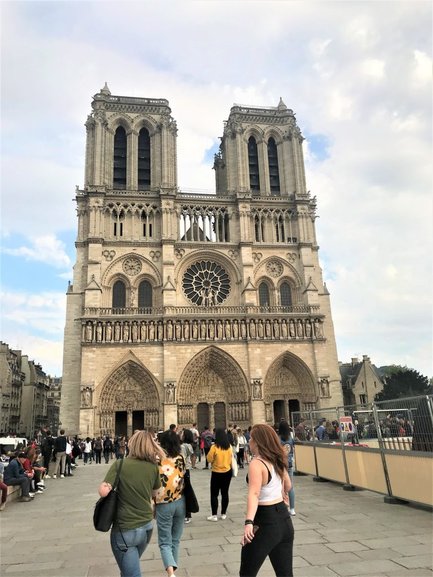 Notre Dame before it got burnt ..
Eiffel Tower
Needless to say, everyone knows Eiffel Tower; the most magnificent and iconic tower of the world!! I had booked a walking tour with a guide who guided us till the 2nd Floor. So it was 649 steps till 2nd floor and it was quite tiring to walk up but none the less we did it. From 2nd floor our guide dispersed and we took an elevator to the summit. There are restaurants on the 2nd floor, if you want to halt and eat something. You can get a bird's eye view of Paris from the summit. It was spectacular to finally be climbing Eiffel Tower and seeing Paris from top. It was definitely a great feeling.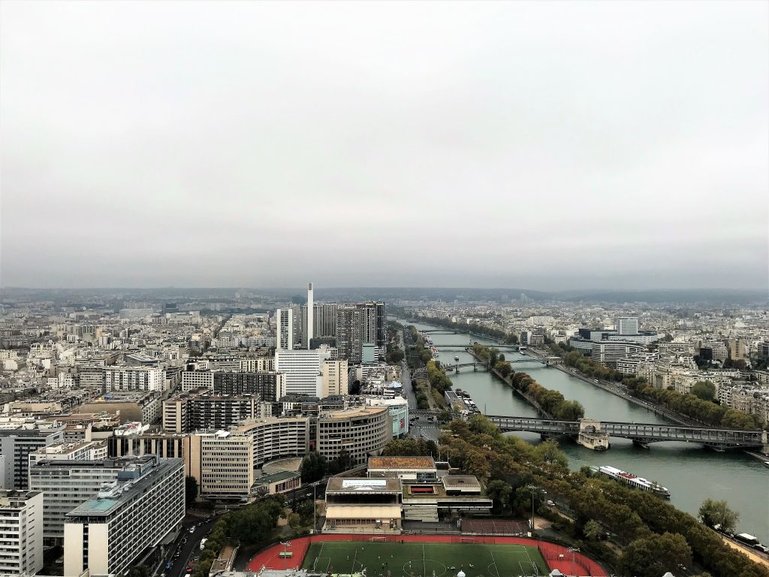 View of Paris from the top of Eiffel tower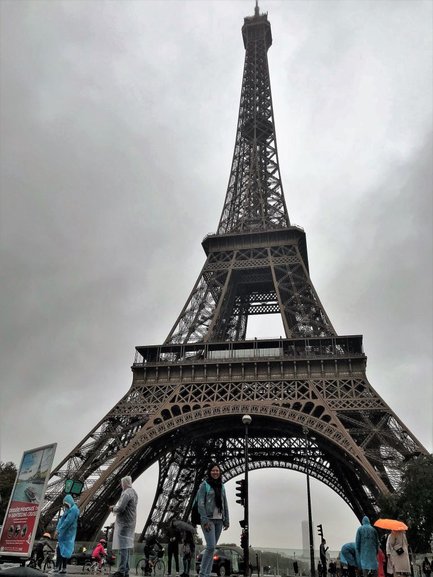 Eiffel Tower
Audio Guided Paris City Tour
After Eiffel Tower I had booked an Audio Guided Paris City Tour. There are several departures in a day and you can book one that best suits you. A pre-recorded commentary with individual headsets will narrate you all about the history of the place. You can choose from the multiple languages that are available and listen to the commentary. The tour will pass by the major tourist attractions of the city. With this 1.5hrs of Paris tour you will learn about the significance of the major monuments that you'll cross by and the importance of it.
Seine River Cruise Tour
Cruise along the Seine to admire Eiffel Tower, Louvre Museum, Notre Dame and other iconic attractions of the city. It was pretty cold in the month of Oct and pretty chilly on top with all the cold wind blowing. I remember shuffling between on top and inside the boat just to click pictures. So, I used to climb up to take pictures and come down again the moment I felt cold!! It was a pretty good view crossing across the famous monuments. I feel Seine cruise is a must and am sure it could be enjoyed more if the weather was supportive.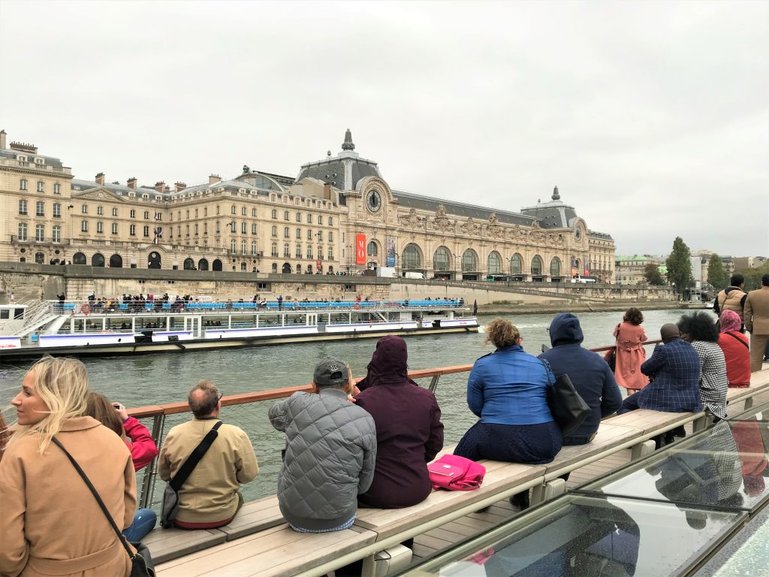 Seine River Tour
Arc De Triomphe
At the end of Champs-Élysées lies Arc de Triomphe, one of the most famous monument in Paris. Don't forget to sit in any of restaurants in Champs-Élysées and enjoy your dinner. You can see all the high end brands here. The street is very lively and a great place to relax.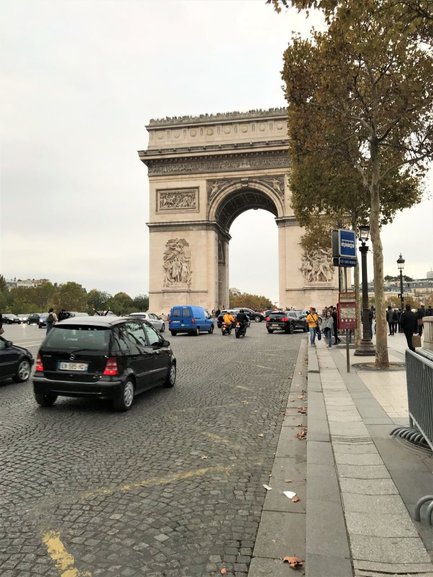 Arc de Triomphe
Transport Within Paris
---
I don't think possible to walk in Paris and cover all the places, but you can take a metro which is well connected and it's pretty cheap. I guess it was 1.90Euro for anywhere in Paris. All the major attractions are in a walking distance of the metro. Pretty good connectivity I must say. I travelled everywhere in in Paris in a metro.
With dinner at Champs-Élysées my trip to Paris ended. I must say a very romantic place; I guess Love was in the air!! Wish I get to visit again.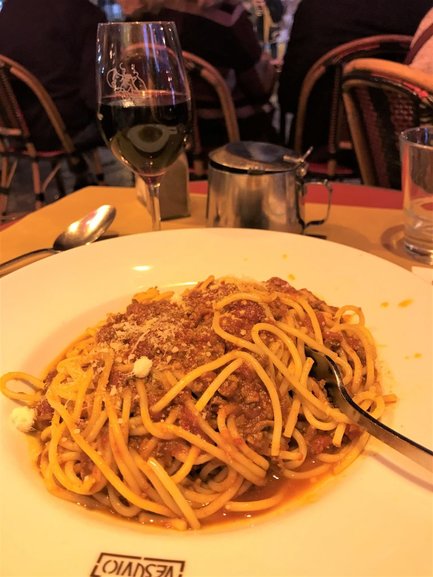 Last dinner at Champs – Elysees
Hope you enjoyed reading
Cheers!!