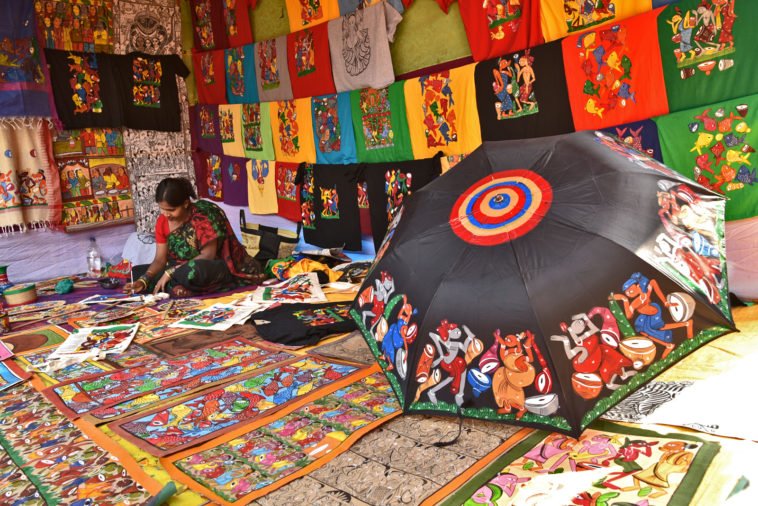 In a world where religious instructions and beliefs form the lifeblood of every society's moral ethos. They have determined the fate of many empires and decay of man in self-inflicted wars the world over. But the Patachitra painters of West Bengal(India) have carved for themselves a unique place in society.
Imagine a person who is both a Hindu and a Muslim; imagine a whole village of such people. These people are not delusional, they don't have split personalities and are not the residents of a crazy commune. It is a community that stands at the periphery of two religious identities. The Patachitra painters of West Bengal are quite unique in the Indian subcontinent. They struggle to maintain a fluid identity in the face of constant pressure to define themselves more rigidly and are among the most extraordinary people you could meet- probably having a higher and a more evolved order of thinking, helping them rise above the odds that they are themselves subject to.
The pat or scroll painting is a unique art form found in Bengal and Odisha. While the Odisha scrolls are more classical and painters are all Hindus in West Bengal, it is a very folksy tradition and most of the surviving practitioners of the form are Muslims. The artist, referred to as a chitrakar or patua, paints images that tell a story in sequence. As the scroll is opened scene by scene, the artist accompanies it with the song. A bulk of these scrolls depicts Hindu divinity, though some are about local Sufi saints. Episodes from the Ramayana and Mahabharata or the Leelas of Krishna are brought to life by these moving pictures. Few other popular figures on these scrolls are the Goddesses revered in Bengal like the Durga, Kali and Chandi. Most of the songs praising Gods have been handed down several generations.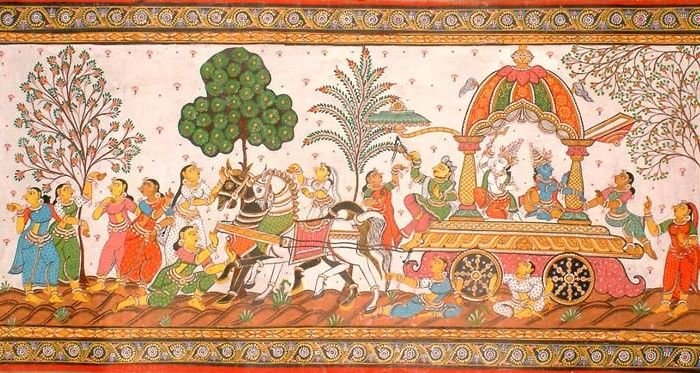 Nyaya village in the Midnapore district is a village of Patachitra artists who are described as 'Muslims' even though their identities are a cross-over. The village is one of the most creative centres in Bengal of this dying form. The fifty-odd artist families are indeed an interesting community. They finalise marriages according to the Hindu calendar but the Muslim nikah ceremony is sanctified by a Qazi.
Funerals are conducted according to Islamic rites, while no woman has ever worn the veil, married women wear the 'sindoor' mark which is a distinctly a Hindu custom. As far as the festivals go, they enjoy the best of both worlds- Eid is celebrated with as much enthusiasm as the Durga Puja.
But the most interesting part is that all of them have two names, Hindu and Muslim. While the Hindu name forms their professional identity the Muslim name is used on a personal basis and is their 'real' identity. All of them have the same surname 'Chitrakar' (artist). So Dukhoram Chitrakar's Muslim name is Osman; Amar Chitrakar is also Omar; just as a woman artist Rehima, goes by the name of Roopa Chitrakar.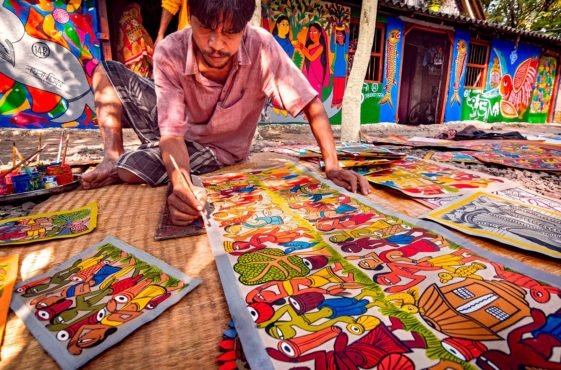 PC: Amritendu Das
Though the Patachitra art form is famous throughout Bengal, people have scant knowledge about this community of singer- painters. One would have imagined that they would be an anthropologist's delight, but research into the social origins of the community remain sketchy. One theory goes that these artists came from an untouchable Hindu caste that converted to Islam to escape social ostracism. According to another theory, they were just a respectable caste of painters who gradually converted to Islam because many of their patrons were Muslim 'zamindars'.
No matter what religion these artists choose, their religious identity has served one common purpose- to continue and conserve a long practised tradition.