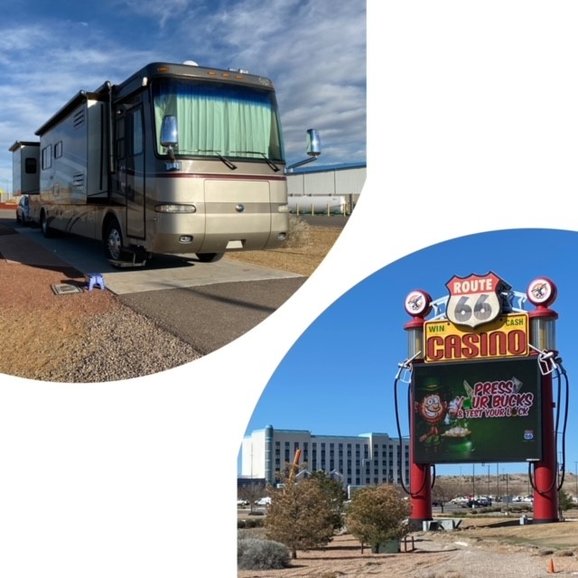 Camping at Route 66 RV Resort
Route 66 RV Park is a 5-star resort. We stayed there in March of 2020 as the Pandemic was just hitting. We had just left Colorado where we had sold our home and started the full-time RV life.
The sites are very large, with concrete slabs and full hookups. The amenities are spotless. They have a very large clubhouse with washers and dryers, bathrooms along with very clean showers. The Clubhouse also provided coffee and soda, there was a TV to watch and games for the kids along with movies to check out and books to borrow. The RV park is within walking distance from the Casino. While at the Casino you can eat dinner, gamble, and/or have a drink. They also serve breakfast in the morning along with hot coffee. A rule we learned while being there, in New Mexico you can not drink alcohol and gamble at the same time. You need to be in one of the restaurant areas as alcohol is not allowed near the slot machines. This resort was very dog friendly and I felt very safe staying there. We did only spend one night and were on our way to the Grand Canyon. It's very easy on and off the freeway location. You will not be disappointed if you choose to stay at Route 66.