This is the ideal tour for the cultural enthusiasist. It is not a sight seeing tour but a participatory experience .You shall experience living the life of a Karimajong for one week. Activities shall include herding and milking cows, taking part in cultural elders' meetings, attending a traditional wedding ceremony and building a manyatta.(hut)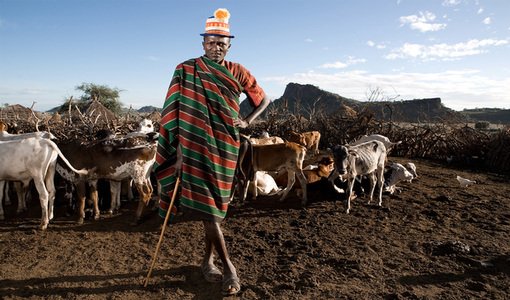 A Karimajong herdsman
You shall be picked from your hotel by our driver at 7:00 am and driven to Kotido in northern Uganda. On arrival, you may choose to stay in a lodge at night or in a traditional hut in the village.
The Karimajong are one of the few remaining raw tribes of Africa. They are cousins to the Masaai of Kenya. They are found in the arid North East of Uganda. They are group of proud and fierce semi nomadic pastoralists with a rich cultural heritage. Unlike other tribes in Uganda that have embraced modernity and foreign religions, the Karimajong still follow their traditional religion. They believe that all the cattle in the world is theirs hence the clashes and cattle raids with their neighbors. A man is valued according to how many cattle he has. The karimajong are usually half naked and live in harmony with nature and their bodies harbor tribal markings. The Karimajongs live in homesteads called Manyattas. These homesteads are comprised of huts made out of mud and cow dung. The Karimajong's staple food is milk and dried blood. All through your seven day stay, you shall learn their traditional dances, learn how to prepare the local food, go through a mock marriage, listen to stories from elders by the fireplace, attend elders' meetings, herd and milk cows and participate in building the traditional hut also known as the manyatta.
At the end of your trip, particularly on the afternoon of day 7, you shall be driven back to Kampala or to Entebbe for your flight home.