Where to Advertise your Hotel or Vacation Rental for Free
---
As an accommodation owner, there's a small trick that you can use to advertise your business (hotel, hostel, guesthouse, B&B, etc) on Triptipedia for free:
Set up an engaging Triptipedia profile and have it featured to our readers interested by visiting your area.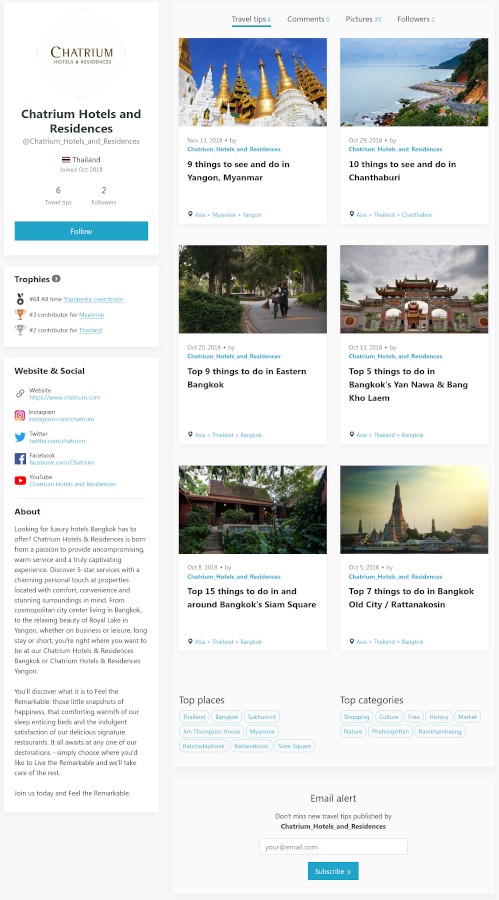 Example of a Triptipedia profile (Chatrium)
Here's how to do it:
Create a profile
Start by creating an account on Triptipedia. We recommend that you choose the name of your accommodation as your username rather than your own name. You can always change it later if necessary.
Once your account is created, you'll be redirected to your public profile. Don't leave it empty, make sure to customize it so that it highlights your business.
Click on "edit my profile" and fill in the following fields:
Website
Adding your website is important. The goal of this field is to redirect customers where they'll be able to find more information and make bookings. If you don't have a dedicated website for your accommodation, put a link to a page where it can be booked (such as Booking.com, Airbnb, etc).
Profile picture
Choose a beautiful picture for your profile, either from a room, your building or the surrounding area. It will be displayed everywhere your profile gets featured.
If your accommodation has any social media accounts (Instagram, Twitter, Facebook or even YouTube), you can link to those in the "Social" section.
About me / Biography
Use this field to add information about your accommodation. Write about the accommodation itself, its amenities and the area. Try to be both informative and catchy! It's also a good idea to add a way to reach out to you, such as an email address or a phone number.
Check the result
Once you're done, click on "Save changes" to update your profile. You'll be invited to see the result. Make sure that everything is set properly and test the links, especially the website. You can use the "Edit my profile" button if you need to make changes.
Give your profile exposure
Now that you have a beautiful profile you need to put it in the spotlights. To do so, you have several options:
Write Travel tips
You probably already offer your clients tips and advice for visiting the area of your accommodation. Triptipedia is all about travel tips, so share yours here!
These are some ideas for you to write about:
What are the best things to do or see in your area?
Do you know any secret spots?
Which events shouldn't be missed?
Is there any local food to try?
Read our How to Contribute to Triptipedia guide for more information about travel tips.
Becoming a top contributor can give your profile even more exposure. Check out our Top contributors page and the "top recent contributors" section on the home page.
If there are travel tips about your area on Triptipedia, feel free to make extra suggestions in the comment section. Useful information is always appreciated.
Follow local contributors
Following Triptipedia contributors that write about your area, region, state or country is always a good idea since their followers list is public.
Open the profile of a contributor who's relevant to the area you're operating in and click on the "Follow" button. Maybe they'll even follow back!
Don't spam
If you want to promote your accommodation, do so in your Triptipedia profile.
Writing travel tips or comments requires that you bring value, i.e. actual useful information. "Book my hotel" is not a travel tip, it's spam. Please follow all the guidelines in our How to contribute to Triptipedia guide. If you have any questions, check out our FAQ page or contact us directly.
Listing your hotel or vacation rental in the "accommodations" section
Triptipedia has also an Accommodations section that's more conventional for hotel and vacation rental owners.
Listing your accommodation is very easy. Triptipedia offers direct bookings: there is no per-booking commission, instead we have a small monthly fee to get listed (we wrote an article about it, if you'd like to know more). You'll find all the information and pricing on the Listing my Accommodation page.
Published by Triptipedia on 19/07/2021
---