The Rotorua District is home to 18 stunning lakes, amazing natural landscapes and lush native bush. Our Tarawera and Lakes Eco-Tour will take you from the centre of town into a culturally, ecologically and historically significant area.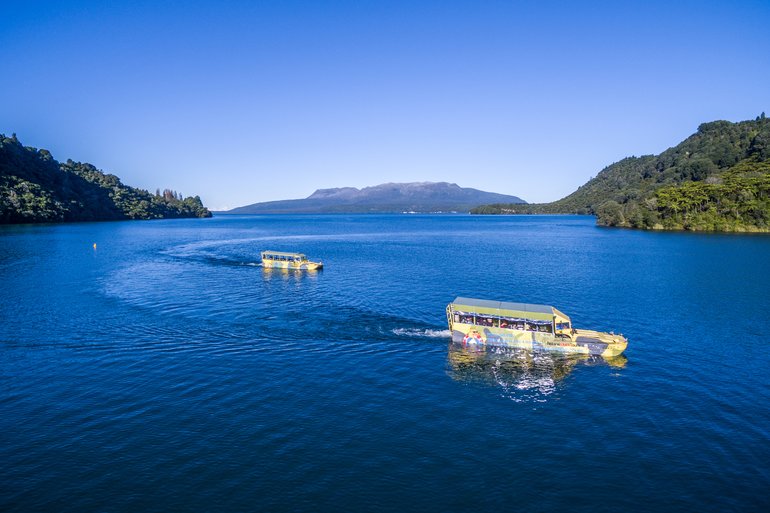 New Zealand's only genuine WW2 Landing Crafts
Home to ancient Maori tribes our tour route takes you through the Tikitapu scenic reserve visiting 4 lakes and splashing down onto 3. You'll learn about ancient Maori history, the establishment of tourism in the area, geothermal forces that shaped our land, agriculture, flora and fauna and the list goes on. It is an cultural, ecological and historical eco-tour that is informative, fun and unique!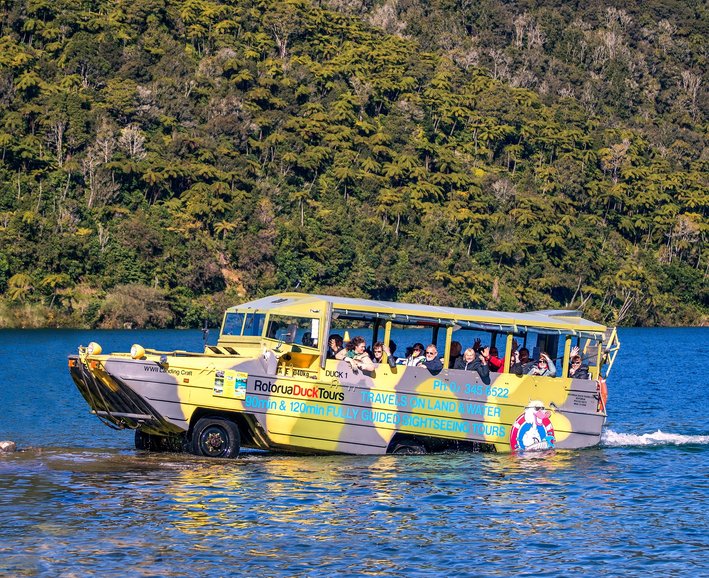 From Land to Lake!
The eco-tour takes place on our genuine WW2 landing crafts, over 70 years of history in the vehicle and thousands of years forming our lands equals an experience like no other. Being able to view our lakes paradise from both land and water is truly unique.
You'll first visit the township of Okareka which was integral in Maori agriculture with fertile land, perfect for growing crops. Splash down onto Lake Okareka which was also a great source of sustenance for the local tribes. It is now the site of a bird sanctuary, million-dollar homes and beautiful walking trails.
Next, head to the Blue Lake, our most recreational lake. A small crater lake formed by geothermal forces and filled by rainwater. This is the second cleanest of the 18 lakes in our district. It is also located in the heart of the Tikitapu scenic reserve almost entirely free from man-made structures.
From there you'll drive past the sacred Green Lake (Rotokakahi) and learn of its significance to the local Maori before heading to Lake Tarawera. Lake Tarawera is home to Mt Tarawera, the volcano that last erupted in 1886 changing our history and landscape forever. Our guides will tell you the story of this volcano and its impact from both a historical and ecological perspective.
After this lake there is a chance to jump off the Duck, snap some iconic photos of the volcano, take a short walk to a small cave to view some Maori drawings or enjoy an ice cream from the Tarawera Café on the lakes edge.
The eco-tour highlights of some of New Zealand's and Rotorua's stunning scenery and a great way to learn about our rich history.
The eco-tour is a 2-hour extravaganza that has been described as 'enlightening' by our guests. You'll learn a lot and our guides will have you laughing along the way as well.