The Ultimate Safari. Explore on this popular 4 days safari the three unquestioned most impressive national parks and conversation area of Tanzania's Northern Safari Circuit. Experience to the large elephant population in Tarangire National Park, explore the breathtaking wildebeest migration at Serengeti and spot one of the rare rhinos in Ngorong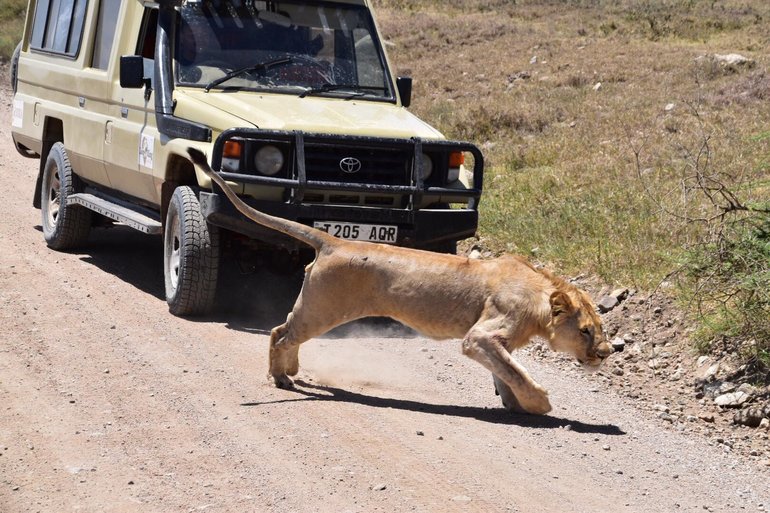 The Lion
Day 1: Arusha to Tarangire National Park
We will depart from Arusha in the morning and travel to the Tarangire National Park where you can marvel at the colossal termite mounds and the ancient baobab trees. The picturesque scenery and diverse bird-life assist in creating the tranquil ambiance of the Tarangire National Park. The great elephant population is an extremely remarkable sight. African elephants are the largest land mammal and adult males can weigh as much as seven tonnes. Tarangire's varied wildlife includes lions, giraffes, warthogs, ostriches, impalas, cheetah, mongoose, buffaloes, and baboons. When your game drive comes to an end, we will take you to the Lake Manyara where you will get dinner and over night.
Main Accommodation
Accommodations: Tinted campsite
Meals: Water is included in all meals (Other drinks is not included)
Day 2: Tarangire to Serengeti National Park
An appetizing breakfast will transit to Ngorongoro to the Serengeti National Park. We will take the scenic route to the Serengeti which allows us to travel near the Ngorongoro Crater. There is a possibility of spotting game. The endless golden savannah with splotches of colour created by the vegetation and wildlife make it easy to understand why the Serengeti is one of the Seven Natural wonders of Africa. We will stop so that you can enjoy your picnic lunch on a kopje (a small hill in a generally flat area). We will proceed further into the Serengeti for a leisurely game drive. You will spend the night at Serengeti,
Main Accommodation.
Accommodations: Public campsite
Meals: Water is included in all meals (Other drinks is not included)
Day Three: Serengeti National Park to Ngorongoro Crater
We will begin our day with an early morning game drive in the central Serengeti. The Savannah is an active landscape and the air is flooded with the melodies the birds create as the regenerated sunlight starts to illuminate the full landscape. Your guide will study the prints on the ground to pursue predators. We will travel to the Ngorongoro Crater. You will be provided with dinner and overnight.
Main Accommodation
Accommodations: Public campsite
Meals: Water is included in all meals (Other drinks is not included)
Days 4: Ngorongoro to Arusha
After an early morning breakfast, we will hurry to Ngorongoro Crater, as it is the best time to spot animals. On this day, we will enjoy a game drive around the crater and stop for a picnic lunch at a small lake within the park. The lake is home to many hippos and migratory birds, so guests will be sure to enjoy the visit! Due to the animal "oasis" created within the crater, there is a high possibility of spotting every member of 'The Big 5'. The group comprises some of the strongest animals in Africa – the ferocious lion, the giant elephant, the stealthy leopard, the charging rhino and the mighty water buffalo. Ngorongoro Crater is truly an amazing place. Did you know it was formed over two million of years ago? A large volcano erupted, collapsing the volcano, but left a perfectly unbroken crater, known as a caldera. Within the amazing crater you can expect to view the playful zebra, lumbering hippo, swift wildebeest and cackling hyenas. In addition, there are flocks of graceful flamingos along the Soda Lake, while hungry hawks and vultures circle the sky in search their next meal of discarded carcass. Beautiful storks, ibis, and cranes are popular water birds in the crater, a sight not to miss. After a lovely afternoon of animal sightings, we will finally start our journey back to Arusha.