Wildlife Game Drive in Manyara National Park, Serengeti National Park and Ngorongoro Crater Cultural Tour During Visiting Lake Eyasi Villages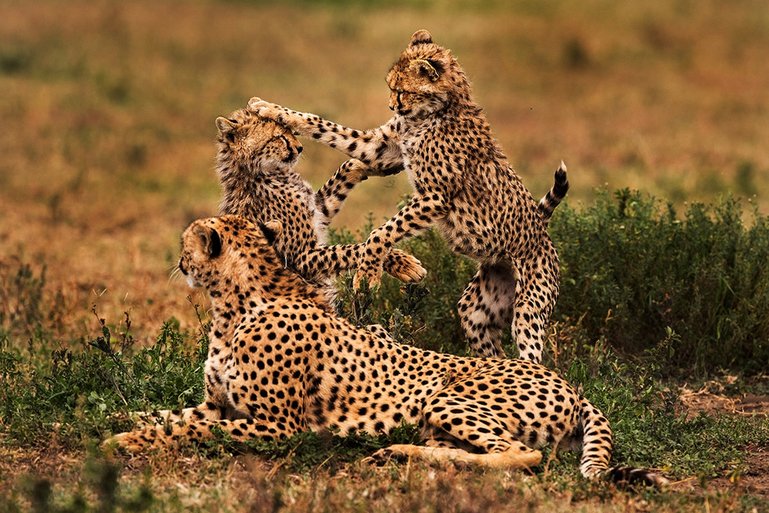 Tour Overview
---
5 Days Tanzania Camping Safari. This is a friendly and pocket package which enable you to sport different wildlife as you visit in Lake Manyara National Park, Serengeti National Park and the Ngorongoro Crater, cultural tour during Bushmen visit at Lake Eyasi & Maasai Village around Ngorongoro Highlands. Budget Camping Safari in Tanzania is suitable for families, group of friends, students. This is fun, enjoyable and flexible with more affordable price.
5days Tanzania Camping Safari we always start from Arusha where we come to pick from your hotel around 7:30m to 8:00am and drive to the midst of Arusha Town either to Bank or Supermarkets depending of your own requirements for final safari preparation and some shopping. There after we drive Lake Manyara National Park which is our first National Park to be visited on this 5Days Tanzania Camping Safari.
Game drive to sport different wild animal species including big cats & as well as big 5 for those who are luck namely Leopard, Lion, elephants, rare black rhino and buffalo.
Enjoying beautiful Landscapes, endless plains of Serengeti National Park and different species of birds like horns, ostrich, flamingo, secretary etc.
Exclusives of Interact with locals as you visit the remote Lake Eyasi which is inhabited by Bushmen known as hadzabe as well as experience the historical Ngorongoro Crater which is 600m high walls. Ngorongoro Crater is known by many and classified as the 8th world wonders.
Trip Style
Private and Comfortable. You will be in a private Safari Land cruiser with open photographic roof thatch as well as window seat for every participant. Maximum is 6people per each vehicle making sure everyone have a window seat. You will also have your own private and professional driver guide and Chef who will be responsible about your food and building your tents
Destination: Northern Tanzania
Location: Lake Manyara, Lake Eyasi, Serengeti & Ngorongoro Crater
Time: Yearly around.
Physicality: Relaxed.
5 Days Tanzania Camping Safari Lake Manyara National Park | Lake Eyasi | Serengeti National Park | Ngorongoro Crater
Day 0: Arrival Tanzania Kilimanjaro Airport – Green Mountain Lodge
---
Destination: Arusha Planet Lodge
Distance: 40-50km
Driving time: 1hour
Arrive at Kilimanjaro Airport from your home country. Our professional Tour Consultant Manager will meet you at the Airport for greetings and take to your car for transfer to Arusha Green Mountain Lodge.
Accommodation: Green Mountain Lodge Arusha
Meal Plan: (Bed and Breakfast included) Dinner not included unless requested.
Day 1: Arusha – Lake Manyara National Park – Lake Eyasi
---
Destination: Lake Manyara National Park
Distance: 120km
Non-game drive time: 2-3hours
After delicious breakfast at the hotel, a well experienced and professional driver guide and chef will be waiting for you at the lobby ready for starting your safari. We drive from the hotel via Arusha City and have a short stop at may be supermarket for final safari shopping, bank for money exchange/withdrawal etc. Thereafter we leave Arusha Town to Lake Manyara National Park for game drive. This park is one of Tanzania's small National Parks and it is placed the most dramatically wildlife area in Tanzania. Also this Park consists of a huge shallow salt Lake covering which covers about two-third of the park and lies at the base of the Great Rift Valley's Western escapement.
Due to rich and varied habitats, this park attracts different animal species like herds of zebra, giraffe, warthog, wildebeest, buffalo, African elephant, the famous Lake Manyara tree-climbing lions etc. Countless numbers of flamingos attracted by green algae around the Lake are also available. After lunch at picnic site leave the park and drive across the Great East African Rift Valley heading to Lake Eyasi for visiting blacksmith famous known as Datoga tribe. During visiting Datoga local guide will accompany you around their homes to experience their live hood and also meet their family members and kids. In the evening you will have sunset walk around the Lake shore before going back to your Campsite for Dinner and Overnight,
Accommodation: Bushman Campsite which is close to the Lake.
Meal Plan: (Bed, Breakfast, Lunch and Dinner included)
Drinks: (Drinking Water, Soda, Tea and Coffee on the way)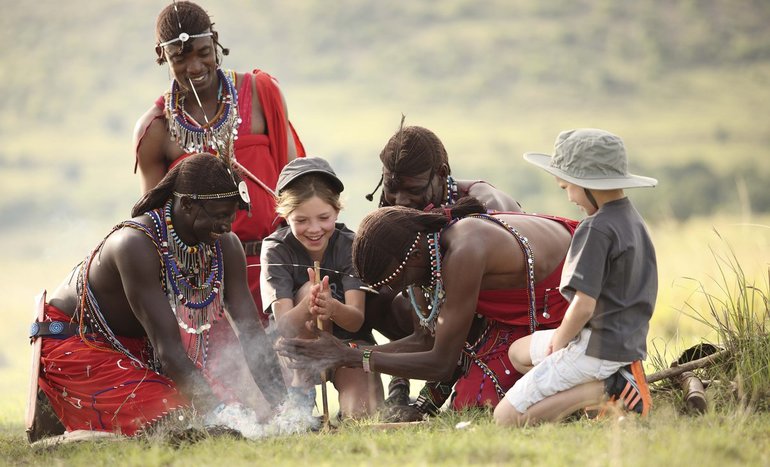 Day 2: Lake Eyasi – Serengeti National Park
---
Destination: Lake Eyasi and Serengeti National Park
Distance: 175km
Non-game viewing time: 3 to 4hours
Today short Tanzania camping safari start with an early morning hunting with bushman including short tuition on survival skills. Bushmen tribe at Lake Eyasi divided into small groups of Tindiga, Datoga and Hadzabe. These tribes hut with bow and arrows and they use to feed on roots, wild fruits and honey. Their living style does not differ from how humankind lived in the early Stone Age. After this cultural tour we go back to our campsite for breakfast and pic our lunch boxes and our luggage then drive along beautiful high lying farmland of Karatu Villages via Ngorongoro gate crossing the Ngorongoro Conservation. We will have short stop at The Ngorongoro Crater View Point for great pictures of Ngorongoro Crater from the rim. Thereafter drive to Serengeti National Park with its endless rolling plains. Serengeti National Park is also known as heart of the wild Africa. Lunch will be saved at Naabi Hill Gate or at the kopje rocky outcropping before starting afternoon game en-route heading to central Serengeti National Park well known as Seronera. Game drive will be done in this beautiful Park till sunset searching for either wildebeest migration depending on a safari period of the year or even searching for normal residence animals who are always here like lions, elephants, leopard, cheetah, zebra, giraffe, etc. Dinner and Overnight will be at Nyani Campsite around seronera area.
Accommodation: Nyani Campsite around Seronera Area.
Meal Plan: (Bed, Breakfast, Lunch and Dinner included)
Drinks: (Drinking Water, Soda, Tea and Coffee on the way)
Day 3: Serengeti National Park
---
Destination: Central Serengeti/Northern Serengeti
Distance: Full day game drive in Serengeti
5days Tanzania Camping Safari today is spent in the endless plains of Serengeti National. We start our day with sun-res game drive with packed breakfast and lunch boxes. Our sun-rise game drive will provide a good chance to spot cat families on our road side. There is big opportunity to see other nocturnal predators while coming back from their long night of hunting. Group of Lioness while organizing their morning ambush or even eating what they hunted along your road side can be seen. You will have short break at picnic site for breakfast. After that we continue with game drive. Depending on your safari period of the year, if it will be during The Great Wildebeest Migration in Serengeti, our early morning will go drive you direct to where migration are. Here you will spend much time while anticipation of experiencing the campsite for Dinner and Overnight.
Accommodation: Nyani Campsite around Seronera Area.
Meal Plan: (Bed, Breakfast, Lunch and Dinner included)
Drinks: (Drinking Water, Soda, Tea and Coffee on the way)
Day 4: Serengeti National Park – Ngorongoro Conservation Area
---
Destination: Ngorongoro Conservation
Distance: 145km
Non game viewing time: 2 - 4hours
Today Short Tanzania Camping Safari start with sun-rise game drives in Serengeti National Park. Very early in the morning around 6:00 start sun-rise game drives and spend as much time in Serengeti National Park before leaving for Ngorongoro. Sun-rise game drives in Serengeti will allow you (only if you are lucky) to sport cat family on the way as they avoid the morning mist. It is possible to see predators while coming back from their long night of hunting or witnessing group of lioness ready for morning ambush as well as other different animals like giraffe, zebra, wildebeest, hyena ,monkeys and other more on their early morning wake up and get ready for new day.
Depending on your travel period of the year. If it will be during wildebeest migration in Serengeti, today we will drive toward migration and spend as much time with herds. There after we depart for Ngorongoro Conservation Area. You can have an option to Visit Maasai Village on the way with extra cost of $35per person. We arrive at Ngorongoro Simba Camp at Sunset. Dinner and Overnight Ngorongoro Simba Camp.
Accommodation: Simba Campsite in Ngorongoro Conservation Area
Meal Plan: Bed, Breakfast, Lunch and Dinner included
Drinks: Drinking Water, Soda, Tea and Coffee on the way
Day 5: Ngorongoro Crater - Arusha
---
Destination: Ngorongoro Crater.
Distance: 90 km.
Non-game viewing: 1:30hrs
Soon after having your breakfast we leave from the camp with lunch boxes to Ngorongoro Crater. Descend about 600m down to the Crater floor for game drives. The Ngorongoro Crater is referred by many to be one of 8th wonders of the World. The Ngorongoro Crater is a breathtaking natural wonder. Inside the Crater you will have opportunity to visit Lake Magadi which is large but shallow alkaline lake in the southwestern corner and one of the main features of the Crater. Large number of flamingos, hippos and other water birds can usually be seen here. Inside of Ngorongoro Crater is the only area you can see black Rhinos. Game drives will be done till evening drive back to Arusha Town
Accommodation: Not included but we can arrange on request
Meal Plan: Bed, Breakfast and Lunch included
Drinks: Drinking Water, Soda, Tea and Coffee on the way