On this 7-day safari will include an awesome display of natural wonders like million wildebeests, zebras, and antelopes traveling over 450 miles across the plain to ensure their survival, unaware that there's danger presented by the stalking lions and cheetahs among other predators of migrating wildlife.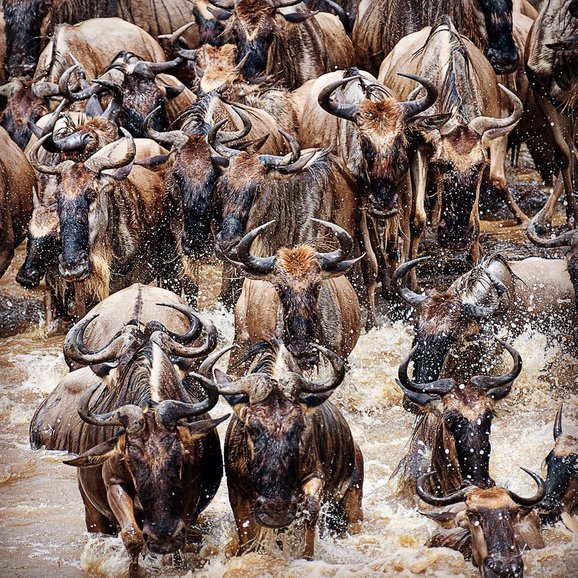 Day 0: Kilimanjaro International Airport - Arusha Green Mountain Lodge
---
Destination: Arusha Town
Distance: 45km
Driving Time: 1hour
Arrival Kilimanjaro International Airport where you will be met and assisted with our professional driver for Transfer to Arusha Green Mountain Lodge for Dinner and Overnight.
Accommodation: Green Mountain Lodge
Meals: Bed, Dinner and Breakfast Included
Drinks: Water,Soda,Coffee and Tea on the way
Day 1: Arusha Town – Tarangire National Park.
---
Destination: Tarangire National Park
Distance: 120km
Driving Time: 2hours
After breakfast, be picked-up and proceed to Tarangire National Park. This Park is sixth of the largest national parks in Tanzania which is located in Manyara Region. This place is characterized by the large herds of elephants, tree climbing lions, and the fascinating baobab trees. It is also called the Tree of Life for its almost mythical powers that some cultures attach to it. This park is especially known for Tarangire River which flows all year round and the only source of water for wild animals during dry seasons. Game drives will be done till evening the time you will be driven to Twiga Lodge
Accommodation: Twiga Lodge
Meals: Bed,Breakfast, Lunch and Dinner Included
Drinks: Water,Soda,Coffee and Tea on the way
Day 2: Tarangire – Lake Natron
---
Destination: Lake Natron
Distance: 227km
Driving Time: 4-5hour
Soon after having your breakfast depart for Lake Natron with lunch boxes from your hotels. Arrive in the afternoon. A short tour to Lake Natron on foot. Lake Natron is one of the major flamingo breeding areas. Evening, visit the nearby waterfalls for a swim in the river and also visit a Maasai family for a short cultural interaction. Dinner they preparation go at the base of the Mt. Oldonyo Lengai.Around 11:30pm. Transfer to the base of Mt. Lengai.
Dinner and overnight Lake Natron Lengai Lodge.
Accommodation: Lengai Lodge
Meals: Bed,Breakfast, Lunch and Dinner Included
Drinks: Water,Soda,Coffee and Tea on the way
Day 3: Lake Natron - Northern Serengeti National Park
---
Destination: Northern Serengeti National Park
Distance: 208km
Driving Time: 4-5hour
After breakfast, drive to north side of Serengeti National Park where you will view the great migration at Mara area. The key feature is the Mara River and it is not uncommon to see the herds cross the Mara River north on one day and then back south a few days later. Please take note that finding a crossing is very challenging and is sometimes a matter of luck. This area is a stunning region with kopjes, woodland, river vegetation and open plains, similar to Kenya's Maasai Mara Game Reserve. Overnight Mare River Heritage Camp
Accommodation: Mara Katikati Tented Camp
Meals: Bed,Breakfast, Lunch and Dinner Included
Drinks: Water,Soda,Coffee and Tea on the way
Day 4: Northern Serengeti National Park
---
Destination: Northern Serengeti National Park
Distance: 0km
Driving Time: Full day game drive in Serengeti
We have another full day in this wonderful park, rising early to make the most of our time. Our guides will choose the best spotting locations for the time of year; we can spend time at the Hippo pool watching these majestic animals laze about in the cool water happily living alongside the crocodiles, watch a big pride of lions, be in the middle of the migration, sometimes surrounded by wildebeest, sometimes by zebras, which travel with the wildebeest. We journey from the wide open plains to the kopjes: these volcanic rocky outcrops provide protection and shelter for a wide variety of animals and from the top we can look out across the vast grasslands of the Serengeti. This diverse and interesting landscape will provide us with the ultimate in game viewing, we will hopefully see all of the plain games; elephants, giraffe, zebra, wildebeest, lions and if you are lucky the exclusive leopard and cheetah, as well as different species of interesting bird life, from the elegant secretary birds to the flightless ostrich. We return to Mara River Heritage Tented Camp for Dinner and Overnight.
Accommodation: Mara Katikati Tented Camp
Meals: Bed,Breakfast, Lunch and Dinner Included
Drinks: Water,Soda,Coffee and Tea on the way
Day 5: Northern Serengeti National Park - Central Serengeti
---
Destination: Northern Serengeti National Park
Distance: 159km
Driving Time: Full day game drive in Serengeti
After breakfast, Leave Northern Serengeti do game drives on the way to Central Serengeti National Park with picnic lunch. Central Serengeti is among other incredible wildlife and stunning views, is famed for the annual migration of over 1.5 million wildebeest and hundred thousands of zebras, a frenzied bout of territorial conquests and mating happening from July thru October. Witness actual survival of the fittest as these animals plunge through crocodile-infested waters. Do game drives in this wonderful plains. Evening drive to Serengeti Heritage Mara River Tented Camp for Dinner and Overnight.
Accommodation: Serengeti Katikati Tented Camp
Meals: Bed,Breakfast, Lunch and Dinner Included
Drinks: Water,Soda,Coffee and Tea on the way
Day 6: Serengeti National Park – Ngorongoro Crater
---
Destination: Ngorongoro Crater
Distance:150km
Driving Time: 3-4hours
After breakfast, drive to Ngorongoro for the crater tour with picnic Lunch. Descend to the crater floor for the day tour. Inside of Crater 20,000 different mammals' lives in the area including about 20 black rhinoceros hence making the crater the best place in Tanzania to see these amazing creatures. The crater floor also has one of the highest carnivore densities in the world. Game drives will be done till evening drive back to Twiga Lodge for Dinner and Overnight.
Accommodation: Twiga Lodge
Meals: Bed,Breakfast, Lunch and Dinner Included
Drinks: Water,Soda,Coffee and Tea on the way
Day 7: Lake Manyara National Park - Kilimanjaro International Airport
---
Destination: Lake Manyara National Park
Distance: 25km
Driving Time: 45Minutes
After having breakfast you will be driven to Manyara National Park which will be the last National Park you will visit in the Northern circuit. This park is famous for its tree climbing lions. The large part of this wonderful Park is covered by the alkaline manyara lake which is seasonally visited by the large flamingos and many other water birds. Along the shores of the lake, you will spot many animals including the elephants, hippos, Giraffes, buffaloes, antelopes, banded mongoose and the gazelles. After animals, birds, trees watching, drive back to Kilimanjaro International Airport to catch your departure flight.
Accommodation: Not included because is a departure day according to this itinerary but for those who want to overnight in Arusha after safari we can arrange for them on request.
Meals: Bed,Breakfast and Lunch Included
Drinks: Water,Soda,Coffee and Tea on the way