Enjoy these two days gorilla experience affordable, less expensive than the Rwanda gorilla permit itself. Hightlights: An hour interaction with the mountain gorillas, guided walk in Bwindi villages, enjoy spectacular views of the terraces of the Ugandan and Rwandan mountains, a professional driver/guide, airport transfers.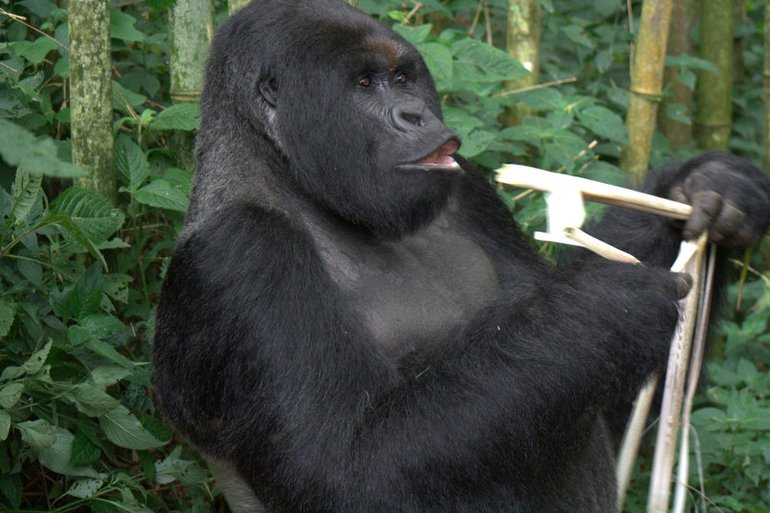 Bwindi National Park Gorilla
These two days gorillas trekking will start and end in Kigali which is a closer drive to Bwindi National Park in Uganda than it is from Kampala. The first day will be for traveling from Kigali to Bwindi via Gatuna Border. The second day trek gorillas in Bwindi then return to Kigali the same day after the trekking. The Bwindi park is a biodiverse, mountainous area in southwest Uganda. It's a home to world's remaining mountain gorillas, which feed on roots, leaves and fruits from the park's many trees.
Itinerary:
---
Day 1: Drive to Bwindi National Park
The first day of the tour is dedicated to the transfer to Bwindi, the departure time is flexible depending on your availability. Our driver will meet you at your hotel in Kigali and transfer you to Bwindi Impenetrable Forest, the 4 hours journey to Bwindi will include the border crossing. You'll need an East African visa that you'll obtain at the Kigali International Airport. On the way, you'll have spectacular views of the terraces of the Ugandan and Rwandan mountains. This area is called the 'Switzeland of Africa'. Arrival late in the afternoon, enjoy self walk in the nearby villages, dinner and overnight
Day 2: Mountain Gorillas trekking and return to Kigali
Early morning, get up and drive to Bwindi National Park for gorillas trekking. Trekking gorillas is among the most exciting wildlife experiences on earth. The trek will take between 2 and 6 hours, but it is worthy the effort. You'll be led by an experienced ranger who will tell you interesting facts about flora and fauna in the jungle and the lifestyle of the gorillas. Stay with the gorillas 1 hour, then go back to the lodge, have lunch then be transferred to Kigali.
Accommodation
---
Broadbill Forest Camp
Broadbill Forest Camp is a mid-range lodge located in Ruhija, on the Eastern edge of Bwindi Impenetrable Forest, home to half of the remaining mountain gorillas and famous for gorilla tracking.
Bwindi Impenetrable Forest is a key destination for birders visiting Uganda and includes globally threatened species such as African Green Broadbill from whom the lodge derives its name.
The camp is calm and peaceful with fantastic views of Bwindi Impenetrable Forest making it a perfect place to totally unwind and relax, away from the pressures and stresses of everyday life.
Broadbill Forest camp is located at the very edge of Bwindi Impenetrable Forest, encouraging birding on your balcony for the rare Albertine Rift Valley endemics in the east of the forest. Even after a long day's safari, you will not be tempted to put your binoculars at rest.
Official website
Bakiga Lodge
Built on the top of a beautiful valley overlooking Bwindi forest, Bakiga lodge is a wonderful accommodation for visitors looking for a real African experience with great views of Bwindi impenetrable forest.
Bakiga Lodge is a luxury eco lodge, situated in the Ruhija sector of Bwindi national park, just a few minutes drive from the Gorilla Trekking meeting point.
The Lodge offers 8 family cabins, all self-contained with ensuite bathrooms and private balconies with spectacular views of the forest.
A place to relax in comfort around the fire or at the bar after your Gorilla Trek or Birding tour.
WIFI internet is available at the lodge.
Official website