There's a good reason for why this is the most popular day tour in Iceland. Some of the main attractions are Þingvellir (our national park), Geysir (a frequently spouting hot spring) and Gullfoss (a very big, powerful and beautiful waterfall).
This is by far the most popular tour in Iceland. The traditional Golden Circle tour consists of three stunning sights. Þingvellir, Geysir and Gullfoss. We will however always do our best to find some other cool sights or activities in the area, that will make this tour an even more complete and satisfying experience for you. Your driver guide will do everything in his power to satisfy your needs. We will for example start the trip when you want it to start, we will spend as much time as you want at each location and if you see a cool spot on our way, we will do our best to get you to that place so you can at least take the perfect selfie ;)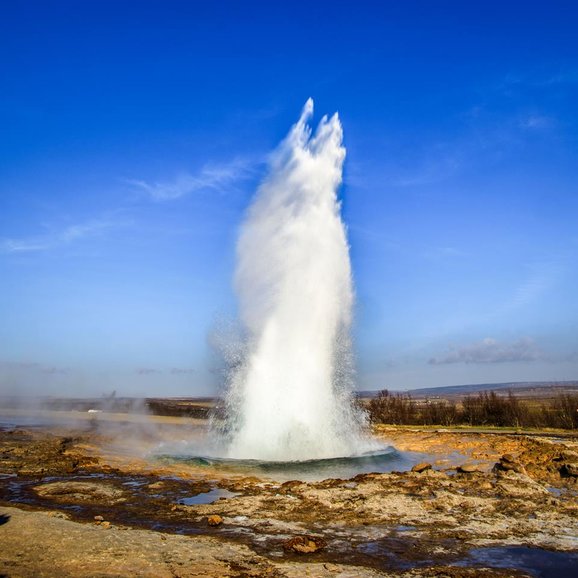 Geysir
​
First stop is usually Þingvellir National Park. This is where the old viking parliament used be and it also happens to be where the American and Eurasian tectonic plates are pulling apart from one another. This tectonic activity has made it's effect on the area and the visual outcome is beautiful. This is an extremely important place in an historic context and it certainly captures a great combination of raw Icelandic nature.
​
Next traditional stop would be Geysir geothermal area. Geysir is the spouting hot spring that all other similar hot springs are named after. Geysir has been inactive for several years but his brother Strokkur is located right next to Geysir and every 4-8 minutes Strokkur shoots boiling hot water up to 30 meters in the air in an impressive display of mother nature's power. Although the water is boiling hot when it leaves the ground, it cools down very quickly and the spray from it actually feels refreshing and should definitely not do you any harm as long as you follow the rules and don't go past the ropes that surround the hot spring itself.
​
Gullfoss which is only a short drive away from Geysir, is a powerful multi-step waterfall in the Glaciers river Hvítá. There are several different platforms that people can use to get different views over the waterfall. On the lowest platform you can get right next to the waterfall and when you get that close to it, you can really sense the overwhelming power of it.
​
There are many other beautiful places to see in the area and we will make sure to stop at some of them (if you're not in much of a hurry) and of course it would be included in the price.
There are also many options when it comes to activity and it's hard to mention them all. Some of them can be expensive but others should be very affordable. Some examples of extra activity would be:
Rent a snowmobile to ride onto Langjökull glacier.
Rent a helicopter to take you a bit of track and view some cool places from the air (such as Glymur waterfall in Hvalfjörður which is a 200 meter high waterfall and the tallest one in Iceland).
Snorkel in Silfra in Þingvellir (one of the greatest places to dive or snorkel in the world as you can swim between the Eurasian and the American tectonic plates while enjoying a 100 meter clear view underwater.
Relax in the secret lagoon (oldest swimming pool in Iceland) at the end of the trip.
Get a tour to see the geothermal power plant Hellisheiðarvirkjun which produces 100% clean geothermal energy and also provides residents in Reykjavík with hot water.
Horseback riding.
​
Just like with any other trip with us, we highly suggest you send us a message ("ask us a question" button) when you're booking the trip, just so we can make sure everybody is on the same page and we can make the most of our time together.