4Day Tanzania Affordable Lodge Safari will include the visit of Ngorongoro Crater, the famous Serengeti National Park and Tarangire National Park which is sometimes known as home for Elephants. Accommodation standard of our 4 days Tanzania Affordable Lodge Safari will be of 3* Lodges & Tented Camps. Our Target is Great Wildebeest Migration.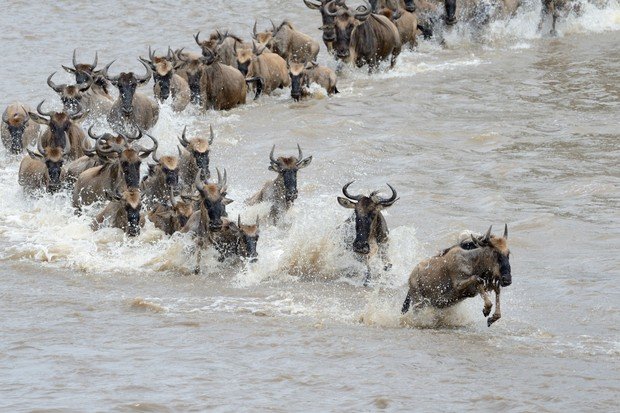 Great Serengeti Wildebeest Migration Mara River Crossing
This 4days Tanzania Affordable Lodge Safari include nice Lodges and Tented Camps for 3* level. It is also pocket friendly tour for those limited by time to stay long in Tanzania but don't want to miss this Amazing Great Serengeti Wildebeest Migration
Our Safari Starts and end up in Arusha Tanzania. A professional Safari Manager from our office will come to meet you at your own arranged hotel in Arusha one day before departure day for safari briefing which is to start the next day. If it happens that your flight arrives late, worry not about that as it is possible to get briefing in the morning before departure from your Professional Driver Guide and after that your safari will start. For those who want us to arrange Airport transfers and even accommodation in Arusha may be on arrival night or after safari we are here for them and we can arrange in a very reasonable price so feel free to share with us your requirement! We are here to save you! We are here to make your dream come true.
Highlights for Short Tanzania 4 Days Lodge Safari Itinerary
You will enjoy authentic interactions with Maasai as you visit one of their village at Ngorongoro Highlands
You will have big chance to experience The Greatest animal assembly in the Plains of Serengeti National Park
You will see many different animal and bird species that you have ever thought possible
Big possibility to sport big cats & the Tanzania's big 5.
Safari Style: Private and Comfort. Private 4WD safari Land Cruiser and professional and well experienced driver guide will be provided for you. Driver guide will be responsible to show you different animals that you have ever dreamed of. Your Safari Vehicle will have a photographic roof thatch to assure good chance to take pictures from all angels. Your accommodation will be in standard mid-range lodges and Tented Camps of 3*
Destination: Northern Tanzania Circuit
National Parks: Tarangire NP, Serengeti NP and Ngorongoro Crater.
Best time to visit: Yearly round
Day 0: Kilimanjaro Airport – Arusha Green Mountain Lodge
Arrival Kilimanjaro International Airport where you will be met and assisted with our professional driver for transfer to Arusha Green Mountain Hotel for Dinner and Overnight.
Day 1: Arusha Town – Tarangire National Park
Distance: 139km
Non-game viewing time: 2-3hours
After having your breakfast our professional safari manager will come to meet you at your hotel for short safari briefing before departing to Tarangire National Park. From the lodge we drive via Arusha Town and have a short stop either to the supermarket or bank for any needed last-minute shopping for safari. Thereafter drive along Maasai steppe & across many village all the way to Tarangire gate. Tarangire National Park is the fifth largest National Park in Tanzania and located in Northern Tanzania Circuit as well as at the base of the Great East African Rift Valley. Tarangire National Park runs between lines of Tarangire River and made up with high hills and low lands. This park is dominated by huge baobab trees that dwarfing some animal species that comes beneath it. The Tarangire River which runs from north to southern part of Tarangire National Park and also swamp on the southern corner are the permanent source of water in the park saves as refugee's camp for a large number of animals during the dry season of the year. We also have another major highlight of this park which is large population of elephants and the three rare species of Great Kudu, Fringed Eared Oryx and the Ash Stalling. Herds of Buffalo, wildebeest, hippos, zebra, warthog, giraffe as well as big number of baboons and monkeys.
It is also to see predators like leopard, lion, cheetah, jackals and hyenas are also possible to be seen in this Park. The Park is also a paradise for bird watcher because more than 400 bird species are recoded to be seen here. Some of them are ostrich, secretary bird, herons and other migratory birds. Game drive will be done till late afternoon the time you will be driven to Marera Valley Lodge for Dinner and Overnight.
Accommodation: Marera Valley 3* Lodge
Meals: Bed, Breakfast, Lunch and Dinner included
Drinks: Drinking Water, Soda, Coffee, Tea and snacks on the way
Day 2: Tarangire – Serengeti National Park
Destination: Serengeti National Park
Distance: 190km
Non-game viewing time: 1hours
Today our 4Day Tanzania Affordable Lodge Safari will continue to Serengeti National Park. After breakfast at Marera Valley Lodge we depart from the lodge and drive through beautiful high lying farm land of Karatu all the way crossing the Ngorongoro Conservation Area. We will have short stop at Ngorongoro Crater View Point where you can have nice pictures of the Crater floor from the rim. There after drive around & down via Malanja depression to endless plains of Serengeti National Park. On the way before reaching Serengeti National Park you will visit one of Maasai Village for local cultural experience. Here group of Maasai Warriors will invite you and give you tour to in and around their local houses and give you some stories about their livelihood around this area. You will also meet with kids and other family member where you can ask questions & take pictures with them. Finally they will sing and dance their famous song which will be accompanied by jumping high. Here you are free to join them and dance with them. After that drive to Serengeti National Park. The Serengeti National Park with its endless rolling plains, we start by reaching Naabi Hills gate for registration, you will have your package lunch here or further ahead at Kopjes rocky outcropping just before starting your afternoon game drives in vast plains of Serengeti National Park trucking for big cats and the Great Wildebeest Migration (Please note that for your to see Great Serengeti Wildebeest Migration will depend on your travelling season of the year) During sunset drive to Serengeti Medium Tented Camp for Dinner and Overnight.
Accommodation: Serengeti Medium 3* Tented Camp
Meals: Bed, Breakfast, Lunch and Dinner included
Drinks: Drinking Water, Soda, Coffee, Tea and snacks on the way
Day 3: Serengeti National Park – Ngorongoro Conservation Area
Main Destination: Ngorongoro Conservation Area
Distance: 150 km
Non-game viewing time: 3-4 hours
4 Days Tanzania Affordable Lodge Safari starts with a sun-rise game drives. Around 6:30 am we pic our breakfast and lunch boxes and leave for an early morning game drive in the endless and vast plains of Serengeti National Park with this big possibilities to spot cat family on the road while avoiding the morning mist. It is also possible to see other nocturnal predators when are coming back from their long night of hunting. Not only that but also group of lioness organizing morning ambush can be seen during sun-rise game drives in Serengeti National Park. You will have short stop for breakfast which will be saved in the Bush. After breakfast depending on your travel period if the wildebeest migration will be in Serengeti we will continue with our game drive towards where the migration is. Our much time will be spent with the herds. Please note that even if your safari will not be during wildebeest Migration, still Serengeti is the best place to visit as it has huge number of different animal and bird species who don't use to migrate. In the afternoon we drive to Ngorongoro Conservation game drive on the way to Ngorongoro Rhino Lodge for Dinner and Overnight.
Day 4: Ngorongoro Crater Tour – Arusha
Around 6:00 take your packed breakfast and lunch then descend to the Ngorongoro Crater itself about 600m to the floor where you will have a wonderful game viewing. The Ngorongoro Crater is referred by many to be the 8th nature wonder of the world. The Crater is supports a large number of animal species which include herds of wildebeest buffalo, zebra, topic, eland, hippos, warthog, African elephants and the rare species of black rhinos.
The Ngorongoro Crater is also well known for its dense population of predators like cheetah, Jackals, Lion, as well as the ever mysterious leopard which sometimes you need binoculars eyes to spot. Ngorongoro Crater tour include visit Lake Magadi which is shallow alkaline Lake on the southwest corner of the Crater. Magadi Lake is well known for accommodating hippos and some flocks of flamingos and other aquatic birds. Large number of big 5 are also available here. Picnic breakfast and lunch will be served at the crater floor. Late afternoon we drive back to Arusha.
.