These fly-in safari options are excellent for guests who are short of time, or perhaps wanting to enjoy multi-destinations or countries in one safari. These well priced packages have been developed for those guests who are really keen to enjoy time in a proper, decent quality tented camp without it costing a fortune.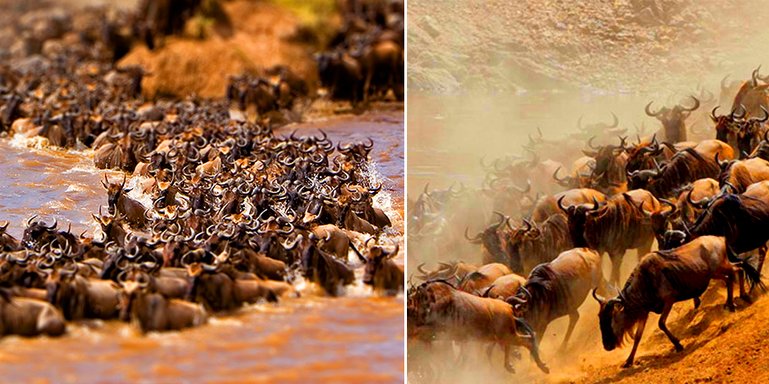 Wildebeest Migration
Day 1: Arusha/Zanzibar/Dar es Salaam to Serengeti
You will catch Morning flight from Arusha or Zanzibar or Dar Es Salaam to the Serengeti. A Lights on Africa representative will meet you at the local airstrip and transfer you by vehicle to your camp.
Serengeti Mbugani Camps are located inside the national park, and designed in the safari style of olde – simple, but comfortable with every need being taken care of. The camp comprises of maximum 14 tents, each comfortably furnished with great attention to detail. Quality linens, solar lighting, eco-friendly flush toilet and shower en-suite all add to your comfortable stay.
Day 2
Serengeti Mbugani camps (open June to November)
This seasonal camp moves from Ndutu (in the south) during the calving season, to the North for the migration and river crossings. Our guides will take you to the best game viewing possible. Sometimes that may entail a long day in the vehicle, other days the game may be close by! Sumptuous meals are prepared by our friendly safari chefs, and are served in the dining tent, or directly under the stars.
Overnight at Serengeti Mbugani Camp on a full board basis (all meals included).
Days 2/3/4- Serengeti Central/North
Explore the Serengeti eco-system in our specially customised extended land cruisers, with enlarged windows and heightened roof to allow ease of photography and game-viewing, with plenty of room to stretch your legs. The Serengeti National Park is arguably the best known wildlife sanctuary in the world. Serengeti means "endless plains" in the Masai language, and more than 3 million large mammals abound within its borders. About 35 species of plains animals may be seen here, including the so-called "big seven" – buffalo, elephant, lion, leopard, rhino, cheetah and African hunting dog. The black rhino population of the Serengeti has developed in recent years thanks to constant surveillance, but they are restricted to an inaccessible part of the park.
There is, of course, also a profusion of birdlife with over 500 species including bustards, cranes, eagles, herons, owls, storks, vultures and the bizarre, long-legged secretary birds.
But the most popular animals to be found here in greater abundance than elsewhere on the northern circuit are the cats. Lions, cheetahs and leopard may all be seen here along with other predators, such as the spotted hyena, golden and black-backed jackals, wild cats and servals.
Overnight at Serengeti Mbugani Camp on a full board basis (all meals included).
Day 5: Depart Serengeti
Bid farewell to the camp staff, and transfer to the airstrip – allowing a little time for game viewing en route (you never know what you may see!)
Flight back to Arusha or Zanzibar
END OF SAFARI
During DECEMBER – MARCH Serengeti Mbugani Camps moves south with the migration to become Ndutu Mbugani Camp. We don't normally operate fly in safaris here as the camp is a comfortable driving distance from Arusha, but it is possible to fly in should you prefer to do so. It is here that the calving season takes place – a phenomenal time to be in the Serengeti.