Discover Slovenia's most spectacular natural sites – the famous Bled with its iconic lake and the one and only island in Slovenia. Enjoy various sceneries, learn about the local crafts & traditions of one of Europe's most picturesque Alpine regions.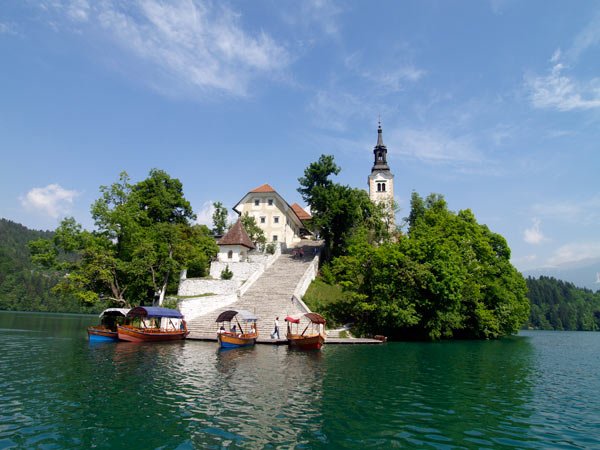 From Ljubljana to the Alpine region below the Julian Alps, you will reach Bled, the magnificent Alpine resort with the only true island in Slovenia. For centuries it has been the symbol of natural beauty and home to fairy tales. Ascend the old 12th-century castle, perched on top of a steep cliff with spectacular views of the lake, the famous Bled island and the surrounding peaks. The castle is not only home to fairy tale weddings, cultural events and important protocol meetings, but also a museum of manual printing and a wine cellar.
A boat ride with 'Pletna' – traditional boat made by local, is among the must-do things when visiting Bled. Not only because of the authentic boat experience, but a true journey back in time. Standing paddlers will take you to the island with 99 stone steps on the way to the Assumption of Mary church and the fortune bell. Make sure not to skip tasting Bled cream cake, the notorious local dessert, famous all around Slovenia, before leaving town.