Great Migration has been listed as one of the Seven Natural Wonders of the World. Not only does it offer incredible views of the plains dotted with huge herds of wildebeest, zebra, and gazelle, but the rivers are often infested with large Nile crocodiles lying in wait. Some of the best safari opportunities in the world are found here
Embark on the adventure of a lifetime with our exclusive "Serengeti Spectacle" Great Migration package. Witness one of the most awe-inspiring natural phenomena on the planet as millions of wildebeests, zebras, and other wildlife species make their annual migration through the vast Serengeti ecosystem. This package is designed to immerse you in the heart of this extraordinary event while ensuring your comfort and enjoyment throughout your journey.
Package Highlights:
Game Drives: Our expert guides will take you on thrilling game drives through the Serengeti National Park, where you'll have the chance to witness the migration up close. The sheer number of animals on the move is a sight to behold, and our guides will share their extensive knowledge of the wildlife and their behaviors.
Luxury Accommodation: Enjoy your nights in the lap of luxury at carefully selected lodges and camps in prime locations. Wake up to the sounds of the African wilderness and relax in elegant accommodations designed to provide both comfort and immersion in nature.
Hot Air Balloon Safari: Rise with the sun for a breathtaking hot air balloon safari over the Serengeti. Experience the Great Migration from the sky as you float silently above the plains, witnessing the vast herds below and capturing stunning photographs.
Cultural Experiences: Immerse yourself in the rich culture of Tanzania by visiting local Maasai villages. Learn about their traditions, dance with the Maasai warriors, and shop for authentic handicrafts.
Gourmet Dining: Indulge in delectable meals prepared with locally sourced ingredients, offering a taste of Tanzania's diverse cuisine. Dine under the stars and enjoy bush dinners for a truly immersive experience.
Photography Opportunities: If you're a photography enthusiast, this package offers endless opportunities to capture the stunning landscapes and wildlife. Our guides will assist you in getting the perfect shots.
Customization: Tailor this package to your preferences by adding optional activities like walking safaris, bird watching, or extra days in the bush.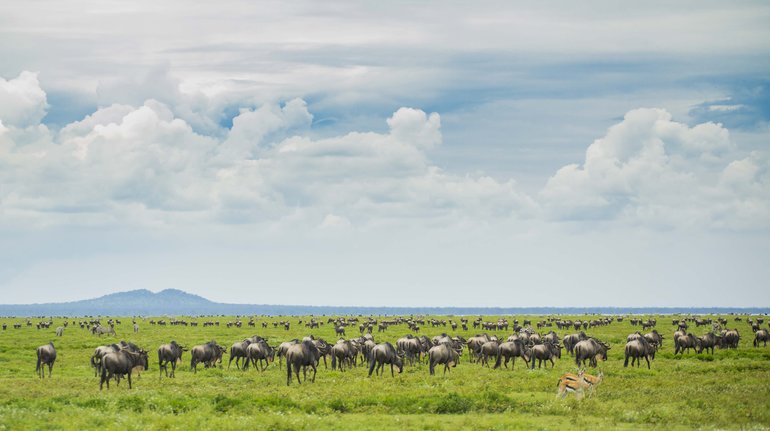 Wildbeest