Ultimately, the ABC rewards our tireless endeavor via bestowing the 360o outlook of the surrounding snowy mountains that embraces entire Annapurna Massif that includes the snow-capped peaks of Annapurna I (8,091m), Annapurna South (7,219m), and Annapurna Fang (7,647m), Mt. Machhapuchhre (6,993m), Gangapurna (7,455m), and other neighboring snow-cap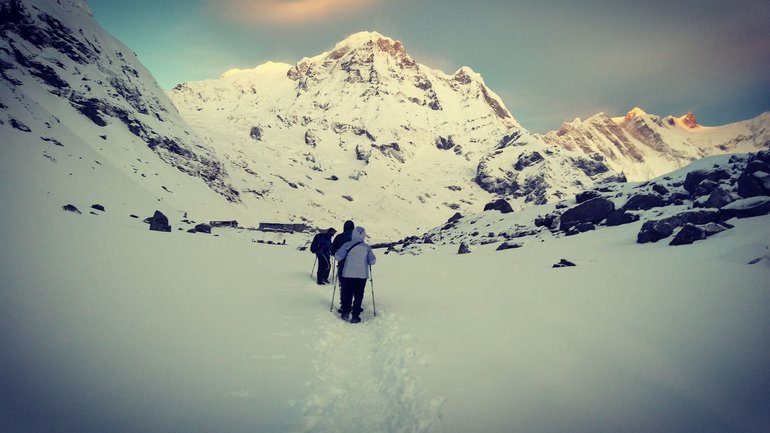 One the way to Annapurna Base Camp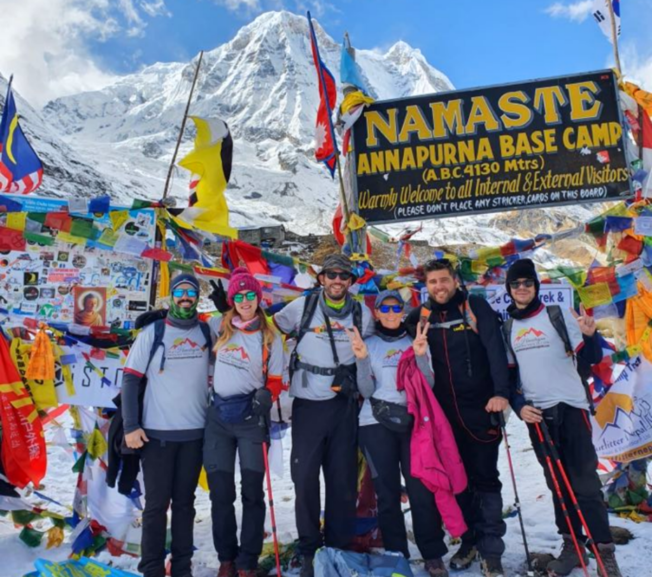 Annapurna Base Camp (4130 m)
Annapurna Base Camp Trekking (ABC Trekking) with Local Experts Team of Himalayan Trekking Path Company.
Agreeably one of the most celebrated
treks
among the foreign as well as domestic visitors in Nepal, the classical
Annapurna Base Camp Trek
via exquisite
Machhapuchhre Base Camp
tread on the heels of the trail that proceeds through picturesque and tranquil landscapes.
The magnificent trail
continues across foothills of majestic
Annapurna Massif
to the enchanted Annapurna Base. Our fascinating trek to ABC commences from Nayapul. We make our way across numerous small human settlements inhabited by the native communities. Eventually, we trek on the scenic trail that traverses Bamboo Village through deep gorges, rich bamboo, and rhododendron forest. En route, we'll be witnessing delightful vistas comprising of the beautiful snow-capped peak. Finally, we then arrive at
Machhapuchhre Base Camp
. Ahead of us, the
MBC
reveals the sublime glimpses of the prominent Himalayan range; a visually striking panorama that sustains the ability to change the direction of hearts.
Annapurna Base Camp Trekking is known as Annapurna Base Camp Treks, Annapurna Panorama Treks, Short Annapurna Treks, ABC Treks, and Annapurna Sanctuary Treks. Annapurna Base Camp Altitude/ Elevation is 4130m from Sea Level
and the Permits
(TIMS and ACAP)
of
Annapurna Base Camp Cost
is
USD$ 50
Per Person, Annapurna Base Camp Package Trekking cost from
USD$500 to USD$ 1000.00
Available at Himalayan Trekking Path Company from 6 days to 10 Days Trekking Package.
Ultimately, the ABC rewards our tireless endeavor via bestowing the 360o outlook of the surrounding snowy mountains that embraces entire Annapurna Massif that includes the snow-capped peaks of
Annapurna I (8,091m), Annapurna South (7,219m), and Annapurna Fang (7,647m), Mt. Machhapuchhre (6,993m), Gangapurna (7,455m)
, and other neighboring snow-capped peaks. The outlook is so awe-inspiring that it seems to be beyond our imagination that tends to create an unforgettable confrontation with the snowscapes in Nepal. Thereafter, we descend back to Pokhara. On our way back, Jhino Danda situated at an elevation of 1,500m offers to alleviate
natural hot springs
that tend to relax and loosen our tired muscles. Besides the prepossessing vistas, you'll also get the unmediated insight of the cultures and traditions of the native communities that have been living in these regions from generations.
We suggest the months of
March to May and September to November
as the prime seasons to go for this trek. Our trek is primarily designed to render you a trekking experience of your life through moderately demanding trails in the vicinity of Annapurna Sanctuary. Get in touch with us to book the amazing
Annapurna Base Camp Trek
via Machhapuchhre Base Camp to rejoice your moments in this wonderful adventure.