Traverse over 600 years of Mostar's history, culture, and traditions. During our 2.5 hour of explorations, we will wind our way through the Old Town and venture outside the beaten path, where we will explain the more recent history, including the Wars of the 1990s and current socio-political context. Learn about our past - understand our present!
Explore Old Town, Mostar with us and visit the most beautiful sites while learning about Mostar's complex architecture, history, and traditions.
Sheva's Original Mostar Walking Tour is a 2.5 hour tour that traverses 600 years of Mostar's history on foot. This walking tour is designed to be comprehensive, covering many aspects of Mostar's complicated distant and more recent past, including local customs and traditions, conflict and war, politics, architecture and language. If you are only able to take one walking tour during your visit to Mostar, this is the one for you.
Sheva's Original Mostar Walking Tour will take you on a chronological journey, beginning in the Old Town. Not only will we journey through the UNESCO-designated Old Town and cross the iconic 16th century Old Bridge, dating from the Ottoman Period, but areas which showcase the Austro-Hungarian expansion of Mostar and the Yugoslav period, including the Bulevar, the front line during the Wars of Yugoslav Succession.

Learn about Yugoslavia's history with a discussion of its violent dissolution, experiences of civilians and soldiers during wartime, and the aftermath of the wars.
Taking you off the beaten path, you will not only learn about the violent dissolution of Yugoslavia during the 1990s, but see the evidence of the wars still visible on Mostar's landscape today. Equally important is hearing how the recent past still impacts the socio-political context of today, including the personal experiences of your guide. In addition, this tour will include our favorite anecdotes and stories about Mostar and provide you with a true local perspective on food, activities, entertainment that should not be missed during your visit.
Our guides are professional and highly engaging, ensuring that you are both entertained and informed! Sheva guides strive to create a unique, immersive experience during each tour that responds to guests individual interest and questions about Mostar and the wider region. We won't shy away from difficult questions or topics and will be happy to answer all of your questions about Mostar. Because of Mostar's recent tumultuous history, we believe it is our responsibility to provide our guests a well-balanced and objective perspective while also retaining our personal approach.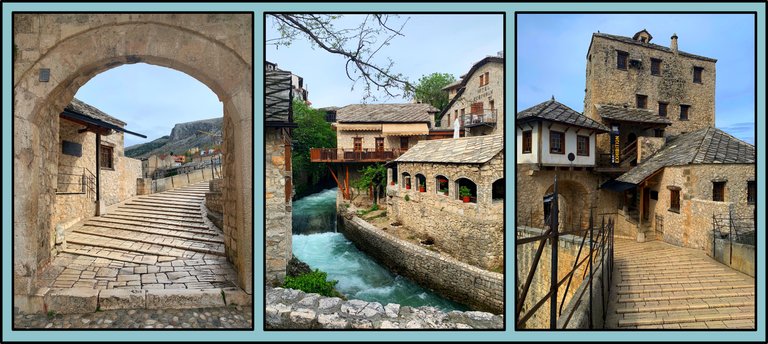 Our tour traverses over 600 years of Mostarian history, a journey from the medieval Bosnian Kingdom all the way to present day.
If your group need special accommodations or has particular interests, please let us know. We will work to customize the tour by incorporating additional content or entrance to museums and heritage sites during your tour. We will arrange a convenient pick-up location for your group and begin the tour for there!
Walk With Us! Learn about our Past, Understand our Present!
Sheva's Original Mostar Walking Tour will visit the following sites (and many others along the way):
Crooked Bridge
Old Bridge and Diver's Club
Kujundžiluk
Traditional Coppersmith Workshop
Koski Mehmed Pasha Mosque
Karađoz Bey Mosque
Mausoleum of Osman Đikić
Pedestrian Bridge
Old Gymnasium
Bulevar
Spanish Square
Glass Bank
City Hall