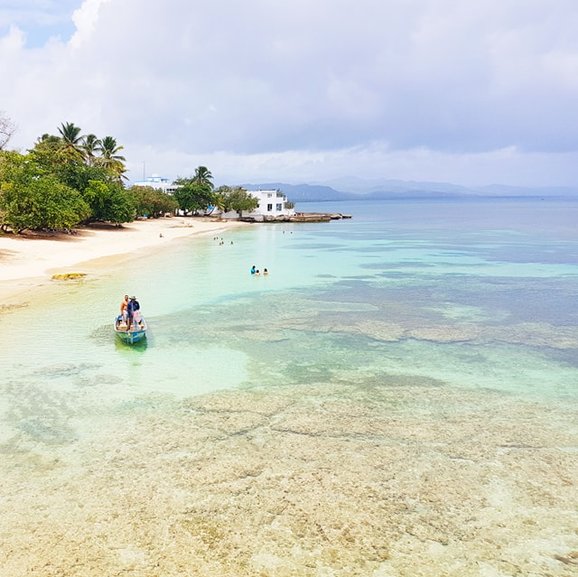 The Dominican Republic is a popular travel destination for families who want to relax, have fun and seek adventure. From white sand beaches, swaying palm trees to epic waterfalls, The Dominican Republic has so much to offer. We loved backpacking in The Dominican Republic because we got the chance to do it independently, mingling with locals and taking it slow. Isn't that what an adventure is all about? Whether you're on a week vacation or no fixed itinerary, we'll tell you why we've fallen in love with the Dominican Republic (and hope you do too).
The beaches
---
The most obvious, duh! Whether you visit the most popular beaches such as Playa Rincon or a hidden gem in Las Galeras, you will not be disappointed. Everything they say about the beaches in the DR are true! Beautiful, blue, and breath-taking. Nevertheless, our son's favorite hangout was a local beach called Alicia beach which was steps away from our guesthouse in Sosua. The best times to visit Alicia beach was in the early morning or late afternoon. Alas, he didn't get enough of the calm waves and white sand. Oh, and Alicia beach also had the best sunset views (in our four year old's opinion).
Another popular beach is Playa Rincon in the Semana Province. It is more touristy because of it's charming turquoise waters and white sands. It looks like a photo from a post-card. It is a crescent shapped beach that is a bit isolated so if you wanted to find a more quiet space, you can. You can either take a taxi or rent a tour to get here. There are locals who are happy to barbeque some chicken, fry plantains, coconut bread.
The boat rides
---
Can anyone say magnificent mangroves? On our way to Las Terrenas we stopped in a small beach town called Rio San Juan. This little town is well-known for its fishing and farming, but is quickly becoming a tourist favorite. One of the best boat rides we've been on was in Rio San Juan's Gri Gri Lagoon. At first sight, this private boat ride took us through some spectacular rock formations and never-ending mangroves. We even stopped at a pristine pool and a cave inhabited by swallows. The water was a clear cobalt blue (we kid you not)! This boat ride is not to be missed!
Horseback riding
---
If you haven't tried horseback riding before, the Dominican Republic is a good place to start. There are many places to ride a horse but we chose to do it on our way to the Limon waterfall since it was a bit of a hike for our 4 year old. Boy, did it not disappoint! Although it was a bumpy and rugged trail, our horses made it (with our trusty guide). Riding our horses through different types of terrain and water was an experience we will never forget.
The food
---
Our favorite topic! There are so many tasty foods in the DR to try and not enough time to post all of them. However, one of the most common dishes you'll find in the DR is called "la bandera" (which means flag). This meal consists of a protein on a bed of beans and rice, fried plantains and salad. Don't leave without trying it. Muy rico!
The people
---
Honestly, mostly every time we travel, we make an effort to connect with the locals. How else could we learn about a country if not for the people? We arranged to stay with a local through a social networking community. The local experience made our trip even more enriching as we learned about the Dominican Republic through their eyes. Also,they were so kind to us, they made us dinner and let us sleep in their air conditioned bedroom. It was a first, as our son experienced walking "Happy" (the locals pet chihuahua).
So, that's our top 5 reasons why we love the Dominican Republic. Hope you have the chance to experience this warm and friendly island!