In this article we want to share four options about how to get around in Cuba. Before mentioning these options, we have to warn you that transportation in Cuba is relatively expensive. Generally speaking, Cuba is not a country for the very low budget traveler. Also, in order to travel in Cuba as smoothly as possible and to minimize the chance of disappointments, we recommend you to arrange public transportation while you are in Cuba. As in the Cuban culture, it would be better to live day by day, do not plan too much ahead and improvise!
In order to navigate in the country, we recommend you to download an off-line map such as Maps.me. Internet is slow in Cuba, so it would be best to do this in your home country before arrival.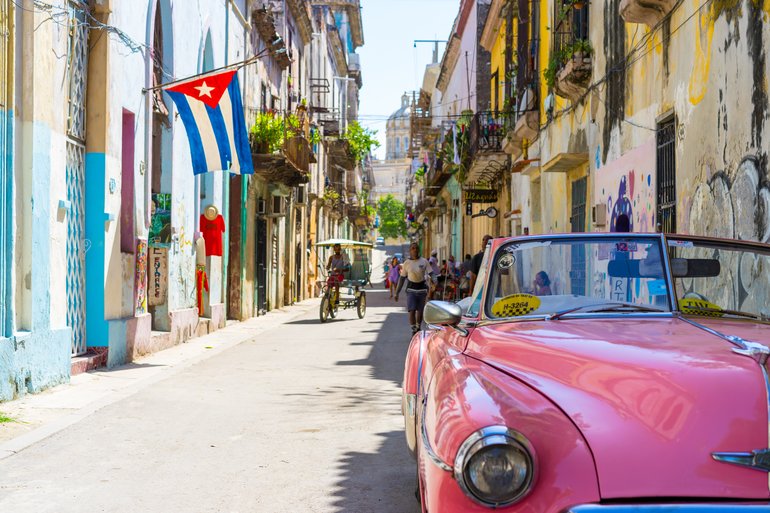 Below are your options for travel:
Bus
---
There are just two state-owned Cuban bus companies for tourists called Viazul and Transtur. Viazul goes to all the most important cities. Transtur on the other hand only goes from La Habana, stops in either Cienfuegos or Trinidad and vice versa. Some people try to book in advance online and, to be honest, we received mixed feedback. Some were lucky and they didn't stumble upon any problems. However, some pre-booked reservations were not received by the online system and the seats were overbooked when they checked in at the bus station. So if you plan to travel by bus, we recommend you to go to a bus terminal two days in advance and book there directly. We would love to give detailed information about timetables for the routes, but these change regularly.
Car rental
---
Planning ahead is necessary if you consider to rent a car. There are many travel agencies online that arrange car rental. The big advantage is that naturally you will be independent and free. However, some of our guests have shared their bad experiences with us. Firstly, it is very expensive in comparison with other parts in the world. For just a normal medium sized car, you will spend approximately 600 euros or even more in a week. Also, the feedback about service has not always been positive and the quality of the cars are often atrocious. Anyhow, besides all this, if you want to take a chance and preferably you choose freedom, there are enough people who have rented cars in Cuba with positive experiences.
Private or shared taxis
---
Another option is taking either private or shared taxis that practically go to all the most important cities on the island. For the travelers that have a bit more to spend and want more flexibility time wise, the private taxi is a good option. We highly recommend the shared taxis, or taxis colectivos in Spanish, because the prices are almost the same in comparison with the bus tickets and they go most conveniently from door to door. Specifically if you depart from or going to La Habana, this option is actually cheaper than the bus. Only the taxi ride between La Habana Center to its bus terminal costs normally around 10 CUC.
As for the private and shared taxis, the best way to arrange them is just one day in advance and directly through the guest house owner, hotel or you can pick them up from the streets. We as guest house owners in Trinidad, we work with a trustworthy network of taxi drivers. However, not all guest house owners provide this service, so then your option is the streets. In Trinidad for instance, it is almost impossible to avoid taxi drivers trying to convince you to take their services. But, from our experience we have to warn you that this could be tricky. It has happened several times that the taxi driver in the end never showed up or he didn't leave our guests at their exact address. So, before booking a B&B, we recommend to check if they have this taxi service. Traveling could go more smoothly if they do!
Shared taxis work by fixed time slots and routes. One of the most common routes is Trinidad to Viñales. The taxi driver will pick you up from your guest house in Trinidad between 8 am and 8:30 am. You will arrive approximately at around 1 pm in the outskirts of La Habana and from there he will drop you off with another taxi driver that goes directly to Viñales. You will arrive in your guest house in Viñales at around 3 - 4pm.
Private chauffeur service
---
If you want combine more freedom, avoid the hassle of getting a taxi or bus, there are agencies that provide the service of private chauffeurs that will do all the transport during your trip. Of course, this is a more expensive option.
All in all, we strongly advise to carry a sense of humor, flexibility and patience while traveling in Cuba. Most Cubans are extremely friendly, helpful and very easy to connect with. Go with the flow, smile and you will have tons of fun!