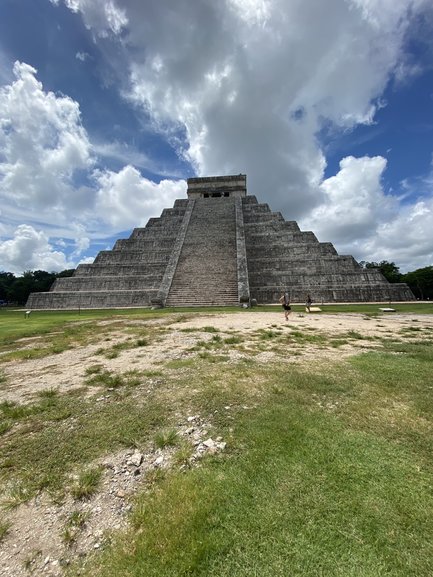 Hello everyone, and welcome back!
About three months ago, I started traveling again. Nothing too crazy, but I went to Mexico! Our trip was supposed to be 12 days, flying into Cancun, driving down to Tulum, where we spent our first couple of days. Following Tulum, we were supposed to go to Playa Del Carmen. We planned to spend a couple of days, our trip quickly changed as we found out we may not have of came at the best time. Following Playa del Carmen, we headed back to Cancun to finish our trip with another surprising twist to our journey!
Our journey started with a quick drive over to Miami, and our flight was in the morning, so it worked out perfectly. We made sure we had our bags, masks, and passports, and we jumped on the plane. For such a short flight right over the pound, straight into the beautiful city of Cancun, Mexico! Once we arrived, we made our way out of the airport. This time was different compared to the first time I went. When I walked out of the airport, the greetings were not the same as before. There was no overwhelming amount of people trying to sell you an overpriced taxi to your hotel or rental company. We ended up going to a rental company that we read excellent reviews before going. I wish I could remember the name of it right now. They took excellent care of us and didn't try to rip us off at all! (Which is quite familiar with the rental companies at the airport). We had read before coming out that masks were required inside and outside at all times. It was not very in-forced, but we still made sure to wear our masks at all times.
After the car rental company, we hit the road. We should have got our money exchanged before heading to the gas stations as we are sure we got ripped off by the amount of change they had given us in return. I had already known, but we didn't see an open exchange inside the airport, so we got stuck. The drive from Cancun to Tulum was about 2 hours, give or take. Luckily my friend Kelsey knew some Spanish; otherwise, we would have been pretty screwed. We stayed inside Tulum city rather than the beach. It was way more affordable, and honestly, we had a car to get to the beach, which made it easy. The first place we stayed at was this cool little one bed and one bath right off the main road. The only downside about this place was the water was freezing in the shower, but luckily it was a million degrees outside! The first day we didn't do a lot; we went into town and checked that area. Found an exchange, then we walked over to this little restaurant you see in the picture. We got a bucket of beer, two shots of tequila, and tacos for the two of us for under twenty-five dollars!
For the next couple of days, we were able to see some fantastic views. The first Cenote that we went and saw that day was this one you could jump threw these holes to the water under. It had three different areas, and some were just big enough to jump through. Then you had the middle hole, which was the biggest one. Once you jumped through one of these holes, you plunged into this beautiful blue water. It was a little chilly but well worth the jump. As you emerged from the water you were in, you opened your eyes to this cave. Swimming with the bats was probably one of the most relaxed animal encounters I have had. We then went to the next Cenote, which was right down the road. This one was pretty cool. When you walked in, you walked right into this beautiful Cenote. That wasn't it, though; they had a pool, a beautiful shrine. I didn't get any pictures of this; I just wanted to enjoy it. These places required us to wear our masks to get inside or walk around them at all. You had to rinse off before entering the Cenote as they don't want any chemicals or anything to destroy the beautiful Cenote's.
This evening we went back relaxed, then went out to the beach. We found ourselves relaxing at this beach club. Which the drinks were defiantly more expensive. (The restaurants do have happy hour, and I def recommend hitting happy hour up). After the beach club, it started down pouring rain. We ended up at this cool little bar called the I Scream Bar. If you ever get a chance to go, I defiantly recommend it. We got these delicious Margaritas; they were BOGO. This bar, though, had loud music bumping the whole time. Behind the bar were a tattoo place and a hookah lounge, which was pretty cool as I have never seen a bar, hookah lounge, and a tattoo artist all in one place. I almost got a taco tattooed on me but decided not to. Well, we called it early this night because we wanted to head for the Chinchen Itza.
Today we woke up at a decent time and headed for my first seven wonders, the Chinchen Itza. The drive was about three or so hours as the roads weren't the best and every time you had to go through a new city you had to be careful of the topes. They are giant speed bumps that will destroy your car if you hit them too fast! The drive out was pretty unique and exciting. There wasn't an exact speed to go, and most of the time, people would go zipping by you. Once we got to the temple, they told us we had to wear a mask, it was a bit pricey, but I recommend going still. When we showed up, so did a couple of tour buses, which made it a little crowded just getting in, but otherwise, it was perfect once we got past everyone and everything. One thing we did miss was the Cenote's that were inside of the temple area. We were under the impression they were right on the outside, and we had to drive to them. So if you see the Chinchen Itza, definitely wander around more, and don't just let the temple suck you in! We were pretty disappointed with missing the two Cenotes inside the temple. So we asked a local where he would recommend.
The Cenote that this gentleman had recommended was about an hour's drive back towards Tulum. It was unreal. It was entirely inside a cave, and the cost was significantly cheaper than the ones closer to Tulum. This Cenote topped the day off for us. We headed back into Tulum; once we got back, we moved into our new hotel, which was outstanding. You had your parking, then when you walked in, threw the gate, this super cute dog greeted you. This little place had a pool, hammocks everywhere for relaxing, and the room was top notch! By far our favorite place we stayed at during our time in Mexico! They even included bikes!
The bikes may not have been the best. We had a fall in less than 20 mins, and the chain would fall off every 20 mins. We had found ourselves going back to the I Scream Bar almost every night just because the drinks and the atmosphere was the best! During the next couple of days of our trip, we slowed down a little enjoyed a Mayan tribute dance, well-enjoying pizza, and noddles. You will notice this a lot, and it is just all the kids running around selling bracelets and all other types of homemade.
The day before we were supposed to leave for Playa Del Carmen, we heard the news about a possible tropical storm hitting in between Tulum and Playa Del Carmen. We didn't think much about it we are from Florida, we get hit all the time by
storms. We woke up to no power throughout most of Tulum, and we were supposed to check out of our hotel room that day. Luckily, our hotel allowed us to do a late check out at noon with no service nothing, but we both looked at each other packed everything, and hit the road. Honestly, this was probably the worst tropical storm I have seen. There were street signs down power lines down everywhere; it was crazy! We got to Playa Del Carmen, and we didn't have a plan, but neither of us wanted to stay in a place with no ac at that point. We found an all-inclusive hotel, and we hung out and relaxed for the next couple of days.
Truthfully I have stayed at a few all-inclusive hotels, and this was by far the worst experience. The food was okay, the drinks were free but not very strong, and most of the activities were closed just due to crap weather. I'm sure that the hotel would have been a lot better during a different circumstance, but it was okay. We only got out one night; well, we stayed in Playa Del Carmen because the weather wasn't the greatest.
We walked through the central part of the city, which masks were required. But for the first time, our whole trip, it was pretty busy on the streets. Almost everyone didn't wear masks, or if they did, they wore them improperly—the restaurants were all so colorful and cool looking inside. The locals filled the streets with arts and many other homemade objects on almost every single corner. It was a pretty cool experience. Well, following this, we just went back. The whole trip me and Kelsey were both hoping to go scuba diving. The weather never broke enough for us to go. After Playa Del Carmen, we checked out and headed for Cancun. Truthfully our last couple days were supposed to be the only days we spent in an all-inclusive hotel, just due to the deal we got.
For the first day, it was beautiful! We showed up early just because we were over our hotel in Playa Del Carmen and wanted to get moving. Our first night was great. The second day we woke up to news again about a category four hurricane coming for Cancun. If you have ever been to Mexico, you would know that they don't get hit very often by storms. When we were on our way to our car, we heard that the hotel would be evacuating, so we rushed our vehicle to the rental company. (the insurance on the car was crap!). When we got back from the car rental people, they told us we need to pack an overnight bag and our pillows and blankets that they were going to evacuate us somewhere off-island row. It sounds pretty crazy, but truthfully everything went so fricken smooth. Kelsey and I were supposed to leave that day the hurricane was going to hit. So we both just looked and laughed at each other. Knowing we just had to go with the flow. The bus finally came felt like it took forever, but luckily we were on the first bus! When we got to this place, we were pretty surprised it was an elementary school that they took us to. They brought in beach chairs, and they put us all 16 in a room. (The whole covid bullshit went out the window). The staff and everyone in this hotel stayed with us and killed it. Our flight got reschedule, and honestly, the hurricane ended up not being as bad as it was supposed to. The next day in the afternoon, they took us back to our hotel.
The damage was nowhere near as bad as the damage was when we went threw the tropical storm; it didn't even seem that bad as we drove through town on our way back to our hotel. Once we got there we went to our rooms checked for damage and the worst that happened to our room was it was a little flooded. So we changed and just went and ate and got drunk for our last night in Mexico! Overall this trip was fantastic. I gained some incredible memories with a great friend. We both laughed more than one can admit, and we made it home happy and content.
Thanks for the read!
-Brent M.