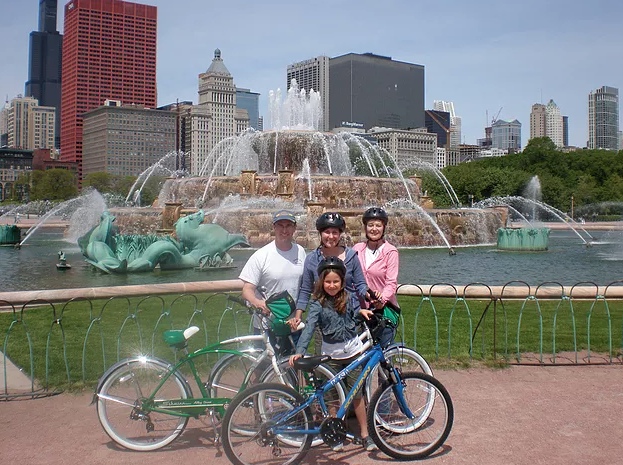 Biking in Chicago
Oh, the good times to come! The fun, the adventure, the memories. But, when you are planning your greatest family adventure, where do you begin? How do you turn just another vacation into an adventure of a lifetime? Here are 5 suggestions in how to take your vacation to the next level.
1. Deciding where to go - The first big decision is where to go on your adventure. To get the buy in and excitement level up with your kids, talk about what is relevant to them. Sources for inspiration include movies (think Indiana Jones, The Bachelor, The Amazing Race), friends that live in other places (exchange students from school, friends that were transferred, visiting sports teams), or studies in school or books. If you choose a place that is relevant to your child, they can get excited about the planning phase and the things they have seen in books or movies become real. There is nothing better to make a school book come alive than seeing that famous land mark in person! It can also be helpful to decide on a flexible long term travel plan. Set goals such as "each continent before graduation" "compare and contrast South American Counties" "Finding the best surfing spot in the world."
2. Finding Age Appropriate Places - When you are wondering if you can take your kids to that city or that country, check to see if they have children there. Most places do. Sometimes reminding yourself that children have lived in that place for generations is a nice inspiration that your children (and you) can make it for a week. But, make sure the age appropriate activities are right for your family. This will prevent frustration of getting there and then finding out your kiddo is not old enough or tall enough to qualify. Great places to look for age appropriate adventure ideas are travel websites and pre-set itineraries from travel companies. I find companies based in Europe are much more inclusive of fun children activities than U.S. companies. Also, consider e-mailing local companies to determine if they have family-friendly versions of the excursions advertised.
3. Create Excitement with Preparation - The fun does not have to be limited to trip time. Create excitement during the planning phase to get everyone involved. For example, look for recipes from the area you are visiting and cook something similar every Tuesday until you leave. Watch movies or travel shows that are either about the place you are visiting, or were filmed in that area. Even Scooby Do has a episode set in Venice. Think about what activities you will be doing, and practice at home. Bike rides, swimming, hiking are all things that can be fun family time at home while building excitement and stamina for your trip.
4. Do instead of Watch - Activities are not only fun, and healthy, but are also a family bonding opportunity. Besides, doing is always more fun that just seeing. Avoid group tours with a lot of standing around and listening. Your kids will be board and you will be frustrated. Look for activities prevalent in the area. Water sports, hiking, cooking classes, riding modes of transportation not found at home, zip lining. With a little planning ahead, you can usually find a local provider with beginner lessons, or kid-friendly activities. Give your kids options so that they never even think about grabbing those electronics.
5. Be Willing to Divide and Conquer - Everyone is not going to be interested in every activity. To help everyone get the most out of your family vacation, I suggest you consider two approaches. First, make clear you are taking turns and the "no whining" rule applies when iit's not your turn. Plan an activity geared toward each child's interest, remind them of when that activity is, and that you are all going to support each other in each activity. Another suggestion is the divide and conquer method. Leave a "free day" toward the end of your trip that your kids can choose an activity that they thought would be interesting. Split up for the afternoon or the day - and plan to get back together in the evening and regale each other with big stories of the day.
The more your kids are involved in planning, preparation and participating in activities, the more of a team building experience it will be. Enjoy your trip, and share your experiences so others can too!