Now more than ever, most of the shops are the same all over the world, so markets are the best place to find that something special.
Even after living in Brisbane for so many years, I'm surprised by how many markets there are. If you're not staying in the city, you can travel in by public transport. There also may be markets in your area which you can google.
Southbank Parklands - The Collective Markets
---
The Collective Markets are a great addition to weekends at Southbank Parkland.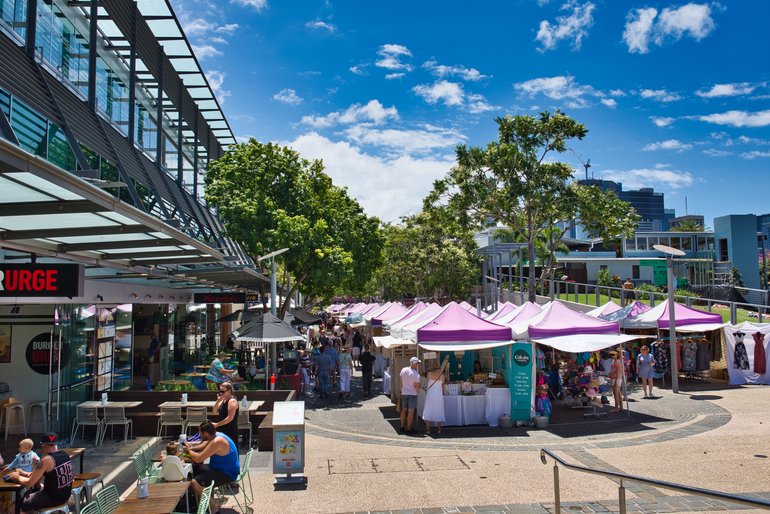 The stalls stretch on both sides for as far as you can see
There is so much for everyone at these markets, including fashion, homewares, jewellery, art and more catering for all budgets.
These markets are so accessible and being in Southbank you have restaurants, pubs, cafes, fast food, as well as beaches, play areas and picnic spots.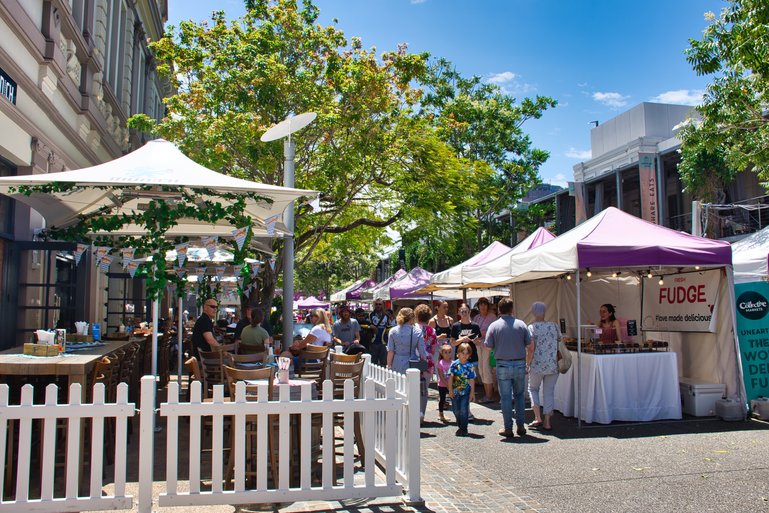 Markets line one side and restaurants and cafes on the other
Southbank is your one-stop place for all-round entertainment on the weekend.
Hours:
Friday: 05:00 PM–09:00 PM
Saturday: 10:00 PM-09:00 PM
Sunday: 09:00 AM–04:00 PM
Young Designers Market
---
Located right behind Southbank in Little Stanley Street, the Young Designers Market is on the first Sunday of every month.
With 80 stalls of fashion, jewellery and homeware designs, this is a great complement to the Southbank markets.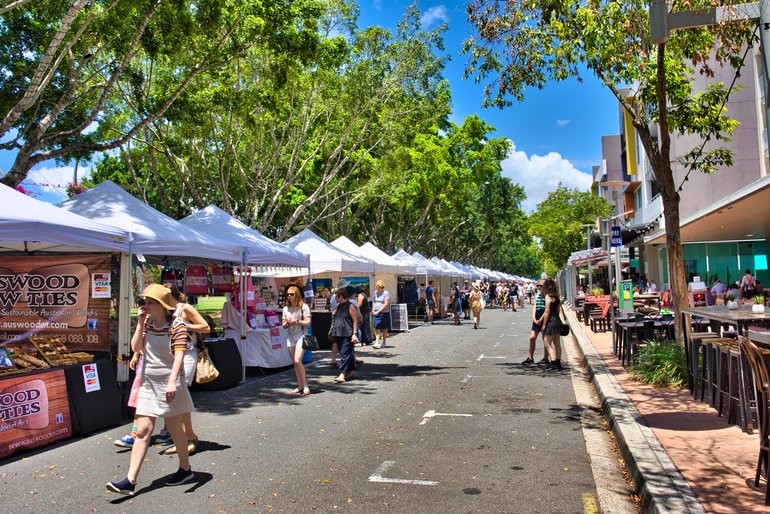 Even wooden bow ties are here for you to peruse
You have two blocks to walk down to see all the stalls, and there are restaurants and cafes on the other side to refresh you.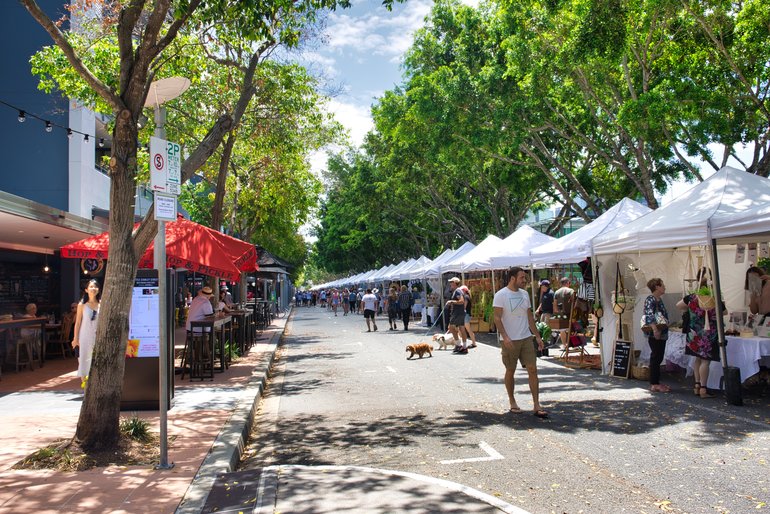 Stalls are along the tree-lined street
The street is blocked off from traffic for the stalls so you can wander in safety.
Hours:
Check their website for which Sunday, 10:00 AM–04:00 PM
Brisstyle Handmade Markets
---
The Brisstyle Handmade Markets only happen a few times a year but are definitely the place to come to find that something special. They are found outside the State Library between the
Queensland Art Gallery and the Gallery of Modern Art and are between 10 am and 4 pm.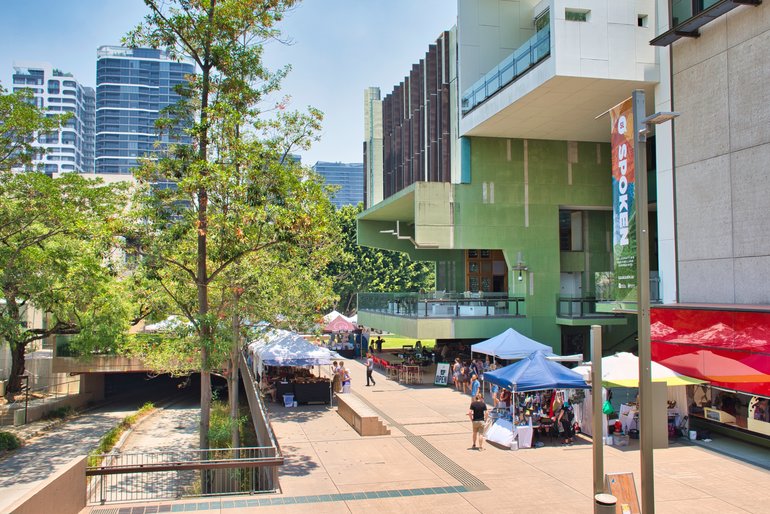 The Handmade Markets wrap around the corner of the State Library
Homemade gifts from local artisans would make the ultimate gift for you or our loved ones back home.
From bags to clothes, jewellery to artwork, if it's handmade, it's here. Of course, there are cool treats to cool you off on a hot summers day and entertainment to enjoy.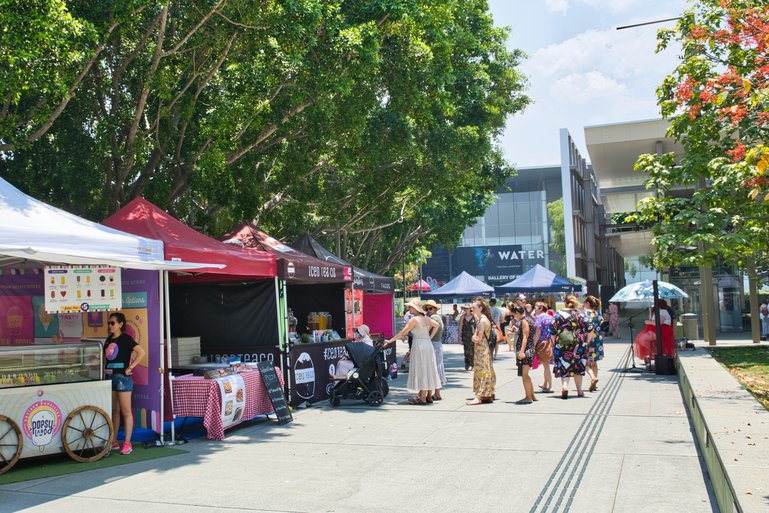 Cool drinks and entertainment will keep you going as you shop your heart out
Riverside Markets
---
The Riverside Markets are located at the entrance to the Botanic Gardens on the corner of Albert and Alice Streets. They are open from 8 am - 3 pm every Sunday, and it's an easy walk from the Central train station or the centre of Brisbane city.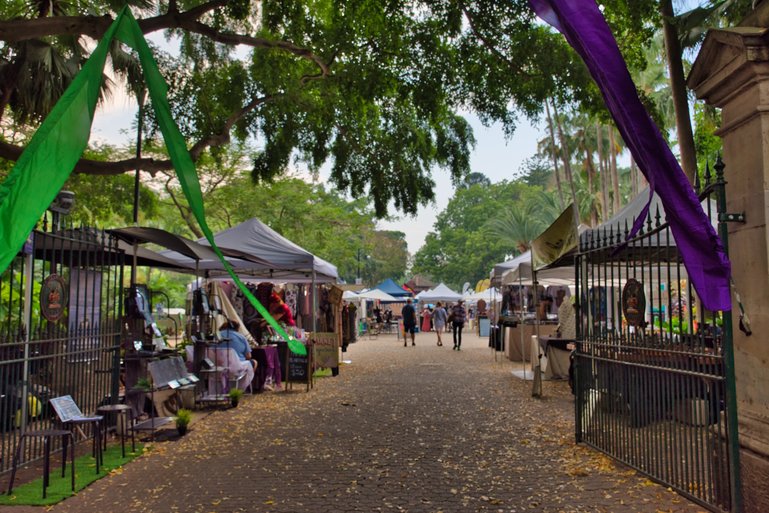 The entrance to the Botanic Gardens on Alice Street is where you find the Riverside Markets
This is a mixture of the city and Southbank markets with artisan, food and fruit sold under the trees of the Botanic Gardens. Afterwards, it's a great place in the Gardens to spend an afternoon, either walking or relaxing along the riverside.
Hours:
Sunday: 07:00 AM–03:00 PM
Brisbane City Markets
---
The Brisbane City Markets are good for workers in Brisbane city as well as tourists and locals. They are open on Wednesday at 8 am - 6 pm at Reddacliff Place, the river end of Queen Street, and Thursday 8 am - 2.30 pm at the corner of Ann and Wharf streets.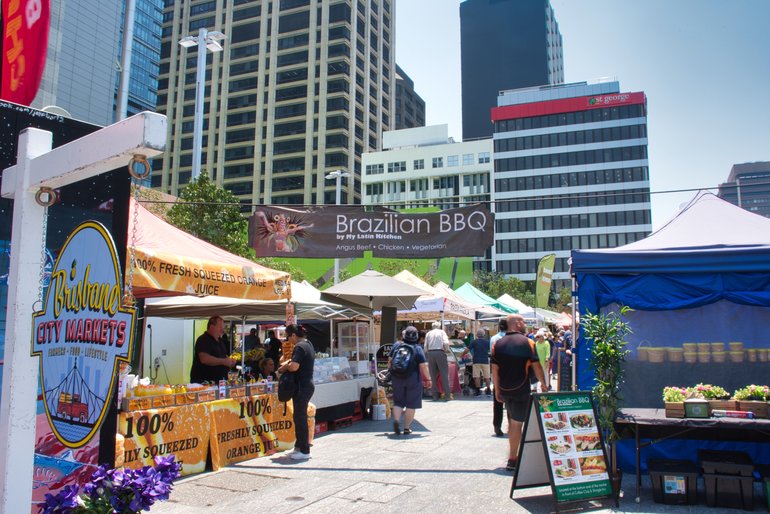 Time for lunch??
These markets are full of fresh fruit, vegetables and meat. You can pick up a bite on the go from Brazil or Spain and everywhere in between.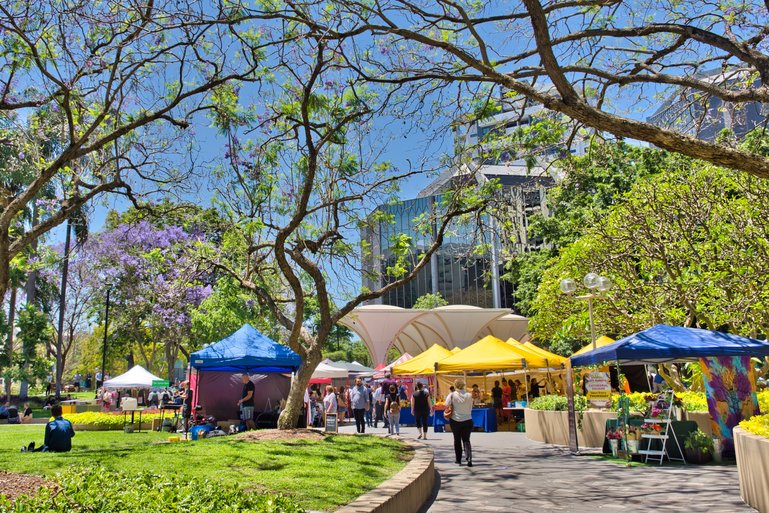 Brisbane City Markets on Thursday are held under the trees of Cathedral Square
Reddacliff Place Hours:
Wednesday: 08:00 AM–06:00 PM
Cathedral Place Hours:
Thursday: 08:00 AM–02:30 PM
Brisstyle Twilight Market
---
The BrisStyle Twilight Market is the only market that is on a few times a year.
This market is held on a Saturday night in King George Square in front of City Hall. I was there just before Christmas hence the Christmas Tree up.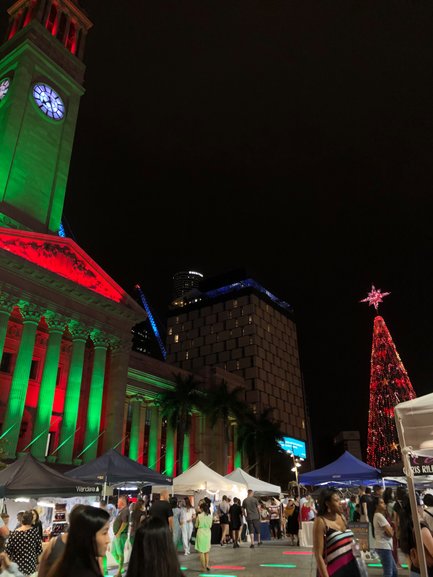 From late afternoon unto the night, these markets take on a different vibe with the lights on.
These are artisan markets with a few food trucks so you can pick up a snack while you're shopping for gifts or something for yourself.
Eat Street Northshore
---
Not technically in Brisbane city, Eat Street Northshore is just a 20-minute drive or quick CityCat ride from the city centre.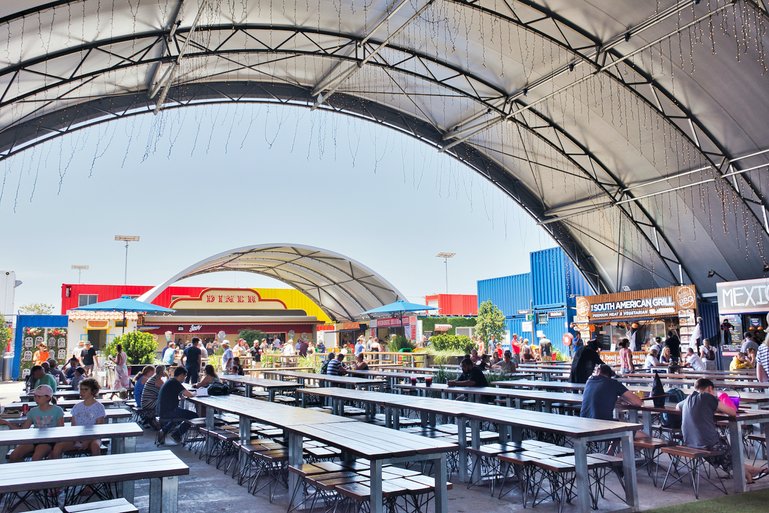 There are lots of places where you eat food from different countries around the world in sheltered comfort.
Packed with stalls of food from around the world, you can eat away the weekend. It's open Friday and Saturday 4 pm to 10 pm and Sunday noon - 8 pm.
Hours:
Friday-Saturday: 04:00 PM–10:00 PM
Sunday: 12:00 PM–08:00 PM
There are more markets in the suburbs. You can read my blog on Redcliffe which has Sunday Jetty Markets.
The best way to find them is either ask at your accommodation or google.
If you want to read more on Brisbane, you can read my blogs on Brisbane City, Eat Street Northshore, Redcliffe and where to see Koalas around Brisbane.
Caution
---
Queensland is the skin cancer capital of the world, so always bring the sunscreen, hat and sunglasses, even in winter, and don't forget your water.