The Hotel Havnekontoret is one of the nicest hotels we ever stayed in. Well located near the major sights of Bergen, most of it was once the mansion home of a very rich Bergen merchant. We booked a "superior" room and it lived up to the name. It was very spacious by USA standards. By EU standards, it was cavernous, well and richly furnished, with a comfortable bed, tub, shower, excellent window curtains for keeping out light (Bergen is very near 'the land of the midnight sun'), and very quiet. One side of the Hotel Havnekontoret faces the dock. The entrance to the Hotel Havnekontoret is on a perpendicular side street and takes you right into reception. However, once in residence, we always used the smaller 'side door' because that was the grand entrance to the old mansion, and it shows.
The is a turret on the corner of the Hotel Havnekontoret where stairs bring you up to a good view of the original Hansiatic League harbor and the newer parts of Bergen across the port.
Prices: We stayed at the Hotel Havnekontoret when the currency exchange rate was at its worst for the US $. A Big Mac just down the street cost $17. Our room was $202 a night. The cheapest possible can of beer (no glass) cost $10. But Hotel Havnekontoret to the rescue. The Hotel Havnekontoret's room included a Norwegian breakfast, essentially a small smorgasbord, and a late afternoon refreshment, starting at 4:00pm. This was a small all you can eat buffet with a limited number of choices, but it sufficed for dinner at no cost, and the food was good.
Since we were there, the exchange rate has shifted greatly in favor of the US $ and I don't know what the pandemic has done to the free afternoon buffet.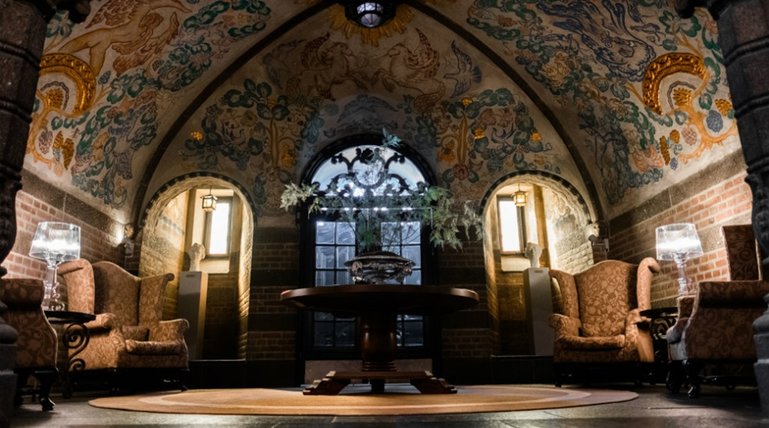 Entering from the side door