Selous Game Reserve is a vast stretch of land, bigger than Switzerland! As such, the best way to experience Selous Game Reserve is from all angles by boat, by car, and by foot! For the next 3 days, you can experience this diverse to the fullest! With such a diverse concentration of wildlife, there is much to see here!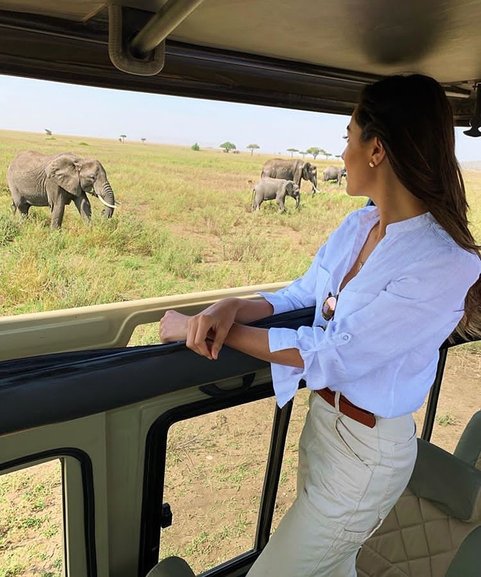 Lisa from france
Selous boost larger population of Elephants, Buffalo, Hippo, Crocodile and endangered Wild dog. Commonly seen are pride of Lion, Bush buck, Impala, Warthogs, Ostrich, Giraffe, Eland, Baboon, Zebra, Hyena, Kudu, rare sable antelope and Leopard. In Selous there are more than 400 species
Day 1 – Arrival at Selous Game Reserve:
We will pick you from the Airport/Hotel in Dar es Salaam to Selous Game Reserve where you will be met by your guide who will immediately whisk you away for a dynamic boat safari through this enormous park. Adventuring through Selous by boat gives you a perfect chance to explore the waterways of Selous including the impressive Rufiji River.
The water channels in the park create a diverse environment and attracts all manner of wildlife, including a large population of Elephants!
After your wet and wild journey, your guide will take you to your accommodation for dinner and some well-earned rest under the stars.
Day 2 – Full Game Drive
After a delicious breakfast, you will depart bright and early at 7 am, for a full day game drives safari. A day spent in Selous will bring you face to face with elephants, giraffe, hippo, crocodile, wild dogs, rhinos and countless colorful bird species!
You will be served lunch within the park, surrounded by nature nearby to watch animals coming to drink – a place with a clear view all round so that no predator can creep up unseen!
You'll be taken back to your accommodation before sundown for a dinner with plenty of time to prepare for your final days of safari!

walking safari
Day 3 Selous Game Reserve before departure:
Non-Game-viewing travel time:
Today you will rise with the birds for a 6 am walking safari! You'll spend the next 2-3 hours connecting with nature before leaving the park and heading to the Dar es salaam for your flight back home.