The safari takes you to the best tourist destinations in Uganda where you will encounter breathtaking scenery, abundant wildlife and cultural experiences. It involves visiting Bwindi Impenetrable Forest National Park, Murchison Falls National Park, Queen Elizabeth National Park, Kibale National Park and Lake Mburo National Park.
Day 1: Arrival – Meet And Greet -Drive To Your Booked Hotel
Upon arrive at Entebbe International Airport, you will be met by a company representative and your professional English -speaking safari guide to meet and greet, and then be transferred to check in at your booked hotel in Entebbe town. Freshen up, and later meet with our company representative and safari guide at the hotel lobby to brief you about your 10-day Uganda wildlife safari with gorilla trekking tour. The hotel is about 10–20 minutes' drive from Entebbe international airport on the shores of Lake Victoria.
Later, if time allows, drive to Entebbe botanical gardens that are found on the shore of Lake Victoria for a walking safari. Botanical gardens are home to some primates, such as Vervet monkeys, and several bird species. The walking safari will take you to the shores of Lake Victoria where you will spot some water birds, enjoy the fresh breezes from the lake as well as get used to Uganda's beautiful nature. Lake Victoria is the largest water body in Africa and the second largest fresh water body in the world, and is shared by three East African countries (Uganda, Tanzania, and Kenya). Dinner and an overnight.
Accommodation: Papyrus Guest House (Mid-range)
Meal plan: Dinner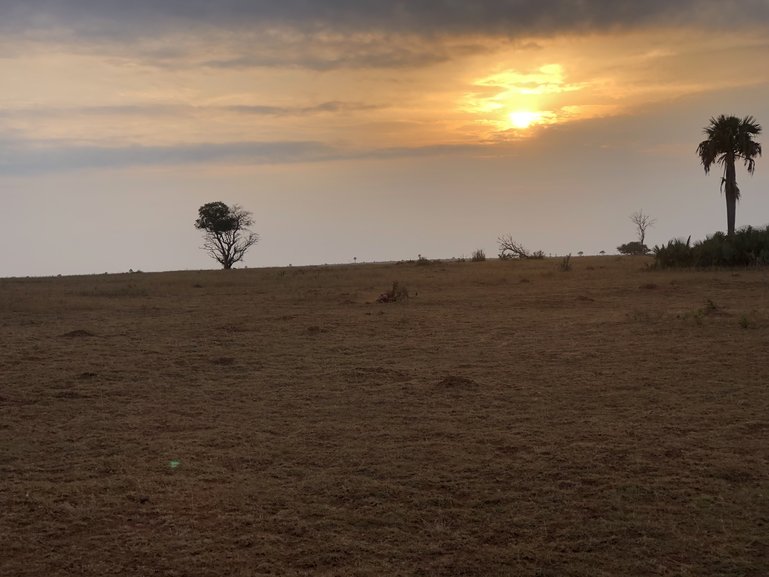 Savanna Plains of Uganda
Day 2: Visit Ziwa Rhino Sanctuary – Drive To Murchison Falls National Park – Descend The Murchison Falls From The Bottom – Spend The Evening At Leisure
Rise up very early in the morning to have breakfast (630 am), then check out of your hotel to start your adventurous road trip to Murchison Falls National Park with a visit to Ziwa Rhino Sanctuary to encounter white rhinos close to their feet with the help of your site ranger guide and spend one hour with them.
Retire for lunch, and then proceed with your drive to Murchison Falls national park. On arrival at the park before checking into your booked lodge, visit the Murchison falls to enjoy the breathtaking views of the whole River Nile from Lake Victoria going through a tiny gorge of only 7 meters wide that makes it violent and causes a verbal burble of the falls as they drop into a pool of water, which is so lovely and adventurous. Later proceed to your booked lodge for dinner and an overnight
Accommodation: Pakuba Safari Lodge (Mid-range)
Meal plan: Breakfast/Lunch /Dinner
Day 3: Morning Game Drive Safari – Afternoon Boat Cruise Along The River Nile – Night Game Drive Safari Experience
Wake up very early for a cup of coffee and head to the northern sector of the park with packed breakfast for a superb game drive in search for several animals such as Caped buffalo, elephants, Uganda Kobs, Jackson hartebeest, Roth child giraffes, oribis, lions, common warthogs, and some primate species. A leopard may be spotted on a lucky day. Have a short break to enjoy your full breakfast and later proceed with your game drive to fully explore the park and be able to spot several wildlife species.
Later, in the early afternoon, leave the jungle and return to your lodge to relax, have lunch, and then drive to the Paraa gathering point for an afternoon boat cruise safari on the Victoria Nile. The boat cruise safari goes upstream from the calm Victoria Nile to the base of the Murchison Falls, stopping a few meters from the 'Devil's Cauldron' of the falls, which will give you an amazing view of the fall and see how the river Nile drops into a pool. Expect to see several water mammals and birds like Hippopotamus, Nile crocodiles, some birds like the Egyptian goose, goliath heron, kingfisher, pelican bee-eater, hornbill, cormorant among others.
After the boat cruise drive back to your lodge for an early dinner and then drive back to the park for an exciting night game drive. The night game drive safari is so adventurous and boasts more chances of meeting nocturnal mammals and birds of the park, such as lions, leopards, porcupines, civets, spotted hyenas, and grazing hippos, among others. These species are more active during the night hours and, on a lucky day, you may see them in the act of hunting, which is one of the greatest jungle experiences. After return to the lodge for an overnight stay.
Accommodation: Pakuba Safari Lodge (Mid-range)
Meal plan: Breakfast/Lunch /Dinner
Day 4: Murchison Falls National Park – Drive To Kibale Forest National Park -Bigodi Sanctuary Swamp And Community Tour
Have fantastic breakfast, check out of your lodge and slowly drive through the park, across the Nile River towards Kibale Forest National Park.
Along the way to Kibale Forest national park, you will enjoy the spectacular views of tea estates, several forests, and the shadow of the legendary Rwenzori Mountain that forms a mystic backdrop to the beautiful volcanic landscape. Have a stopover in Fort Portal City to have lunch, move around the city on foot, and later continue with your journey to check in at your booked lodge.
Later drive to Bigodi Swamp for a nature walk and community experience. The Bigodi walk will take you through the nearby community to interact with local people and learn how they live in harmony with wildlife species, as well as how they do their daily activities without using modern technology, such as making nice Gins from bananas, delicious coffee, and arts and crafts. Return to your lodge after the walk to relax, dinner, and an overnight
Accommodation: Isunga Safari Lodge (Mid-range)
Meal plan: Breakfast / Lunch /Dinner
Day 5: Chimpanzee Tracking Safari – Drive To Queen Elizabeth National Park – Visit Katwe Salt Mining Community
After breakfast, meet your safari guide and transfer to the park information offices to join other guests for a briefing about the dos and don'ts to follow while looking for chimpanzees in the forest, and how to behave around chimpanzees. Then embark on your guided forest walk to search for the intelligent chimpanzees, the closest living relatives sharing 98.8% of human DNA. During your forest walk, you may encounter other wildlife species, both mammals and bird species, such as other primates, bush pigs, among others. Once you meet the chimpanzees, you will spend a full hour watching them play in the tree branches, feeding and taking care of their babies and taking as many photos as you want.
Retire for lunch, and then drive to Queen Elizabeth National Park to visit the Katwe community, which is surrounded by the salty Lake Katwe, and whose main economic activity is extracting salt from this lake. This is one of the most famous communities due to the traditional salt mining that has been practiced since the 16th century. While at the Katwe salt mining community, you will have a chance to take part in salt mining and your local safari guide will give you information about how they have managed to maintain their salt mining activities for decades. After the community tour, drive to check in at your booked lodge to spend your evening at leisure until it's time to have dinner and overnight.
Accommodation: Buffalo Safari Lodge (Mid-range)
Meal plan: Breakfast/ Lunch / Dinner
Day 6: Chimpanzee Tracking In Kalinzu Forest – Afternoon Boat Cruise On The Kazinga Channel – Spend The Evening At Leisure
After an early morning heavy breakfast, be driven to the Kalinzu forest reserve head office to join other guests for the pre-tracking briefings, be given a site guide and then start your second chimpanzee tracking safari in a different environment. The second chimpanzee trekking safari will give you a chance to encounter chimpanzees from different backgrounds and to have an extra experience of how these apes behave in different environments.
Later drive back to your lodge for lunch, relax and later depart for an afternoon boat cruise safari along Kazinga channel, the main water stream which goes through the park and connects Lake George and Lake Edward. Boat cruise safari on the Kazinga Channel is one of the highly recommended adventurous activities for visitors to Queen Elizabeth National Park that brings you very close to several mammals such as hippos, Nile crocodiles, buffaloes, elephants, and many others, plus various water birds. Later return to your lodge to spend the evening relaxing. Dinner and an overnight.
Accommodation: Buffalo Safari Lodge (Mid-range)
Meal plan: Breakfast/ Lunch / Dinner
Day 7: Queen Elizabeth National Park – Game Drive To Search For The Tree Climbing Lions – Drive To Bwindi Impenetrable Forest National Park
After having your tasty breakfast, drive to the Kasenyi plains for a morning game drive safari in search of wildlife species such as Lions, Leopards, Elephants, Buffaloes, several antelope species, primates, and many others. After head to Bwindi Impenetrable Forest national park via Ishasha sector in the southern parts of Queen Elizabeth National Park for another game drive to lookout for the unique tree climbing lions. Have lunch and proceed with the journey to Bwindi Impenetrable Forest National Park arriving in the evening for dinner and an overnight.
Accommodation: Bakiga Lodge (Mid-range)
Meal plan: Breakfast/Lunch/Dinner
Day 8: Mountain Gorilla Trekking Experience –Drive To Lake Bunyonyi
Have a heavy breakfast, get your packed lunch boxes and enough drinking water; meet your guide and head to the park information offices for briefing. Then start your forest walk in search of the endangered mountain gorillas in their natural habitats.
Once you encounter the mountain gorilla family, you will spend a full hour watching the playful babies, mothers grooming their babies and Mr. Silverback, watching the situation silently as he is ready to protect the family from any kind of attack. Retire and then drive to Lake Bunyonyi to relax while enjoying a boat canoeing safari on Lake Bunyonyi. Dinner and an over-night
Accommodation: Bunyonyi Rock Resort (Mid-range)
Meal plan: Breakfast / Lunch/ Dinner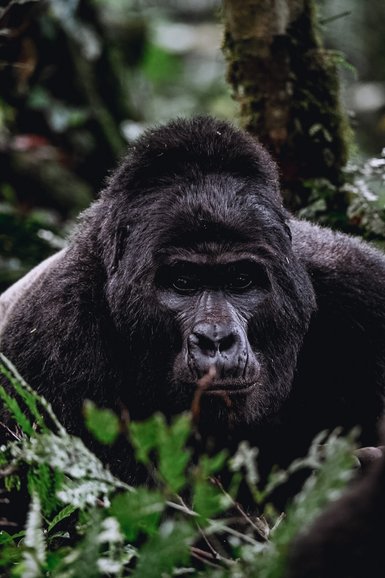 Gorilla Tracking In Uganda
Day 9: Morning Boat Canoeing – Drive To Lake Mburo National Park –Night Game Drive Safari
Today, wake up at your convenient time, be served breakfast, and then go for a morning boat canoeing safari on Lake Bunyonyi to explore different islands.
Each of the 29 islands on Lake Bunyonyi has its own unique and interesting story behind it, which your local guide will narrate to you during the canoeing safari.
After this experience, start your journey to Lake Mburo National Park with a stopover at Igongo Cultural Center to have lunch. Resume to the park to check in at your booked lodge and later start a night game drive to encounter nocturnal wildlife species such as the spotted hyenas, Leopards, Civet, African rock python, Porcupine, Bush babies, Zebras, Impalas, Elands, Topis, other species of antelopes, Warthogs, Caped buffaloes, Giraffes among others. Later return to the lodge for an overnight.
Accommodation: Rwakobo Rock Lodge (Mid-range)
Meal plan: Breakfast / Lunch /Dinner
Day 10: Morning Horseback Riding (Optional walking safari)– Drive Back To Entebbe International Airport.
Wake up very early in the morning to have breakfast, have all your travel bags loaded into your safari vehicle, check out of the lodge and go for an early morning jungle horseback riding safari in the park to view animals at a close range like zebras, impalas, and the shyer ones like elands with an optional walking safari to those who don't wish to get into this activity.
After start your drive to Entebbe with a stopover at the Uganda equator for water experience and lunch. You may visit some craft shops to buy some souvenirs designed entirely in Ugandan local art. After proceed with your journey to Entebbe international airport to prepare for your return flight.
Meal plan: Breakfast / Lunch