The trip introduce to you to the rain forest of Nyungwe and visiting National Museums in Rwanda.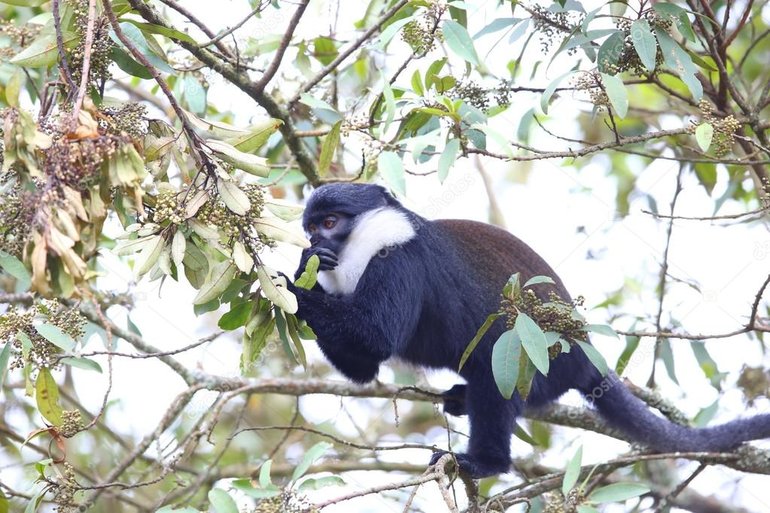 L'hoest Monkey in Nyungwe National Park
Day 1 : Transfer to Nyungwe
---
Depart from Kigali; en-route visits some historical sites on the main road like Kamegeri's rock, King's Palace in Nyanza, National Ethnographic Museum of Rwanda in Huye. Have your lunch in the afternoon and drive to Gisakura. Overnight at Gisakura recommended Hotel/Lodge/Guest House.
Day 2: Nyungwe National Park
---
Early breakfast (4:45am); then drive to the chimp trekking point. After trekking, the Canopy Walkway follows. This is 50 meters above the ground level, and 200 meters long. The dizzying platform is above a steep and deep valley across a massive forest. The hanging platform which allows visitors to view different animal species in Nyungwe forest spreads over hundreds of square meters and will allow visitors to be at the "eye-to-eye level" with different primate species, and many bird species, all of which are fond of inhabiting the upper scales of the forest. You will also have time to meet farmers at the tea plantations or visit the tea factory or community tourism activities in the afternoon.
Day 3: A visit to Gisakura/Kitabi Tea Factory
---
With this Package, you will have a deep understanding of how tea is produced. Have a 2 hours tours at the factory. Afterwards you will head to Kibuye for Napoleon Island visit and Kivu boating experience or drive to Huye and depart back to Kigali.
At the end of the tour, you will drive back to Kigali, then the airport and depart back home. This package requires a minimum of 3 people with a budget of $602 each. Solo Travelers and other groups are assisted to customize this package accordingly.