The trip involves doing a game drive and Gorilla trekking in Rwanda.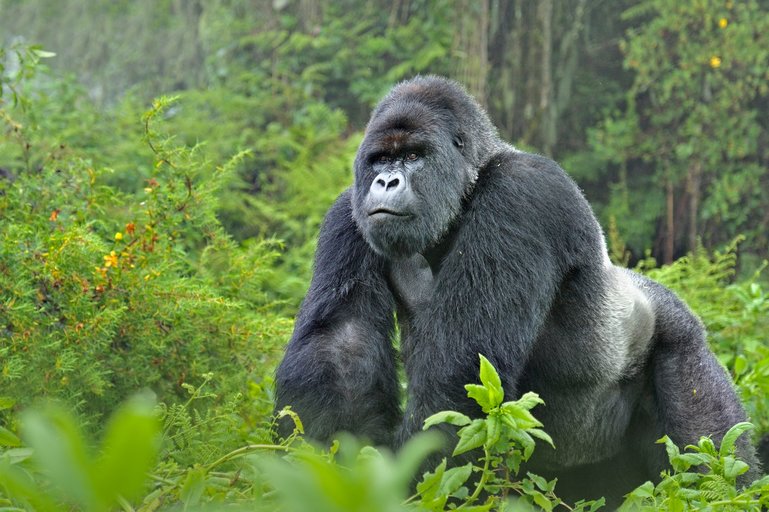 Gorilla in Rwanda
Day 1: Kigali city Tours
---
Arrival in Kigali: Welcomed by your tour guide and check-in at hotel. After, start Kigali city tour and experience about Rwanda and the city during the pre-colonial period, colonial and post-colonial periods i.e. through independence, genocide period and current trends. This is done by visiting different sites in Kigali and its suburbs.
Day 2: Akagera National Park
---
Transfer to Akagera National Park: Game drive (Opportunity to see over 12 species of antelopes, over 525 species of birds including the rare one called the shoe bill stock, papyrus gynolek and the big 5 i.e. Lion, Leopard, Rhino, Buffalo and Elephant) to mention but a few. Overnight in the park at a recommended lodge.
Day 3: Boat Trip
---
Go for a boat ride in the morning in Lake Ihema to see crocodiles, schools of hippos and lots of water birds, then head to Kigali. Overnight: – Kigali.
Day 4: Gorilla trekking and Buhanga Forest
---
Depart from Kigali at 5:30 am for Gorilla trekking. A visit to one of the last remaining mountain gorilla families in the world is a once in a lifetime experience. After noon excursion into Buhanga forest (Where all Rwandan Kings were initiated) or drive to the beautiful twin lakes of Ruhondo and Burera. Village walk is a must do on a clear afternoon after your gorilla trekking experience. On this interesting activity you get to know your neighbors in the surrounding village. Our local guide will come and meet you at your hotel where by your driver guide will introduce us to you. We will then drive off for a short while or walk right from there depending on the distance of the hotel from the village trail we are to use. Overnight at a recommended Hotel.
Day 5: Cultural experience
---
Visit Kinigi cultural village in Musanze to enjoy the unique dancing lyrics of the Rwandans known as "Batwa", then go for the thrilling banana and sorghum beer production experiences. Drive back to Kigali for a short bye bye party and drive to the airport.
This Package requires a minimum of 3 people at $3400 and excludes , airfare, visas, Tips, laundry, beverages and other personal expenses.