One day trip to Tarangire National Parks will be a day full of adventures and a special day for all our visitors after long Kilimanjaro trekking or waiting for a flight to your next destination. Goldfish Tours we prepare this 1 day trip to Tarangire National Parks due to fact of a beautiful place and no need for our visitors to miss this unforg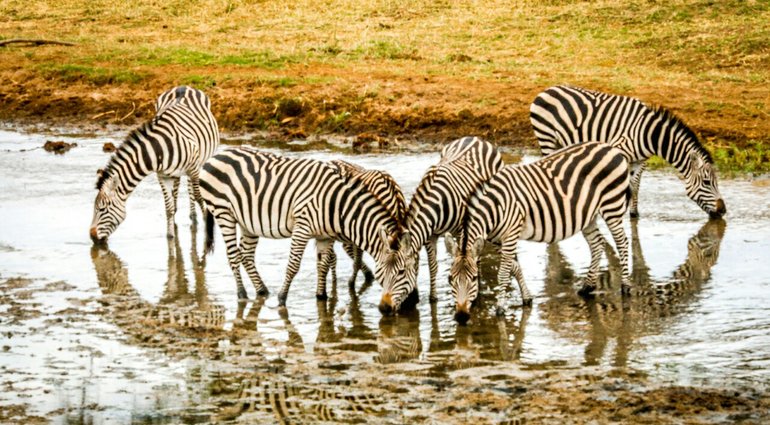 Tarangire National Park
After breakfast you will be picked up Moshi by our professional safari guide and driver, then explain a short briefing info about safari. From there you will be driven to the Tarangire National Park. The park runs along the line of the Tarangire River and is mainly made up of low lying hills on the Great Rift Valley floor.
Its natural vegetation mainly consists of Acacia woodland and giant African Baobab trees, with huge swamp areas in the south. Both the river and the swamps act like a magnet for wild animals, during Tanzania's dry season.
The Tarangire National Park is reputed to contain some of:-
* The largest elephant herds in Africa.
* Keep your eyes trained for hartebeests, gazelles and exotic birds like the bateleur and martial eagle
* where open grasslands, acacia trees and the Tarangire River paint the wild landscape
* We will enjoy a picnic lunch inside the park and do two exciting morning and afternoon game drives, along the Tarangire River that is the primary source of fresh water for wild animals in the Tarangire Ecosystem during the annual dry season.
Late afternoon we depart for Moshi where we will end our safari adventure. You will be taken to your hotel or Airport which ends our tour packages services.
Additional information
---
Entry requirements and Visas
The entry requirements for Tanzania are as follows.
The visa is permission granted to a foreigner who intends to travel to Tanzania on business, for a holiday, to study or conduct research or for other approved activities. When entering Tanzania, the visitor with a visa may then obtain from the immigration control officer, a pass or any other authority to enter the country.
For entry into the United Republic of Tanzania for tourism purposes it is necessary to have a valid foreign passport with an expiry date of at least six more months at the moment of crossing the border of the Republic. The passport must have two blank pages for seals and stamps on border crossing.
The passport must be presented to the Immigration Control Officer at any entry point: border station, airport and harbor. The passport must be presented along with one of the following:
* A valid visa
* Resident permit
* A pass
* A visitor must also present an onward or return ticket together with proof that the visitor has sufficient funds to support himself or herself while in Tanzania.
Receiving a Visa on arrival to Tanzania:
Tourist visa will be stamped into your passport by the immigration authorities of Tanzania upon arrival to the country. You may receive visa on arrival in one of the following entry points:
* Kilimanjaro International Airport
* Zanzibar International Airport
* Dar es Salaam International Airport
* The border crossings between Kenya and Tanzania (Namanga / Taveta)
Remember that arriving on the territory of Tanzania through other border crossings, you should have a valid visa stamp in your passport.
To avoid potential loss of passports in the mail or delays in visa processing, All weather Adventures recommends that US citizens obtain their visas upon arrival, at Kilimanjaro International Airport. It is an easy and simple process.
The cost of a Tanzanian visa for US citizens is $100, payable in US dollars.
Canadian, Australian, British and most European passport holders can also obtain visas upon arrival at the airport. The cost of a Tanzanian visa is $50, payable in US dollars. Confirm with your embassy.
Packing
Its safari time, then you packs your bags for safari, the most important thing is not to run into extremes. Those who accustomed to travel with the minimal baggage can be confused by the search of necessary things on endless expanses of African savannah. But prudent tourists who grabbed a million of things, are running the risk of enjoying the beautiful nature looking through a narrow slit of their bags. Therefore let's remember the main safari rule:
* Travelers move on SUVs with their baggage in the parks
* If your program begins and ends in the same hotel, then you can leave your luggage there.
* If there are too many bags, they will be carried on the car's roof and you will lose a chance to drive with open roof and take nice pictures of animals. It concerns most of all the big groups, since all Land Cruisers are seven-seater and if there are two of you, you can take even 3 bags but if you are 6-7 persons, in this case you should prepare your baggage with some trepidation. In spite of the minimal luggage you should not suffer of the lack of the comfort.