This three days private boat tour will enable you to explore some Islands at Northern Myeik Archipelago of Myanmar. Tour activities included are swimming, snorkeling, and light hiking. Also, you can observe more social and business activities of local on a half-day city tour.
Day 1 Myeik City - Dome Island (by private boat) (by private wooden boat)
---
Get picked up from the Myeik Airport by car and then transfer to the Seik Nge pier where our boat and crew members are waiting for your island hopping trip.
Cruise towards Dome Island by passing through water passage of Islands. You will see some mangrove forests and some aquatic animals and shorebirds living there as their habitats. After three-hour boat ride, stops at dome waterfall, which cascades down from above right into the sea. Stop there for having a refreshing bath by climbing up to a higher level of the waterfall.
Continue to Dome Nyaung Mine Village where local fisherman shares the place with Sea Gypsy or Moken people. This small ethnic group usually spent most of their time in the sea and only seek shelter during monsoon. Then head to the North West Shore of Dome Island where there is your campsite is located. After resting for a while, you can go swimming and snorkeling around the beach.
Stay overnight in a temporary tent at the beach if you love to do it.
Accommodation: at a small bungalow at Island
Meals: Lunch, Dinner
Day 2 Dome Island - Smart (Par Pant) Island (by private wooden boat)
---
After breakfast on board, start jungle trekking and light hiking on the Island. Go along the small stream with full of stone till you reach to the top of a mountain that offers a breathtaking view of the sea. Then return to the base camp.
Cruise towards Smart Island, the remote and good location for snorkeling and underwater exploration. Go for a snorkel in clear and calm water to have a look for underwater small stuff. Taking a short walk across the jungle, you will reach another beach with light-blue color gravels of different sizes.
Enjoy your entire evening by swimming, snorkeling, relaxing and reading booking on the cruise.
Stay overnight on board near the beach of Smart Island.
Accommodation: On Board
Meals: Breakfast, Lunch, Dinner
Day 3 Smart Island - Lin Long Aw- Myeik city Half-day tour (by private boat and car)
---
After breakfast on board, cruise to Lin long Aw (Bay) to visit a small fishing village. Then cruise back to Myeik city. Arriving to the jetty, go to a house where edible-nest swift let birds (Collocalia fuciphaga) are dwelling to see how these birds making their nests. Then visit some of the heritage houses of Myeik city.Finally, drive to Theindawgyi Pagoda, located at the highest point of Myeik city allowing the visitors to have excellent views of the city and harbor nearby.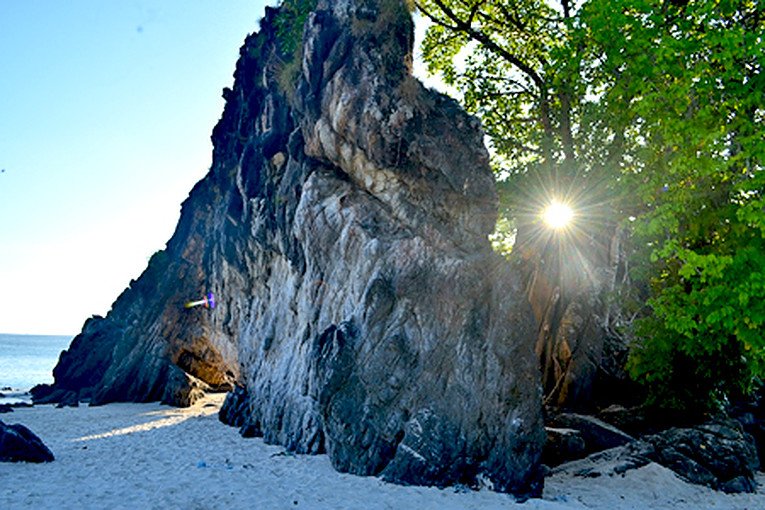 Sunset at a beach of Smart Island, Myeik
And then transfer to your hotel.
Accommodation: In Myeik (with your own arrangement)
Meals: Only breakfast