Walk around the night market of Kyimyinedine and try street foods, get to know Yangon in a local way, get to taste some of the must-try foods of Myanmar such as Monhingar and Laphatthot, learn about Yangon tea culture from your guide, enjoy more than ten snacks and dishes on this private food tasting tour!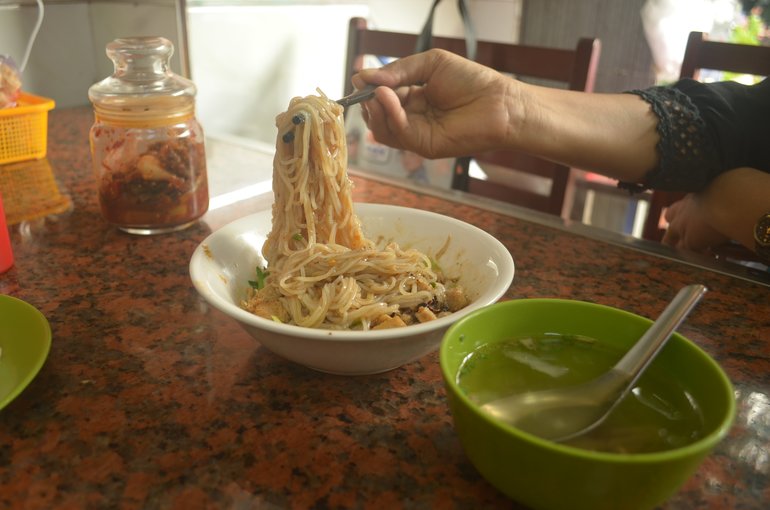 Shan Noddle Salad
Your guide and driver will greet you at your hotel and set off on your day of exploring the best of Yangon's food. Head towards the night market of Kyinmyindine, for a wide variety of snacks, fruits, fish or chicken and ready-to-eat. The flavors in the air will make you hungry. You'll be taken to different stops where you'll taste different type of snacks, salad, and desserts.
First, stop at a famed noodle house to experiences dishes from the Northern Province of Shan. Continue past many food vendors selling popular snack with such as pancakes, a variety of fried vegetable and fried delights. Stop at one of our favorite shops to have Monhinga, a must-try food for every visitor in Myanmar
We will also try Let pet thoke, Burmese tea leaf salad; the fermented tea leaves served with a selection of fried nuts and beans. Next, we'll make a stop at local Tea Shop and then enjoy a cup of sweet Burmese milked tea (called La Phet Yay).
Then transfer back to your hotel, or you can drop off 19 street of China town if you want to explore the night life of Yangon.
Pick up and drop off to / from your hotel.