A FULL-DAY TOUR GIVING YOU THE COMPLETE OVERVIEW OF OUR BELOVED SANTIAGO... BY BIKE! We have combined the best parts of our MORNING and AFTERNOON tours to form the ultimate city bike tour to discover all of Santiago in just one fun-packed day!
BARRIO BELLAVISTA
---
Our local guru guide (the person with the knowledge, cycle skill sets, and handsome looks of course) will get you informed, fitted, and kitted upon arrival. Please arrive at least 30 minutes prior to your ride.
9:30AM: We head to the Bohemian, graffiti-filled Barrio Bellavista, weaving between cobbled streets and colorful murals to learn how the neighborhood's past has influenced such beautiful surroundings.
LA CHASCONA
---
10AM: Next stop is La Chascona, the Santiago house of the famous nobel-prize winning Chilean poet and cultural icon, Pablo Neruda. Discover that he actually has three separate houses, and why this one resembles a boat!
MERCADO CENTRAL
---
10:30AM: Weave your way to La Vega Central, Santiago's largest fruit, vegetable, and everything in between market. Then, it's over the Mapocho River to the Mercado Central seafood market, a necessary stop when in a country with over 6,000 km of coastline. All the beautiful food will get your appetite up, but don't worry, we won't let you go hungry!
LUNCHTIME
---
12:45PM: It's time for lunch so we return to our office. Now, you have some spare time to discover CHILEAN CUISINE on your own. Your guides will recommend their favorite eating spots around the city so you can enjoy some well-earned Chilean cuisine before beginning the afternoon portion of the tour.
PROVIDENCIA
---
2:30PM: It's time to ride! Starting from our office, we'll pedal through Forestal and Bustamante parks on a mellow cruise to get oriented and learn some crucial Chilean slang about the locals making out on the grass.
GABRIELA MISTRAL CULTURAL CENTER
---
3:30PM: We leave the parks and hit the streets, making our way to the historical GAM cultural center to start our history chapter. While riding through the hip Lastarria/Santa Lucia neighborhood, why not ring your bell and turn the heads of the skinny jean and moustache-wearing Chileans sipping coffee as you ride towards downtown?
PRESIDENTIAL PALACE
---
4:30pm: The final stop is La Moneda, the Presidential Palace, where we'll get into Chile's political history with from Salvador Allende to the Pinochet regime to how it has shaped the Chilean society today.
BACK TO HOME BASE
---
5:15pm: Taking advantage of some of Santiago's growing network of bike lanes, we'll zigzag back up to our bike base camp and make sure you are equipped to enjoy the rest of your time in our beloved country.
TOUR DETAILS
---
Price
Adults: 45.000 CLP (about $74 USD) each
Children from 2 to 11 pay 50%
Children under 2 are free.
Please note: We have limited baby seat so please tell us if you need 1 !
Time
Departs at 9:30AM
Finishes at 6PM
Meeting point
La Bicicleta Verde office, Loreto 6, Chile
Difficulty
Relaxed, but be confident cycling on roads
Total distance: approximately 15 km
Group size
Maximum 6 travelers per guide
If you have a group larger than 6, please let us know upon booking and we will arrange for another guide to accompany you.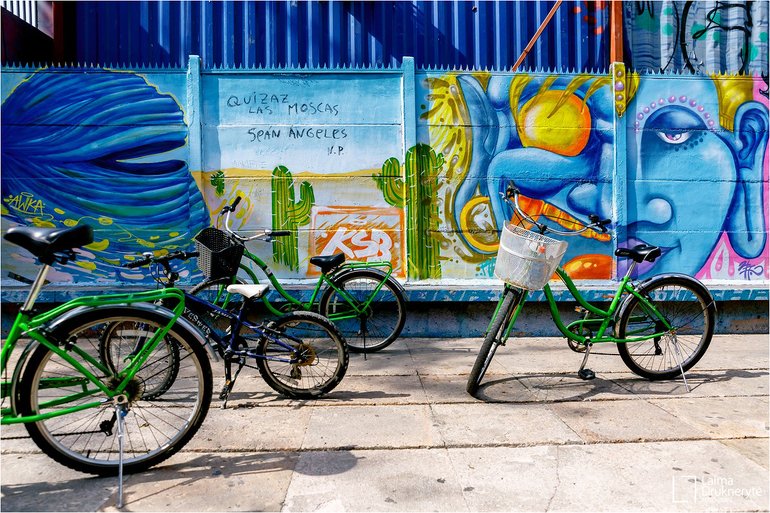 Discover all Santiago with us in just one day!