Boyana Church and Zemen Monastery, Bulgaria; Osogovo Monastery, Macedonia; light lunch.
We will start our tour with a visit of Boyana Church – UNESCO site, located on the outskirts of Sofia. It was added to the World Cultural Heritage List in 1979. The building consists of three parts, which are example of the Byzantine architecture. In the interior of the church there are several layers of wall paintings from different historical periods-11th, 13th, 15-17th and 19th. The church owes its world fame mainly to its frescoes from 1259, which reflect the unique achievements of the Bulgarian medieval culture. According to the experts the style of the paintings from this period is much resembling the Renaissance style though much earlier than it begun.
Then we will proceed to Zemen Monastery "Saint John the Evangelist". The monastery had been founded sometime during The First Bulgarian Empire (681-1018 CE). In 1334, Deyan, the ruler and despot of the Velbazhdosko Empire, donated funds to redecorate the monastery church that had been erected sometime during the 11th-12th centuries.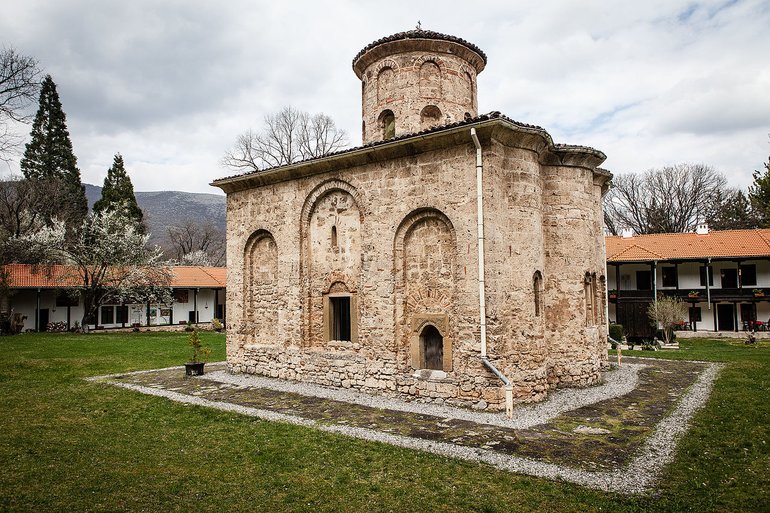 Zemen Monastery
During the middle of the 19th century, living quarters for monks were also constructed. When the Ottoman Empire fell in 1878, a small bell tower was added to the monastery complex. There are still a few elements left in the church that date to the 12th century. Also preserved are portraits of the church's founders, the despotic ruler Deyan and his wife Zoya, which date from the 14th century.
Afterword we will head toward the Osogovo Monastery. The monastery "Saint Joachim Osogovski" was founded in 11th – 12th century. Hidden in the tranquility, lush forests and surrounded by Osogovo Mountains. The monastery is considered to be one of the most beautiful monasteries in Macedonia. The complex consists of two churches, old restored lodging houses, residential and buildings of more recent dating, economic buildings with barns and alike. The church that stood the test of time as an earthquake, demolishing from the Turks, and desolation during the entire 18th century, today is ranked among the most distinguished cathedral churches in Macedonia built during the Revival in the first decades of the 19th century. This one day tour gives the unique opportunity to visit one of the supreme Bulgarian sites, as well as Zemen Monastery, along with one of the highlights in Macedonia!