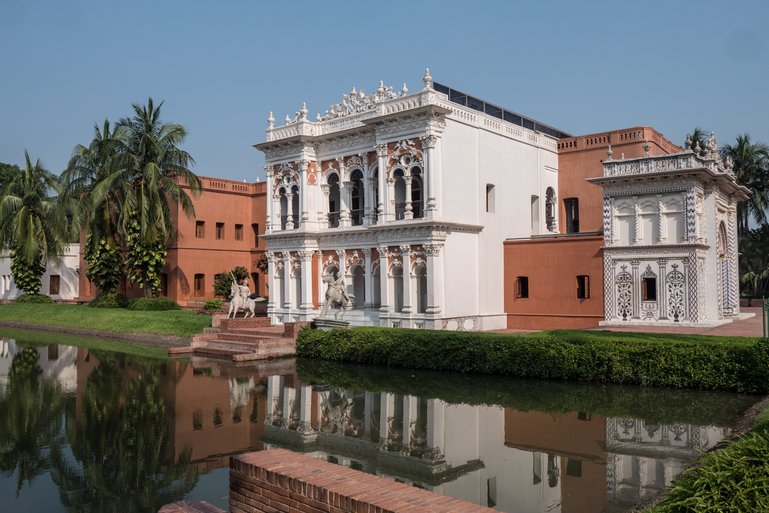 Bara Sardar Bari (house), A majestic place built by lord!
Tour Overview
---
Sonargaon means "Golden Village". One of the tribal groups of people named Shornobhusitah lived in this area. Literally meaning 'dressed up with gold' and signifying that all the people's men and women used to adorn themselves with gold. This was a thriving administrative, commercial and maritime centre of Bengal. This place was described by world famous globe trotter including, Ibn Battuta (from Morocco), Ralph Fitch (from England), Ma Huan (from China) and Niccolo de Conti from (from Venice, Italy) as a thriving headquarters for trade and commerce of eastern province of Bengal.
You will visit here a beautiful River Island (Char), bamboo made school, Panam City (Panam Nagor), Sonargaon folk art and craft museum; a beautiful tiny mosque built in medieval time by local spiritual man in 1519.
Itinerary
---
Pick up from your Hotel. Drive to Sonargaon which is 45 kilometers away from Dhaka
Take a boat and cross one of the powerful rivers called 'Meghna River'. Visit a Char (a tract of land surrounded by the waters of river, sea, or stream), you will see extremely rural area where people living with limited facilities and you will explore village life activities, their local culture and tradition.
Visit Panam City (Panam Nagor) is now fully an abandoned city.
Visit Sonargaon folk art and craft museum you will see here folks art and handicraft staffs all together 4, 518 different objects collected from different times from 17th century to late of 20th century.
Visit Goaldi Mosque one of the beautiful surviving monuments built in 1519
Lunch and drive back to your hotel and say good bye!
Highlights
---
* Boat ride on mighty river Meghna
* Interacting with local people
* Visit a destitute elementary school
* Visit abandoned city Panam Nagor
* Visit Folk Art and Craft Museum
* Visit one beautiful Medieval Mosque
* Taste Bangladeshi traditional dishes
* Enjoy a unique experience beyond your expectation.
Included
---
* Air conditioned vehicles with driver
* Professional English Speaking Guide
* All entrance tickets
* Rickshaw and boat rides
* Lunch in a local restaurant
* All tips except our guide and driver
Excluded
---
Personal items