A unique photography experience in Dhaka, capital of Bangladesh, beyond of your expectations.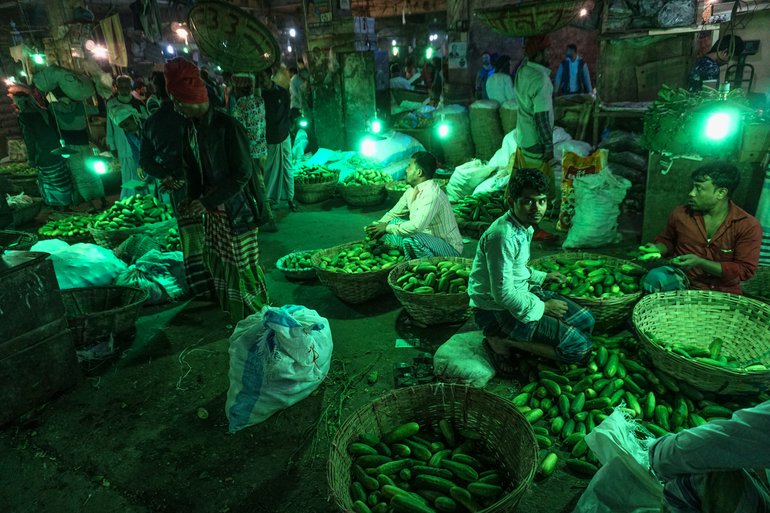 Biggest vegetable market in Dhaka called Kawran Bazaar
Tour Overview
---
Dhaka is one of the mostly densely populated mega-cities in the world. More than sixteen million peoples live in Dhaka making it one of the most spectacular photography destinations in the world. In Dhaka you will meet the friendliest and welcoming people in the world. People are happy to meet foreigners and often ask to have their photo taken, so Dhaka should be your first choice for a photo tour. Our main purpose of this tour is to help photographers find the right places in Dhaka to capture incredible and unusual images.
Dhaka offers incredible opportunities for landscape photography, outdoor portraits, food photography, street photography, bazaar photography, urban photography, and travel photography.
All of these places are recommended by various travelers, travel books and websites like Lonely Planet and TripAdvisor. This tour offers you a great opportunity to experience Bangladeshi Culture, heritage, daily life activities of Dhaka city.
Itinerary
---
06:45 - 07:00 AM: Pick up at your Hotel. Drive to Kawran Bazaar
Photo shoot at Kawran Bazar (Karwan Bazar), this is Dhaka's largest wholesale markets for vegetables, fish, meat and cereals.
Then I will take you to the biggest live chicken and duck market
Following that take some snaps of Bangladeshi trains and see people jumping from rooftop or climbing on the trains and traveling on the train rooftops.
Photography at Shahabag wholesale flower market, Slaughterhouse in Kaptan bazaar, Gulistan area (this is the busiest area in Dhaka city)
Drive back to your hotel and say good bye. End the Dhaka Photography Tour.
Highlights
---
* Photo shoot in the largest wholesale market of Dhaka city
* Photo shoot on the most crowded place in the Dhaka city!
* Photo shoot on slum area
* Photo shoot through rail line
* Photo shoot Bangladeshi train
* Photo shoot on biggest slaughterhouse
* Photo shoot in the flower market
* Interaction with local people
* Discover yourself through the hustle and bustle of Dhaka city
* Taste Bangladeshi traditional dishes
* Unique experiences beyond of your expectation
Included
---
* Air conditioned vehicles with driver
* Professional English Speaking Guide
* All entrance tickets
* Mineral water
* Breakfast & Lunch in a local restaurant
* All tips except our guide and driver
Excluded
---
* Personal items