Start your day as a real Bulgarian. Eat banitsa with ayryan for breakfast, taste delicious fresh fruits and finish the tour with the best baklava and boza in Sofia. See the main sites of Sofia – Alexander Nevski Cathedral, Hagia Sofia Church, Sofia University, the Parliament, King Liberator statue, Slaveikov square.
We will meet our guide at 09:00 in front of one of the symbols of Sofia – Alexander Nevski Cathedral. After a few words about this fantastic monument we will continue to a typical Bulgarian snack bar. During the short walk we will visit Hagia Sofia Church, built in 6th century and bringing the history of Bulgarian capital, a site full of energy and mystery. We will continue passing through the Sofia University, the Parliament and the statue of King Liberator, which are the main sites of the Bulgarian capital and are symbols of the country's history in the last centuries.
And then we will stop for a breakfast. We will taste Bulgarian banitsa, combined with ayryan, as Bulgarians normally do it in the morning.
Banitsa is delicious small pastry delight, prepared from dough and cheese, sometimes meat or nettle. It is unique food for Bulgaria and Balkans.
The ayryan is prepared from yougurt and gives the final touch of the breakfast.
We will continue the walk along the narrow streets, which are part of the Old Sofia town and keep the history of the centuries. Our tour will leads us to Graf Ignatiev street, where is located a famous grocery market. Here you may buy some fresh fruits and vegetables or taste baked nuts and delicious snacks, as the locals do. It is a market on the street with many stalls, which compete for the clients attention.
Then our guide will lead us to a famous pastry shop. On the way there we will cross the biggest open-air book store in Bulgaria and favourite meeting point for many people – Slaveikov square.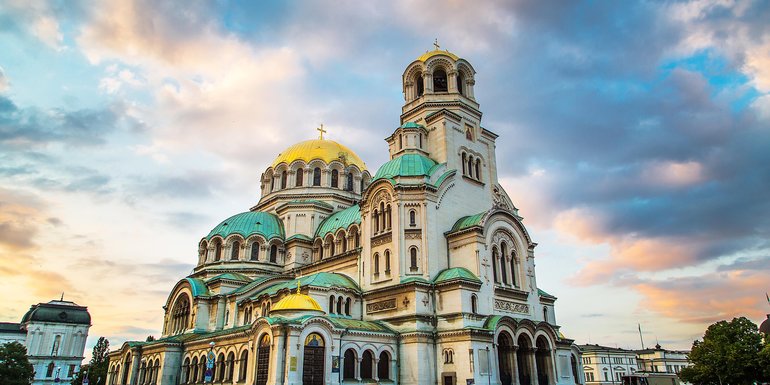 sofia
In the pastry shop we will taste a special and delicious dessert – baklava. It is very sweet and full with nuts. We may also take tolumbichka, cream-cake or other sweets. Here the best traditional Bulgarian deserts are prepared.
And of course we will combine the sweets with another unique beverage for the region – boza.