Only a short drive from Ljubljana, discover Slovenia's most spectacular natural sites – the famous Alpine jewels of Bled, Bohinj and Bled Vintgar Gorge together with the medieval town of Skofja Loka.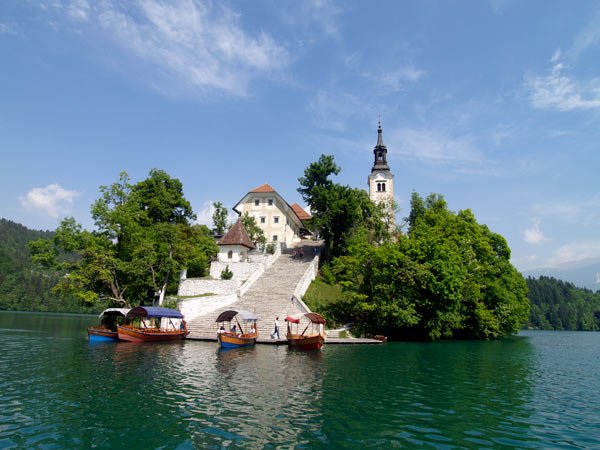 From Ljubljana to the Alpine region below the Julian Alps we reach Bled, the magnificent Alpine resort. Ascend the old castle perched on top of a steep cliff above the glacial Lake Bled. The castle terraces offer spectacular views of the lake and its tiny island in the middle. Take a boat ride with 'Pletna' – traditional boat made by locals and reach the only true island in Slovenia. Continue to the impressive Vintgar Gorge, one of the most stunning natural canyons, where a wooden path takes you along the rushing Radovna River, through the picturesque gorge and ends with the 26-metre-high waterfall Sum.
Our next stop is Bohinj, Slovenia's largest glacial lake, located in the Triglav National Park area. Take a swim or a canoe ride or just a pleasant walk around the lake area. Bohinj's natural environment will impress you with its different faces in each season of the year.
On the way back to Ljubljana, we stop in Skofja Loka, one of the oldest and best-preserved Slovenian towns. Stop for a walk around the charming town center, situated under the castle and the monastery.
Return back to Ljubljana in late afternoon.